(Video by Elle J. Andrews)
The sound of skateboard wheels slapping the pavement echoes across Dufferin Street. Tucked behind an industrial building, skateboarders roll across a half-empty parking lot, soaking up any sun that's left on this cold November day. Their backdrop is a large studio space bearing the logo of the Converse CONS Project.
Last Saturday, The CONS Project hit Toronto with a third workshop in its North American series. "Creative Recycling" invited skaters and creators to join Jason Podlaski, the founder of Deckstool, in building furniture with used skateboards. The free event was open to the public and included raffles and some complimentary grub. Like the previous workshops, "Creative Recycling" was hosted at 358 Dufferin Street and welcomed preteens, adults, and everyone in between.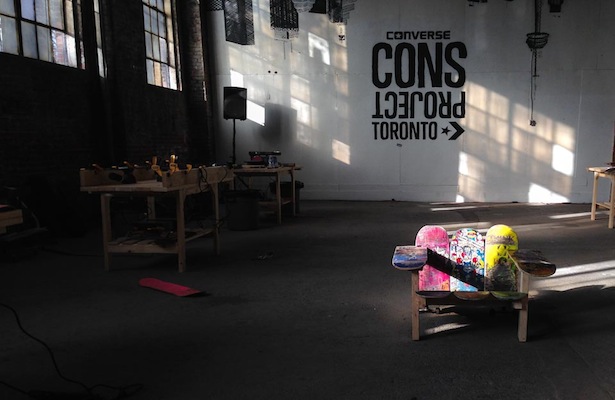 The event kicked off with a story about a stool. Jason Podlaski and his brother Adam grew up in Pennsylvania, immersed in the skateboarding culture. As they got older, however, skating somewhat dwindled out of the spotlight. So, when remnants of the early days (aka, beaten-down skateboards) started collecting dust, the Podlaski brothers decided to "give them a second life," as Jason says. The boys worked from their mom's garage, piecing together skateboard scraps. A truck, a couple screws, and two and a half decks later, and their prototype was born: the original deckstool.
"With good luck, hard work, and the Internet, I was able to turn it into a business," Podlaski says. Today, the original deckstool still sits in Adam's apartment. The company has grown to sell everything from wall clocks to kitchen tabletops, all decorated with the unique artwork of recycled boards.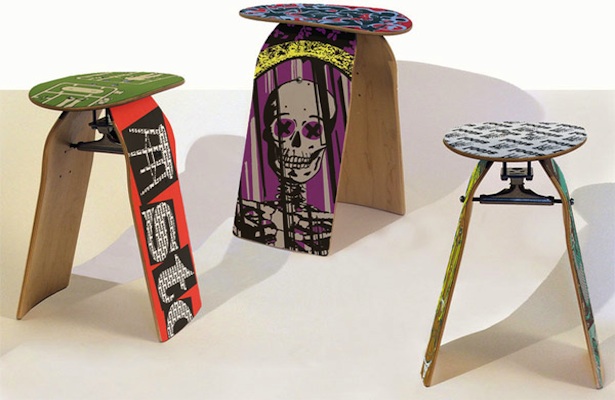 At "Creative Recycling," participants had the chance to build their own versions of the stool. The room came alive as everyone rummaged through a heaping pile of decks, choosing the ones that were most in tune with their creative minds. One boy carried a board with a naked lady across the bottom, while another held a deck with a faux family portrait.
This workshop had the most diverse group yet. Not only was there a broad age range, but "Creative Recycling" saw more girls attend than any of the previous workshops had.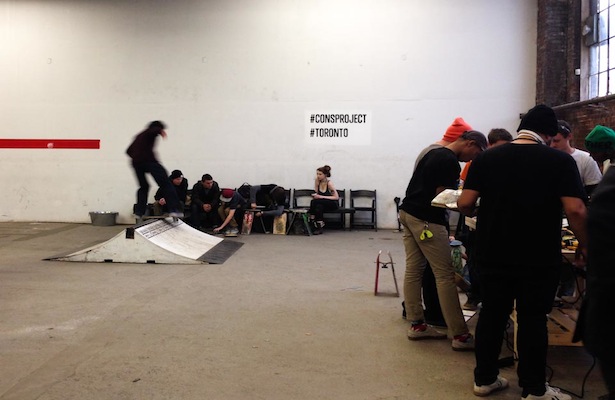 Converse ambassador and pro skater, Don "Nuge" Nguyen, also joined CONS Project Toronto for his second time. "It's just great to bring all the kids together and let them build things for themselves," he says. "They're always hyped to come out." Nuge attended the last CONS Project workshop in October called "How to Film a Skate Video." This time around, he flipped his long hair back to help with the electric saws.
The roar of power tools matched the room's high energy, yet despite the excitement, one thing was clear—every skater had a burning itch to skate. Luckily, the space at 358 Dufferin was equipped with two skate structures. The now scuffed-up ramps are tokens of Toronto's first CONS workshop in August, which taught people how to build their own. Between Converse's workshops, the ramps are set up for the community to use at Dufferin Grove Park.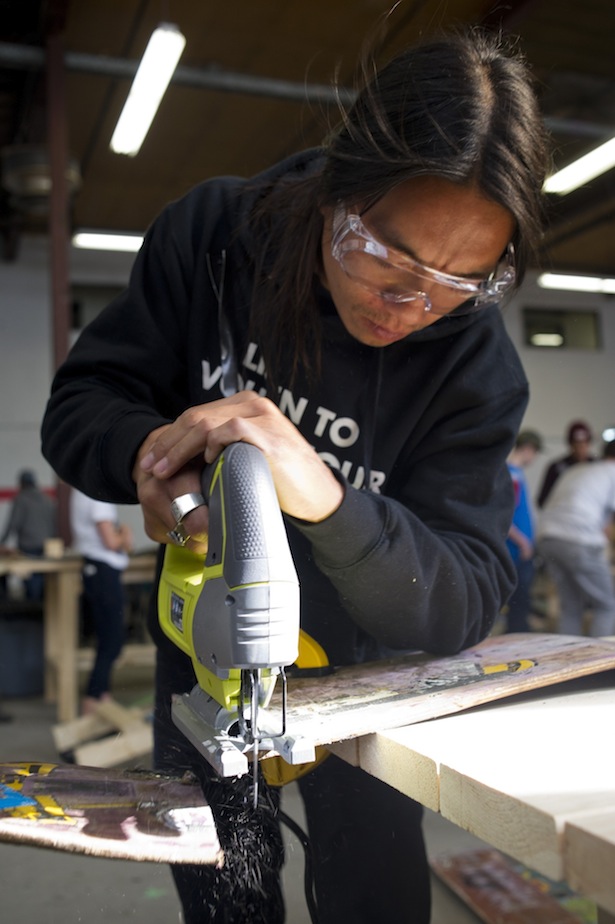 For Jason too, the CONS Project has provided him with an opportunity to give back. "[Deckstool's] furniture is expensive. Not every skater kid is gonna buy it," he says. "I used to be pretty protective over the idea [of Deckstool]. But now, with the CONS Project, it's nice to have it out there and get the community involved."
Toronto is the first Canadian city to welcome The CONS Project. Its intertwining of art and sport has reached out to the creative community and intensified the already booming skate culture in Toronto. Check out The CONS Project website, and stay tuned for details on their next workshop in 2015.