Language Happy Hour, the Toronto-based language exchange event, is celebrating its two-year anniversary! Founded by Lindsey Craig in the midst of the pandemic, this event has become the go-to place for language learners and language enthusiasts from all over the world to meet and converse with each other in a relaxed, informal setting.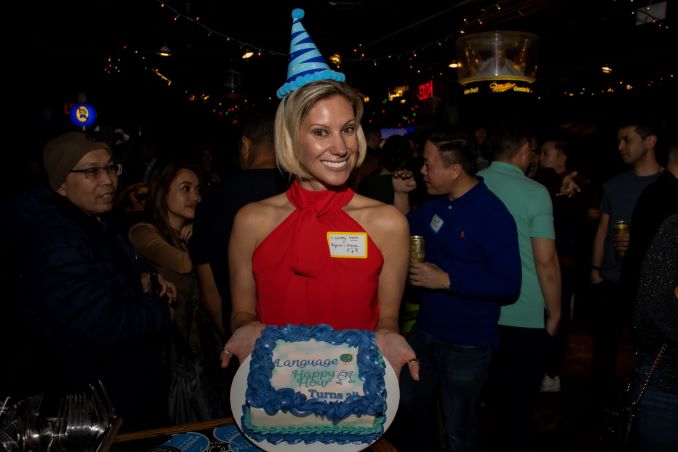 Like many of us, Lindsey remembers sitting alone in her Toronto apartment in February 2021, in the midst of yet another pandemic lockdown, desperate to find a way to connect with people of other languages and cultures and also practice her French language skills. With a friend's encouragement, she decided to create an online language exchange, calling it Language Happy Hour. The name, she says, was to signal that it would be light and fun since "We were all already so stressed – I didn't want people to think it was like a class", she explained. Having never launched anything like it before, she adds, "When I nervously clicked to create the group, I didn't even know if one person would join."
Fast forward two years and Language Happy Hour has 2,200 members, monthly in-person events in Toronto and Montreal, volunteer greeters, volunteer photographers, a Latin dance instructor, and has become the most incredible community.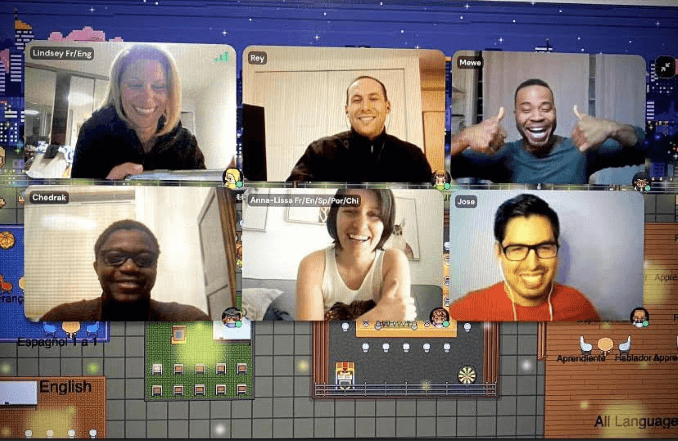 Early days
At the start of the pandemic, Lindsey used a special software called Gather Town to create virtual bars for different languages. When avatars were close together, people's videos appeared and they could speak. So, you could have one-on-one conversations or chat as a group, depending on where you put your avatar. This virtual exchange allowed people from all over Ontario, Quebec, and even internationally (from places like Peru, the Bahamas, China, and New York City) to join and connect.
"Since then, Language Happy Hour has grown in ways I never imagined", shares Lindsey, "during virtual events, we had a woman from France perform a piano concert, a Spanish lesson given by a guy in Peru, and much more. Now, at our in-person events, we even have salsa lessons given by a Latin dance instructor from Turkey. It's amazing to see how much the group has evolved in just two short years."
As a result of Language Happy Hour, some members have formed lifelong friendships and even found love. Lindsey's initial goal was to create an opportunity for people to meet others of different languages and cultures, practice speaking new languages with native speakers and other learners, make new friends, and have fun, all in a relaxed, informal environment. And that's exactly what she's done!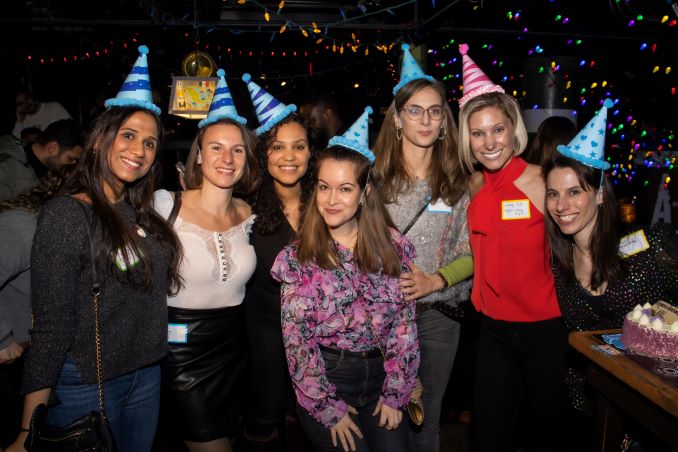 My first Language Happy Hour event
From the moment I decided to attend a Language Happy Hour event, I felt welcomed by the community, made up of people from all walks of life, cultures, and languages. Upon arrival, I wrote my name down and languages that I'm proficient in on a name tag, allowing individuals seeking to practice the same languages to approach me. The atmosphere was so warm and welcoming, and I quickly found myself chatting away with people from all over the world.
I also appreciate the fact that the Language Happy Hour events are sometimes hosted in different locations throughout the city, providing me with the chance to explore various neighborhoods and venues. I've continued to attend Language Happy Hour events to sharpen my language skills and have an opportunity to socialize with new (and old) friends ever since.
As Lindsey herself says, "you never know where a little spark, a little idea will go if you just have the courage to try." And she's right. Language Happy Hour is proof that with a little courage, determination, and vision, great things can happen. As the group celebrates its two-year anniversary, it's clear that Lindsey's idea has blossomed into something truly special, and I'm grateful to be a part of it.
Join the fun!
If you're looking for a fun, friendly, and inclusive community to practice a new language, help a newcomer out with their English or other languages, and meet new people from all over the world, I highly recommend attending the next Language Happy Hour!
For information on upcoming gatherings, photos, latest updates, or just funny language memes, you can follow the event's social channels on Instagram and Facebook.
To become a member, click to join the @LanguageHappyHour Facebook group. And anyone interested in supporting the group in any way can also contact Lindsey through the social media channels listed.