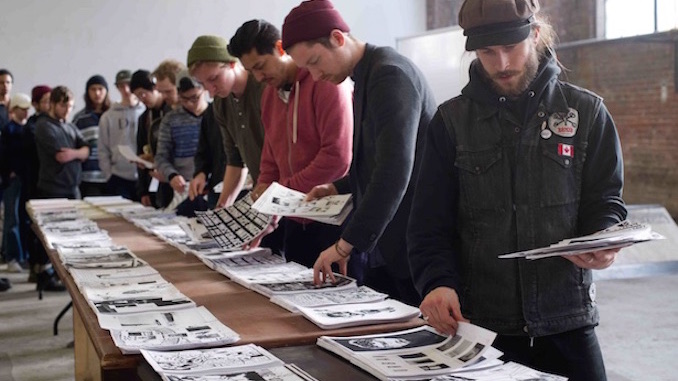 'The idea was very simple. It was a piece of paper, a photocopier, make it happen, figure it out from there". This is how Brian Lamotte summed up how he started as a zine maker and encouraged local skaters and creators to do the same.
On Saturday, the Converse CONS Project held a "Zine Making and Printing" workshop in Toronto. The event was hosted at 358 Dufferin Street and was led by Brian Lamotte, publisher and founder of Pau Wau Publications, and photographer Nick Sethi, both from Brooklyn, New York.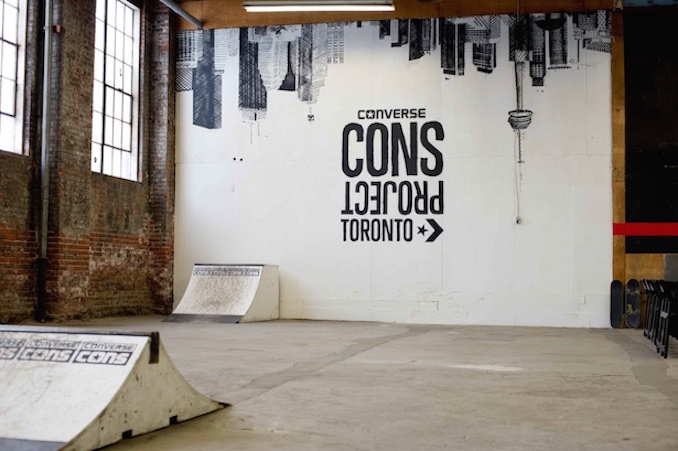 Free and open to everyone, the event brought together skaters and artists of different ages and backgrounds who all shared an interest in learning more about zine making.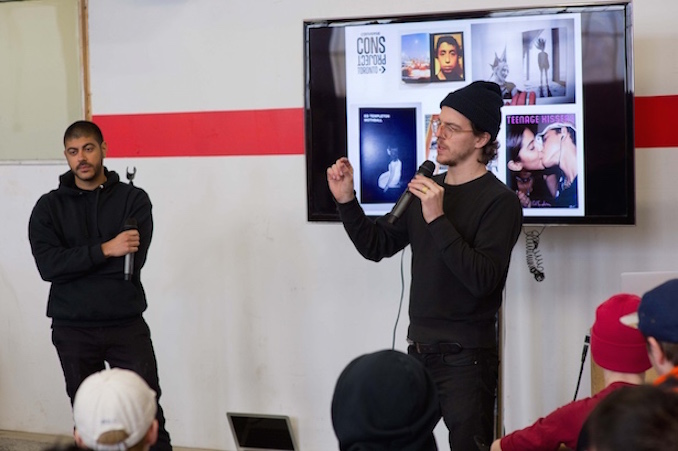 Lamotte started the workshop with a brief introduction on zine culture and how he got into zine making and independent publishing, emphasizing on the DIY aspect of it. "We started really raw, didn't have a lot of money, didn't really know what we were doing and just had the urge to make things."
Zines are self-published and small-circulated books that are not-for-profit and still very popular in underground communities, especially in the skate culture. They have been an important alternative means of communication from the 1970s to the 1990s with political and punk rock movements looking for a way to share their strong and often controversial ideas. As Sethi puts it, "Zine was the Internet before the Internet."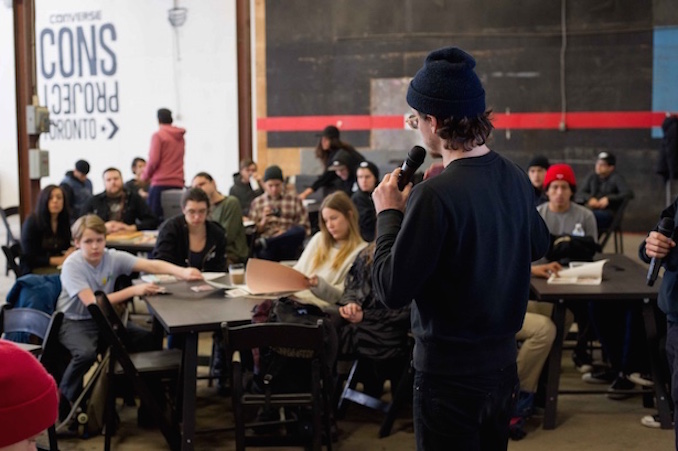 Lamotte and Sethi emphasized on the importance of creative freedom when making a zine. "The big part of it is that there are no rules, no set boundaries about how you do it. It's about how you want it to be" Lamotte said.
They put together this workshop to show how easy it can be to make one. Participants were encouraged to collaborate together to create their own zine with the bare minimum in materials and supplies: a piece of paper, a pen, a glue stick, a photocopier, etc. At the end of the workshop, participants had the chance to walk home with their own copy.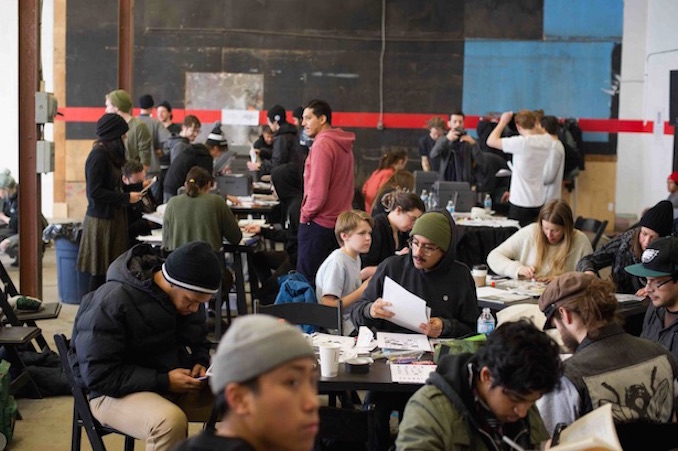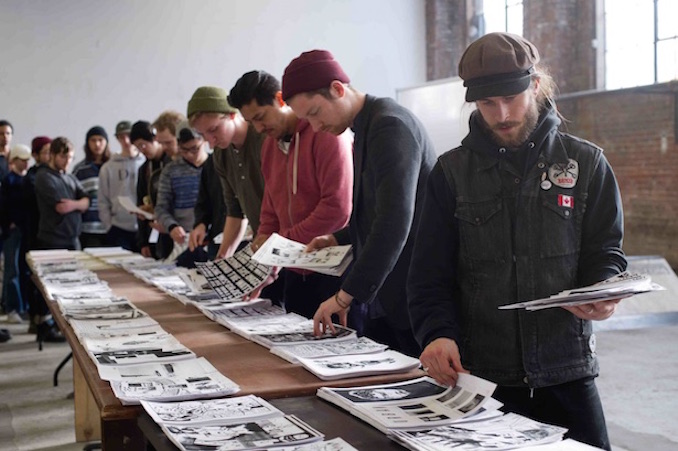 Although zines are not as popular as they used to be, the art of zine making is still alive thanks to professional zine makers like Brian Lamotte and Nick Sethi who commit themselves to passing on what they have learned to the next generation of skaters and zine makers.
In Toronto, you can shop for zines at Working Title and Art Metropole.
Here are some of Lamotte's favourite zines that you can also check out: Next w Presto! by Lele Saveri, Even in the End by Peter Sutherland, K is For Kurt by Jaclyn Delorey & Various Contributors, HCO by Nick Sethi, Hannah by David Brandon Geeting, Cavalos & Bangalos by Anna Kleberg.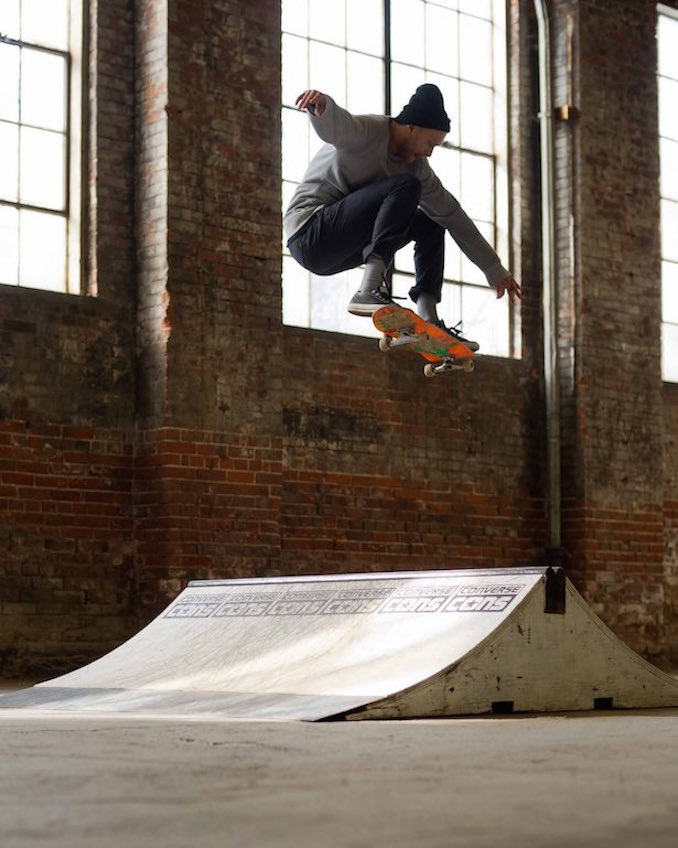 The Converse CONS Project is about celebrating the skate culture and its DIY spirit. "Zine Making and Printing" was the fourth of five in the ongoing series of CONS Project workshops happening across North America. The previous workshops were about "Building Skate Structures", "Filming Skate Videos" and "Creative Recycling – Making Furniture from Skate Decks". Check out their website and stay tuned for more information on the next workshop coming to Toronto in April 2015.