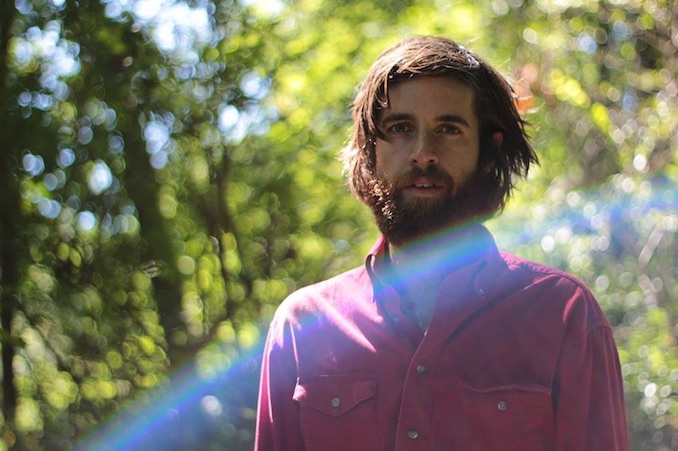 Evening Hymns aka Jonas Bonnetta is man with a story. Singing about songs that are close to his heart, Bonnetta is currently working on a new album in between touring and his personal life. His current album, Spectral Dusk, speaks of songs about the loss of his father. The songs are well crafted with beautiful words and melodies. Bonnetta doesn't pass on the opportunity to test out new songs on the current tour as he did at his tour kick off at The Drake last Thursday night. My favourite song from the show was "You and Jake" written about his brother. Chills. While busy on tour, Bonnetta made some time to talk to me about life, music and things he loves about Toronto.
Congrats on your east coast fall tour. How did you and your tourmate Andy Shaw hook up? You performed with him previously on the west coast you mentioned?
Yeah, we did some touring out west last fall. I had been given his record by a friend and fell in love with it so it was great to see it live for a week.
I find that albums often represent a chapter of time in a person's life. You're currently the studio in Mountain Grove, ON, working on the follow up to (their Polaris Long List-nominated 2012 album) Spectral Dusk, which is a beautiful record about your father. When are the songs from the upcoming album about?
These songs are the next step from Spectral Dusk. I moved to the country and I've been taking stock of my life, thinking about what's important. I've been calling it my draft dodger record. I grew my hair out.
In the studio, do you perform live off the floor or over dub? On stage you do some looping so I was wondering how much of the instruments n studio you do yourself and how much you leave up to the other musicians?
It's 50/50. We do most of the beds live off the floor and then spend a lot of time painting the songs afterwards. That's my favorite part of the process. Adding the environment for the songs to live in. The new record is more live off the floor. More upbeat. The process for recording the beds is very open concept.
What are 3 must album haves on your ipod/computer?
Sam Amidon- All Is Well
Tom Petty- Wildflowers
Neil Young- On The Beach
A musician's life is both rewarding and stressful. What do you do to keep sane…you mentioned yoga at your Toronto show recently?
I try and eat healthy. I don't usually. I try and run. I don't usually. Drink lots of water.
Best tour story and worst tour story?
Almost getting arrested and almost getting arrested. I'll leave it at that.
If you had to collaborate with one Toronto band, who would it be and why?
I kind of already get to work with the Toronto bands I love so not sure how to answer this one.
Top 3 artists that have inspired you in your life?
Jaan Kaplinski
Wendell Berry
Neil Young
Watch the music video for "Arrows"
Favourite place to eat in Toronto? Mother India
Favourite thing about the city Food and friends.
Favourite hang out in TO? The Commie
Rapid fire:
Sneaky Dees Nachos or Hey Meatball Spaghetti? Chos.
Queen or College St? College
Trinity Bellwoods or Highpark? High Park in Winter
Early bird or night owl? Night Owl
What are your thoughts of today's age of downloading free music's purchasing music. It sucks.
What do you think of physical vs digital album sales? Do you have a preference? Are CD's almost extinct? What are album sales?
What is one fact people about you that people wouldn't expect? I'm full of rage.
What's next for Evening Hymns? Finish a record. Put my feet up. Watch the snow fall.
Evening Hymns website.