You may have noticed a fresh new Coca-Cola "Taste the Feeling" ad on television? It has that feel good and somewhat familiar catchy tune that may have you sing along?  In case you haven't heard, the ad is part of the soft drink brand's "one brand" global campaign that reinforces it's position as the world's most iconic beverage brand. The message brings us back to the simple pleasures in life.
To tie-in with the new direction Coca-Cola Canada hosted a launch party this past week at the Fermenting Cellar (Distillery District) inviting many well-known faces in Toronto's media, social media circuit as well as notables like chefs and power players in the entertainment world. The multi-sensory event also included performers Conrad Sewell (who is the musician in the current ad campaign), The Sam Roberts Band and DJ Baby Yu.
In the venue, party goers were encouraged to jump into a red convertible Mustang  while cool kids on roller skates swirled around the room. Mixologists worked magic on Coke-tails including something that I grew very fondly of… "The Cherry Bomb". There were Coke models hanging out in bathtubs and on swings and dancing on platforms in retro bathing suits and a woman with Coke cans as hair rollers touching up her red lips. The edible helium balloons had everyone sucking on Coca-Cola air and talking in "happy voices".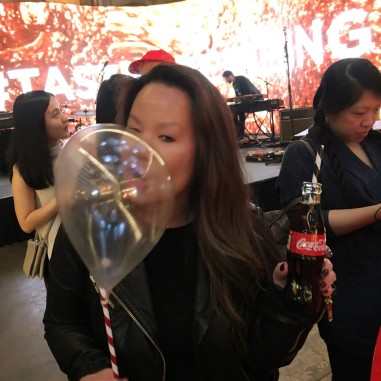 We had discovered that four talented chefs were involved in creating nibbles for the crowd and took turns being featured each hour. This was a highlight for many foodies in the crowd and yes, some of their creations did have the Coke as an ingredient.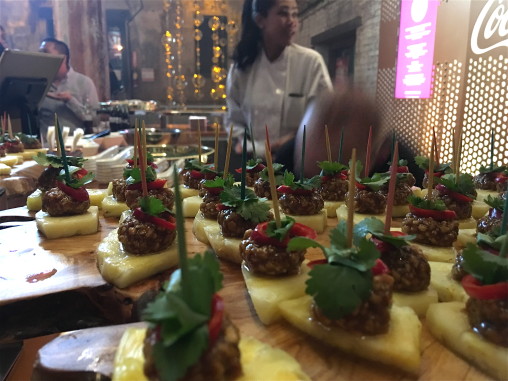 Matt Blondin of Omaw offered up delicious pork belly in a Coca-Cola marinade encrusted in sesame seeds and a few other dishes including a Cherry Coke custard. Alexandra Feswick of The Drake Hotel served up incredible Peking Duck tacos with a Coke Hoisin sauce as well as a vegetarian flatbread. Chantana Srisompham of Khao San Road made finger lickin' good contemporary fried chicken laab and some hot "Ma Hor". Her Ice Cream Ka Bu'Ong was incredible — Coca-Cola gelato with ginger, cinnamon, condensed milk, Ka bu'ong Thai water.
The final chef featured was Brandon Olsen (formerly of Bar Isabel) who made insanely delicious chocolates in three varieties including "rum & coke".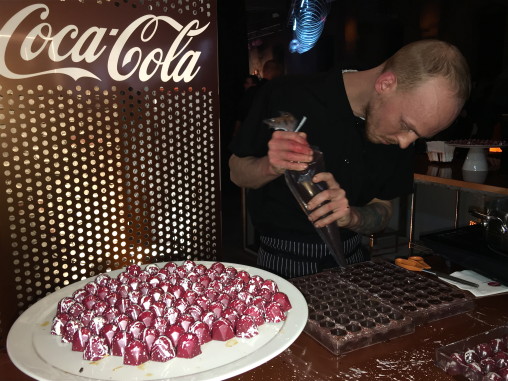 Here are more pics from the event…