For five nights only, luminary dance legend Mikhail Baryshnikov is on at The Winter Garden Theatre stage to recite – in Russian – the poetry of his friend, Nobel laureate Joseph Brodsky. This is the Canadian premiere of BRODSKY / BARYSHNIKOV; a solo performance in which Brodsky's poetry is deftly animated by Baryshnikov as he speaks and moves around a dramatic set that invokes the soul. The show runs until Sunday; performed in Russian with English surtitles.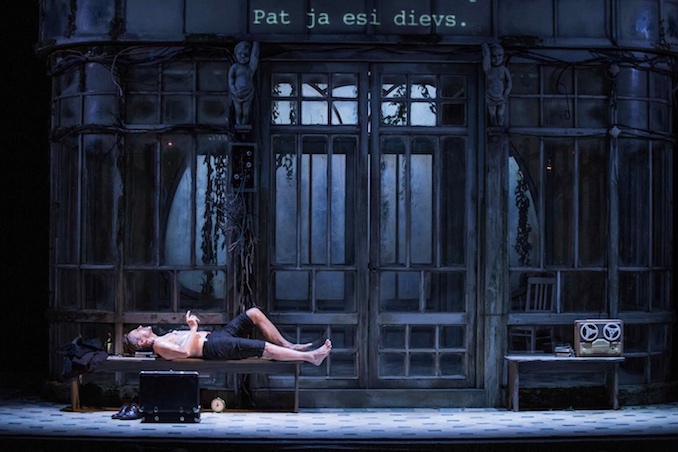 Poetry In The City
Poetry is playing a part in popular culture again. With the rise of the "insta poet," people are once again seeking entertainment that celebrates poetry. BRODSKY / BARYSHNIKOV is the perfect way to embrace the poetry trend. And who else but Mikhail Baryshnikov could get away with 90-minutes of Russian poetry in Toronto!
Naturally the big draw is legendary Baryshnikov, but as the performance progresses, you find yourself becoming absolutely fascinated by Brodsky's emotional landscapes – they shuttle back and forth between cynical anger and hopeful longing. BRODSKY / BARYSHNIKOV takes you on a rich spiritual journey through Brodsky's soul, referencing the body and earthly nature often. The show is clever; some of the poetry is spoken live by Baryshnikov, and some of it is Baryshnikov recorded and some of it old recordings of Brodsky reciting his own work. Enchanting production and staging – you will be intrigued to learn more about the poet. If you want to read Joseph Brodsky's poems in English, seek out translation by Jamey Gambrell.
Two Men, Two Souls In Friendship
This performance is meaningful to Mikhail Baryshnikov because of his personal relationship with Joseph Brodsky. They met when Baryshnikov was young. Both exiles from the former Soviet Union, they had much in common living life away from their homelands. The men became close, like brothers.
BRODSKY / BARYSHNIKOV is built from the poems of Joseph Brodsky; the show was conceived and directed by Alvis Hermanis, the influential director of The New Riga Theatre.
***
BRODSKY / BARYSHNIKOV
Runs until Sunday, January 28, 2018 at The Winter Garden Theatre, 189 Yonge Street, Toronto. Ticket prices range from $45-$150, and can be purchased online at showoneproductions.ca, or by calling Ticketmaster at 1.855.599.9090, or in person at the Winter Garden Theatre Box Office.
Brodsky / Baryshnikov: Presented by Show One Productions in association with Luminato.
Show One Productions, presenter of high-profile international stars of opera, theatre, dance and classical music. For upcoming events please visit: https://showoneproductions.ca/events/
Mikhail Baryshnikov
Born 1948 in Riga, Latvia, Mikhail Baryshnikov is considered one of the greatest male dancers of all time. After commencing a spectacular career with the Kirov Ballet in Leningrad, he came to the West in 1974, settling in New York City as principal dancer with American Ballet Theatre, after defecting from the USSR in Toronto.
In 1979, Baryshnikov joined New York City Ballet, and one year later he was appointed artistic director of ABT. From 1990-2002, Baryshnikov was director and dancer of the White Oak Dance Project, a modern dance company he co-founded with choreographer Mark Morris. He has performed widely on-and off-Broadway, as well as in television and film, receiving a Tony Award nomination and a Drama Desk Award for Metamorphosis, and an Academy Award nomination for The Turning Point. In 2005, he launched Baryshnikov Arts Center in New York City, a creative space for presenting and nurturing multidisciplinary artists from around the globe.
Joseph Brodsky
Born 1940 in Leningrad, Russia, Joseph Brodsky began writing poetry as a teen. He was charged with "social parasitism" by the Soviet authorities, who sentenced him in 1964 to five years of labour. Exiled from his country in 1972, Brodsky eventually relocated to the U.S. as a poet in residence at the University of Michigan, won the Nobel Prize in 1987, and served as poet laureate from 1991-1992. He died in 1996.