As we get ready for the Olympic Winter Games, here's a great documentary to check out! Champions vs Legends is a fascinating look at the science of winter sports and features Olympic and world champion athletes. What has changed over the years to improve an athlete's chances in competitive sports? Are today's world-class winter athletes really better, stronger, faster than athletes of the past? Or are the impacted by the latest development in technology?
Champions vs Legends pits Olympic and world champion athletes of today against yesteryear's heroes and investigates. Steve Haake, renowned UK-based sports scientist, travels to Canada, Germany and Austria, to meet eight world-class winter athletes impacted by the latest developments in technology and puts them to the test. The documentary features athletes including Shea Weber, NHL All-Star and two-time Olympic gold medalist, Christine Nesbitt, Canadian speedster and Olympic gold medalist, Manuel Feller, Alpine ski champion, Max Arndt and Alex Rödiger, German bobsledders and world champions, Anna Schaffelhuber, German para-alpine skier and five-time Olympic gold medalist.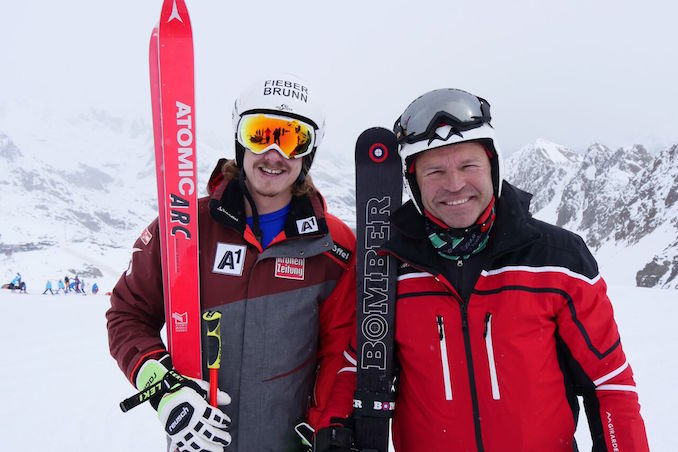 We had a chance to chat with award-winning Toronto-based filmmaker Robert Lang, creator and producer of the new one-hour documentary:
Technology has played such an important role in the advancement of many sports today but this goes hand in hand with the skill of the athlete as well. Having said that, what sport has the most technology advancements that you've learned about while making this film?
RL: Well, each of the five sports we selected for Champions vs Legends has seen major technological advancements which improve performance in remarkable ways. Some are less obvious, like the leather fixed blade speedskates of the 1960s transitioning to the carbon fibre clap-skates of today. Some are dramatically different, like the open steel bobsleigh from 1948 versus today's enclosed torpedo-like models. Technology has given distinct advantages to elite athletes today and in many cases changed techniques used in sports. We discover that along with the athletes as they try using the gear of the past.
The athletes, all world-class, genuinely appear unsure having to step back in time. Did that surprise you?
RL: It didn't really surprise us as we had been through this before with The Equalizer, a documentary we made with elite summer athletes. A good part of the fun is to discover, along with our athletes, the gear used in the past and to watch the extraordinary performances of past legends in their sport. In each case, our athletes rose to the challenge of trying to beat the performances of the past, but of course, they were unsure of their performance as they were navigating unknown waters.
The winter sports gear featured in this documentary had such incredible research behind each one. What was the most challenging to make a replica of?
RL: Believe it or not, the leather speedskates were tough to recreate because the fit was so important and the craftspeople from the 50s and early 60s are no longer around to give guidance, so our skatemaker, Tyler Derraugh, had to recreate them using old pairs as models. His experience has been creating formfitting carbon fibre skates for the Canadian team, so there was quite a steep learning curve working with leather and felt!
We loved the two alpine skiers challenge, that was different from the rest of the sports featured in this documentary. It really showed the skill and the technology well. How did you find Marc?
RL: We found legendary skier Marc Girardelli through our co-producer in Austria who had a connection to the Austrian ski team and enticed Marc to participate against the young buck, Manuel Feller. It took some convincing but in the end the competitor in him just couldn't resist.
The Bobsleigh team made us really nervous! What was going through your mind when filming this segment? It seemed pretty dangerous for them.
RL: Yes, that was a truly exciting challenge! They stepped back in time 70 years, and for first time, drove a very exposed sled at over 100 kms per hour, through a major snowstorm, which hampered their vision of the icy St Moritz bobsled run! The driver Max Arndt and his brakeman Alex Rödiger were really anxious at the top before taking off but, watching them whip by me at the halfway point on the run, I was surprised to see them both grinning from ear-to-ear! That's why they are champion bobsledders…and I'm not.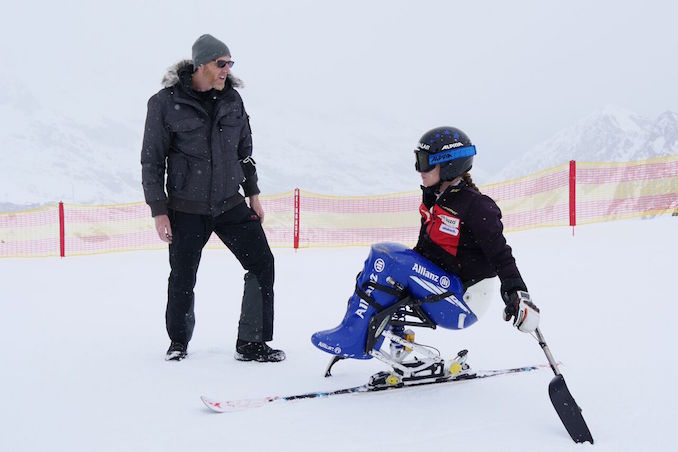 After time spent with so many talented athletes, are there details you'll be watching out for in the upcoming Winter Olympics?
RL: Oh yes, I'll be watching with a whole new set of eyes – checking out how the giant slalom skiers carve their skis deeply around the gates, marvelling at the technique of long track speedskaters, and during the Paralympics, discovering the extraordinary assistive technologies that help athletes excel in sports that would have been unthinkable in the past.
Yes, your documentary has us thinking the same way! What Winter Olympics sports will keep you glued to the television?
RL: I always enjoy short and long track speedskating, downhill/giant slalom skiing and big air/slopestyle skiing. And then when I want to take things down a notch, I'll be watching our awesome figure skating team take on the world!
UPDATE: Champions vs Legends, narrated by David Suzuki, will air on CBC's The Nature of Things on Sunday, February 4th at 8:00 pm across Canada. The documentary is also available online at cbc.ca/natureofthings on Friday, January 26 from 5 pm ET.
Here's the trailer: