Summer and outdoor theatre are such an essential pairing that it would be outrageous not to so seize the opportunity to watch a Shakespeare production to the acoustic backdrop of leaves rustling in the wind.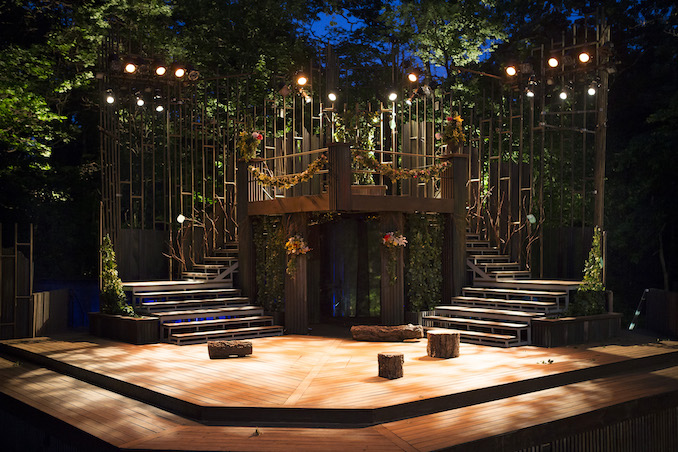 Opening night of King Lear was as ominous as The Bard's much celebrated work; dark skies threatened a storm brewing in the distance. For me, this added to the drama in a most glorious and ironic way.
Director Alistair Newton transformed the classic King Lear into Queen Lear, a welcome interpretation that replaces a megalomaniac male with a feverish female tyrant. For me, watching the maternal love between mother and child break down gave the production a new intimacy during the monarch's demise. Diane D'Aquila's Lear is, for a large part, in some ways as void of femininity as Shakespeare's original, until her decline when mother becomes child, and then mother once more.
Alas, here a woman ruling a man's world is twice as savage to compensate…and D'Aquila excels in playing the heartless sovereign, a lot like Shakespeare's own queen, Elizabeth I. With calculating Goneril and ruthless Regan, it's easy to see where the two princess get their pitiless personalities. It is actually very enjoyable to watch a production where merciless killings are pretty much all enacted by females. Even Edmund, the conniving bastard son of the Earl of Gloucester, was given an effeminate makeover, rendering testosterone pretty much defunct in the path for ultimate power.
It wasn't all just Slytherin doom, gloom and eye gouging; there was some comic relief from Jenni Burke as the countess of Kent and some classic one liners and sassy face fanning from the Fool.  Good 'ol Shakespeare can be trusted to add some much needed laughs to a tragedy!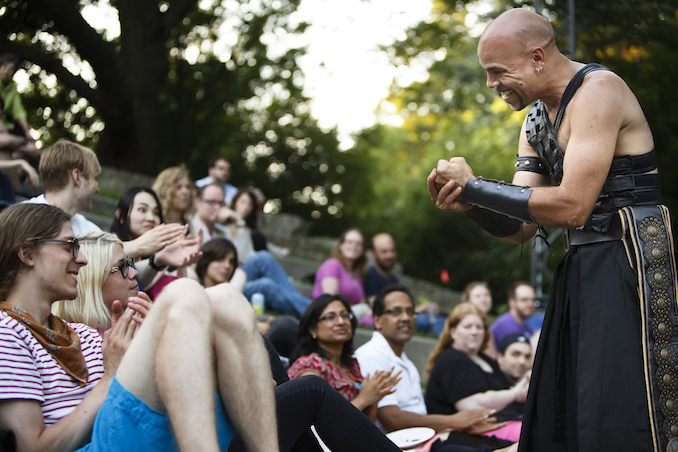 There was some pleasing use of levels and some regal designs fine tuned in to the performance in what was otherwise a reasonably sparse piece in terms of set design. Like in Shakespeare's own time, the bodies on stage were pretty much solely relied upon to tell the story.
Yes, the performance was very enjoyable, but in all honesty the biggest draw to the production for me was its setting. Watching the sun set against the backdrop of live theatre, and hearing the distant howling of wild animals in the park brings something pretty special to the experience. It somehow felt more alive than if I were sat comfortably on a cushioned flip chair in a black box studio.
This season of Shakespeare in the Park mark's Canadian Stage's 35th year in residence at High Park. With a Pay What You Can admission, the inclusive ethos of this Toronto summer tradition is well worth supporting and basking in.
King Lear runs in rep with Twelfth Night until September the 3rd, with King Lear taking the reins Tuesday, Thursday and Saturday evenings at 8pm. See the full schedule here.