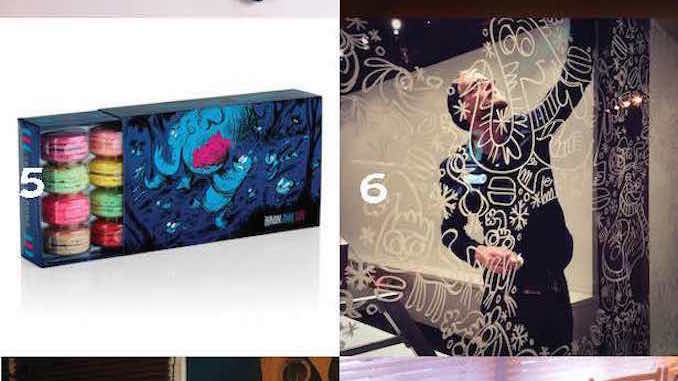 Intro:
Brandon James Scott is a designer who makes his home across the street from High Park in Toronto with his wife Jessica. He always seems to be making things, often drawings, and has been doing this since he was a baby, as his mom would proudly tell you. He's been working in animation for the last 8 years and he created his own television series called Justin Time, which won a Canadian Screen Award last year.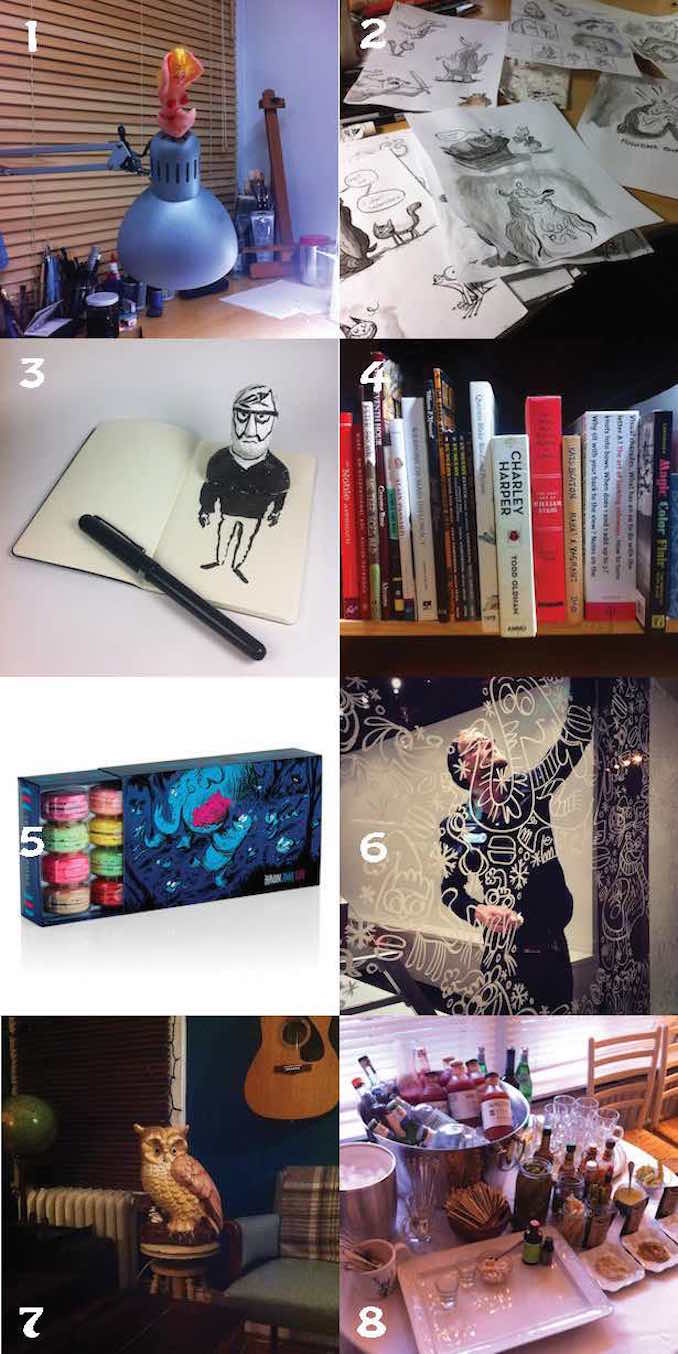 Images:
1 – The first thing I do when I sit down at my desk in the morning with my coffee is turn on my desk lamp. I have bikini lady attached to the switch – she reminds me of my wife.
2 – My desk – mid-working mode. Lots of drawings. No order.
3 – I've been putting myself into my drawings a lot recently.
4 – One of my many shelves of books – I collect lots and lots and lots of art books.
5 – A shot of the macaron box design I recently did with NADÈGE for their limited Artist Series.
6 – For the NADÈGE Artist Series macaron box launch I got to design the front window of their shop – I used the characters from my box and filled the window with holiday animal chaos!
7 – The centerpiece of our living room – a old ceramic owl named Hooty. He sits beside us when we watch Netflix.
8 – When we entertain, we don't mess around. (go Walter Ceasar!)
What neighbourhood do you live in?
I live in the High Park neighbourhood on Parkside Drive. Being across the street from the park is pretty much the best thing in the world in the summer. Roncesvalles is also a short walk and is one of the greatest streets in the city if you ask me.
What do you do and where?
I am the senior art director at Guru Studio, an animation studio at Spadina and Adelaide. It's a short bike ride (which I do most days, unless snowing). I have an office on the 10th floor of our building and have a good view of the city. On the side, I do a personal and commissioned design and illustration work.
What are you working on?
At Guru my time is spent developing and designing new pitches and pilot episodes of new content our studio is working on. Getting new shows off the ground can be stressful and challenging work but it's exciting as well, and I love it. At home I have a few ongoing illustration projects, I just took part in the Artist Series macaron box project with Nadège and had my box featured in December.
Where can we find your work?
I'm quite active on Instagram, where I share daily drawings and creations – http://instagram.com/brandonjamesscott