The universe is greater than our imagination, yet at times it can feel so close and personable. We all ultimate look for ways to connect between us, between the universe. In the age of social media when everything seems so impersonal, we all crave real and meaningful conversations.  Yes, we all text and email because it's convenient but what gets lost is the emotional aspect of the conversation. Barriers are taken down when we are face to face. Facial expressions and intonations help us understand each other. So much of this was going through my mind when I was recently taking in the world premiere of the play,  A Million Billion Pieces, directed by Phillip Akin now at Young People's Theatre until December 13, 2019.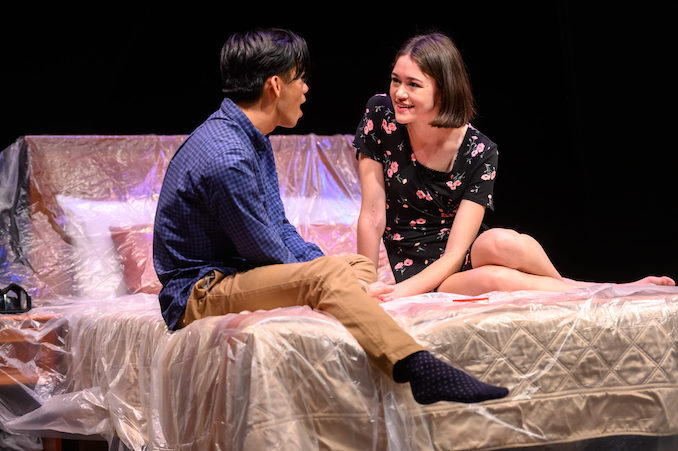 Created for a teen audience, A Million Billion Pieces, tells a moving story about two teens who are isolated from the world by a rare disease they have in common. All their lives, they were sheltered from the real world, but thanks to social media the two were able to connect online and relate with one another. They shared their hopes, dreams and the reality of an uncertain future. One thing they both know for sure as "sickies" is that if they met in real life, it could prove to be deadly.
The online world felt "safe" and for over a year they connected and flirted as they exchanged messages.  Then, they decided to risk everything to meet offline for an intimate encounter. The conversation was intense as the pair decides if what they were about to experience was worth the risk.
Eagle19 (Simon Gagnon) is the online persona of Theo (Aldrin Bundoc) who loves everything science-based and factual. Like a walking encyclopedia (or maybe today, that's Google or Wikipedia) he carries the weight of the universe on his shoulders. The reality of pros and cons makes him tread cautiously. He wants to feel what it means to love.
Pria (Kate Martin) is the rebel of the two who is willing to put her life at risk but is still dreams of becoming an opera singer. Her online persona PriaSoprano (Jonelle Sills, an opera singer in real life) gives her the confidence and shelter from the fear of singing in public.
Operatic voices woven into a teen-focused play is not what you would expect, right? But if you consider the emotions of loneliness, sadness, hope, and excitement involved, the style seems very fitting.
The play balances today's world with the human nature of wanting to connect with one another. It also raises the question of what it means to live and to love. What are we afraid of? "Stepping into this new world is less about a fear of dying than it is about a fear of not living," said Playwright David James Brock. "…it's also about making the time we have count."
A Millon Billion Pieces, directed by Philip Akin (Artistic Director, Obsidian Theatre) and Gareth Williams (Composer), is now on stage at the Young People's Theatre until December 13. Suitable for ages 13 and up. For more information visit www.youngpeoplestheatre.org.