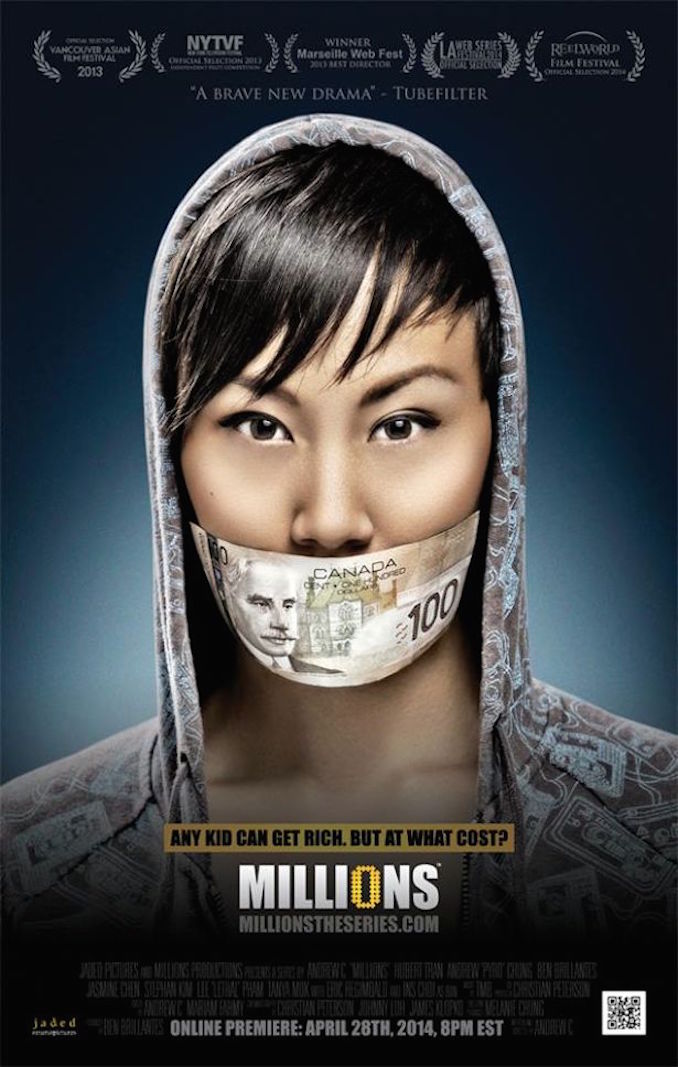 I got to chat with one of the actors and the creator of a new web series Drama called "Millions" (Millions-the series).
The show follows a group of friends as they struggle with their mundane lives and decide to step it up in an attempt to fulfill a pact they made years earlier to make millions of dollars.
Actor Ben Brillantes and Writer/Director Andrew C. are both Toronto natives and chatted with us about the show.
Where abouts in Toronto are you guys from?
Ben Brillantes: I grew up on Bleecker St. in St. Jamestown right next to what used to be known as the Nike basketball court (it was only because the backboards had Nike signs on them). It was a very interesting place to grow up; I feel very lucky to have come from there.
Andrew C.: I was raised in Scarborough.
Ben, how similar are you to your character? What things can you relate to vs. what was different?
Ben Brillantes: There are quite a few differences between Jay and I. For one, my character is rich — I'm not. Well, at least not in a material sense. My character is also smooth with the ladies — I wouldn't say that I'm too skilled in that department either. Where we do converge however, is in our ideas and outlook of the world. I'd say that we're both rather carefree, and that small things don't bother us because they are just so trivial. And it's because we feel that so many things in this life are so trivial, that we sometimes find ourselves distanced from everyone else around us. To add one more thing, I'd say that my character represents the confident side in all of us that comes out when we stop monitoring ourselves.
Did you know everyone from the show before you started filming? How did you all come together? Backgrounds in film/acting?
Ben Brillantes: I only knew Hubert Tran (he plays Brandon), and even then, our communication before Millions was limited. I got to know him much better as we worked together — great guy; talented too. Going off topic a bit, despite what you may see during the basketball scenes (Episode 3, I believe), Hubert is actually very good at basketball. Anyways, other than that, I didn't know anybody else. The only thing I knew was that I was the rookie actor/performer among a cast of talented people with extensive resumes (from Ins, to Stephan, to Jasmine, to Lee, and Pyro).
Andrew C.: No, we hadn't met whatsoever before working on this project. We just went through an open casting call. I made a massive campaign around the city looking for Asian-Canadian actors, as I wanted to find the best and brightest in the city. And thankfully, I feel like I did. I'm really grateful for the cast that I've found. Not only because they're so talented but because we grew to become very close friends. We hang out all the time to this day. It also gave me a very talented Producer in Ben, on top of him being in front of the camera as JAY.
The show was gripping. What are some of your influences? Where do you pull your ideas/styles from? movies/actors/directors
Ben Brillantes: In terms of styles and ideas, I think that's more of a question for Andrew (the director, not the dancer). As for what influenced my performance as Jay, I'd say that those who have played the role of "ladies-man" in popular movies were my main source of research. For instance, Clooney, Pitt, Craig, Will Smith (funny how none of them are Asian).
Andrew C.: Some of my biggest influences for the series (although it probably isn't detectable), are TV shows that I love, like Breaking Bad, The Sopranos, Mad Men, The Wire, etc. Some of my favourite directors are David Fincher, Christopher Nolan, and Darren Aronofsky. I love darker dramatic material, which stylistically, MILLIONS has some of I think.
What parts of the city is the show filmed in?
Ben Brillantes: Everywhere. To be a little more specific, Queen West, Markham, King and Wellington, the waterfront, and a whole bunch of other places. We filmed in houses, offices, restaurants, a club — places we didn't belong. We shot everywhere.
Andrew C.: The show is filmed primarily in downtown Toronto, and parts of Markham. We filmed at Cobra Nightclub (King and Spadina) and Embassy Nightclub (Richmond and Peter) when they were still around, a condo just west of downtown, Berczy Park (Church and Wellington), Queen West, a town house in old Chinatown, a parking garage at Bloor and Dundas West, and a lot more. In Markham, we filmed at a restaurant and basketball court, as well as my parents' house!
What direction are you going to go in the show? Anything we can find out before it airs?
Andrew C.: For this first web season, the main characters set out to try to make some money from throwing a club event. It's a pretty straightforward first venture, but things begin to get complicated when Deron's personal troubles and a mysterious enemy of Ron's (his older brother who owns a couple nightclubs) start entering the mix. I really wanted to give audiences just a taste of where the series would or could go. Thematically, the series is intended to go into a darker and darker direction, as the group begins to get into shadier businesses in order to make money fast. Some of the characters choose to do things responsibly while others bend their morals to get ahead quicker. Ultimately, the series is about how money can effect our morality when faced with the allure of wealth and greed. I wanted to show how the goals of money, or even simply financial security, can push us further and further away from our passions and what (or who) we love.
What is the best parts about filming here?
Ben Brillantes: Filming at home makes it easier to recruit for help. I can honestly say that this project would not have been completed without the work of so many people (mostly friends) that ended up getting involved because they either saw a posting, or because they knew somebody from the cast and crew. And even on this small-scale, I found out how film really is a "connections" game. Asking for favours becomes part of the job; you do it so often, but it never gets easier, I find. I always hated it, but I knew that it had to be done. You ask your friend to hold the boom; you ask your buddy if you can borrow his Cadillac; you get everyone you know to come out and be an extra; you ask if you can stay and film for just another hour. When it all comes together, it really is fun stuff. But that all comes with filming here, at home — without a budget.
Andrew C.: The best part about filming here is representing a city I know and love! But from a technical standpoint, filming in this city is just the most practical, as all of our film friends, contacts, and network are from Toronto. Our entire cast and crew is local, making the series practical to produce. We filmed this project over a 2-3 year period, so if everyone wasn't local it would've been extremely hard to produce.
Anything else you want to share with our readers?
Ben Brillantes: Support is everything. If you like the film, help spread it so that we can gain enough attention to attract the funding we need to make more films. And if we can make more, then we can entertain you more (and hopefully teach you something as well). It's that simple. Thanks for reading.
Andrew C.: I just want to urge anyone who's interested in local independent film, or interested in just watching a compelling story about contemporary North American life in your twenties, to check out the series. We've put so many years of hard work into it, and it was ironically never to make any money. I poured my life savings into it, because I just wanted to tell a story that I cared deeply about and show it to as many people as possible. It was also important to me to tell a story with Asian-Canadians in it, because our faces simply aren't on screen. But I didn't want it to be a story about being Asian-Canadian, it was a story with Asian-Canadians in them. It's absolutely a universal story, which I think anyone in their twenties would be able to relate to. We're airing every Monday at 8PM EST at www.youtube.com/MillionsTheSeries so please subscribe to make sure to catch every episode! We need all the support we can get to keep this series alive, and it starts at home. So please Like Us on Facebook at www.facebook.com/MillionsTheSeries and Follow Us on Twitter and Instagram @MillionsSeries or just visit our website for more information at MillionsTheSeries.com.
Watch the trailer for "Millions" and then go watch the show!