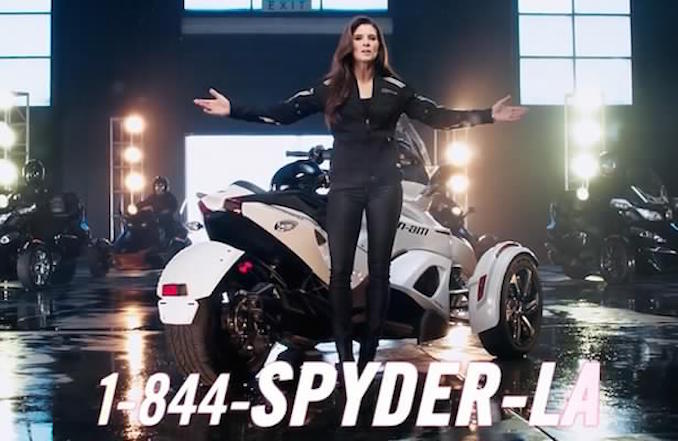 The first time I saw one was on Spadina, just north of Queen. A crystal clear afternoon in spring, a fast few years ago. It felt like I saw a Transformer from a movie by Ang Lee in idle position, but still prepared to rocket blast off into battle with an evil Michael Bay Autobot monstrosity. It was a vehicle like I'd never seen before: the Can-Am Spyder.
BRP's  Can-Am Spyder is the latest in next level "escape vehicles" available in our magnificent modern lives! Hilariously promoted by Danica Patrick, they recently ran a promotional campaign in Los Angeles where any celebrity in need of a paparazzi rescue (during the alotted timeframe) would simply need to call 1-844-SPYDER-LA, to be zoomed away in a Schwarzenegger-style Hollywood emergency escape, riding off into the sunset on a Can-Am Spyder, and far from the fame-starved TMZ media wannabes. They need to bring that promotion to Toronto and New York this summer! (The bike is made in Quebec, why couldn't they? )
Danica got to drive one, and had this to say: "I first tried the Can-Am Spyder in Long Beach, CA in a closed track and I had a blast. I couldn't believe how much fun to ride it was," said Patrick. "The Can-Am Spyder feels easy to drive. Its stability system gives you confidence. I simply had a blast!" Of course she deserves to ride one of these, and that her stamp of approval adds a steel ton of credibility to this Quebec-made innovation: she's the most successful female driver in the history of American open- wheel racing. She has to be elite to be a star cameo in a Jay-Z video!
Even though he was the first to own one, you don't have to be Jay Leno rich to afford one of these (roundabout the 20 G's range, NBD). So, if you got the dough to put one of these post-millenium sex rockets between your lucky legs, then browse www.brp.ca/spyder (or hit up your  local dealer), and then hit the Don Valley Parkway and the 401 riding an engine full of vengeance that shall not be contained by insane gridlock!
The Canadian outback will never feel the same, just as much as Spadina Ave. will always look a bit cooler with a Can-Am Spyder perched on the curb north of Bombshelter… possibly just waiting to assist Mark Wahlberg and Optimus Prime come summertime.