Thinking about getting your motorcycle licence, hitting the highway and taking on adventure this summer? I recently got my M1 and my M2 through the Ontario Ministry of Transportation and the Learning Curves program and it was a lot of fun.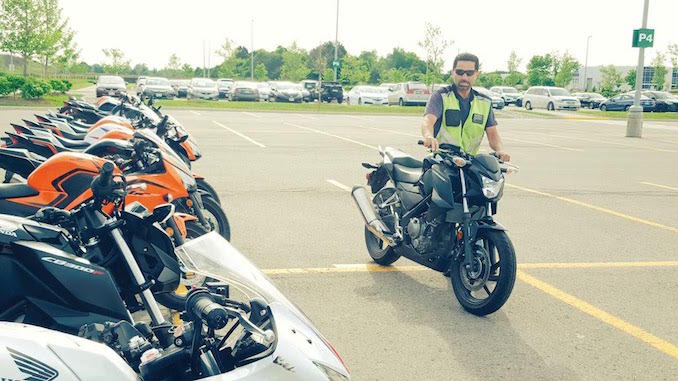 Start with the M1. 
After a written test, one can take out a motorcycle by themselves and drive around in daylight hours, with no passengers, Zero blood-alcohol level, and no highways. The written test can be taken at some service Ontario locations. I took mine at Bay and College. It costs $15.50 for the test + $8.15 for the 90 day licence. You can include the package with a M2 road test for $75.40 but I took the 3 day course through the MTO certified Learning Curves program.
To practice for this test, there is a great website. If you can get 100% on all of these each time you take them, you should be good to go.
After the M1.
Now you have your M1 and you have to wait 60 days, but no longer than 90 days, to get your M2 licence which is done by a road test. You can either do it through the ministry, or through a MTO certified course like Learning Curves. Honda Canada had asked me if I wanted to take part in the course at the edge of Toronto and Markham that takes place at the Honda HQ there. The course allows you to learn how to ride a bike and be prepared for the test on the final day that provides you with an M2.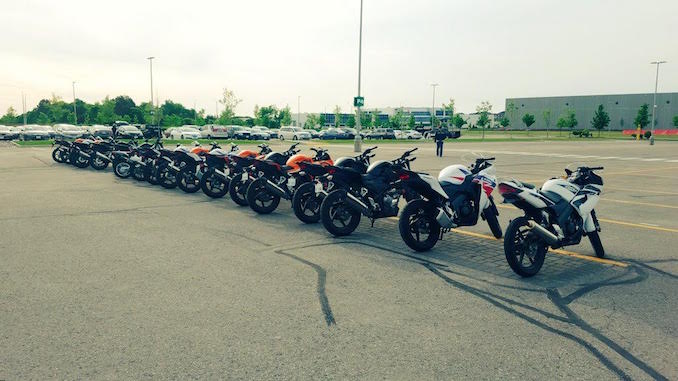 Day 1 of Course
The first day of the course is in a classroom setting and goes over positioning on the road and what to do in various situations. It goes over what gear is appropriate to wear, what we will be learning over the length of the course and general bike knowledge and safety. The instructors were all friendly and approachable (4 for a group of about 20) and the class took about 3 hours.
Day 1 on the road
On the first day of the driving day, participants arrived at the Honda HQ parking lot to find 20 bikes lined up in a row. This is the way bikes are parked, we are told. We are asked to always being them back to this positioning whenever we return from practicing.
We each started by learning the parts of the bike and by walking the bike around. After this, we learned how to start and kill the engine and how to mount and dismount the bike safely.
In no time at all, we were on our bikes and driving around the parking lot and outer track of the compound. Throughout the day, new objectives and strategies were taught to us. Constant supervision and advice helped us gain our confidence and our ability.
After the first day, which started at 8:30am and ended at 4:30pm, I was getting very tired. Riding a motorcycle is very physical, no doubt a sport.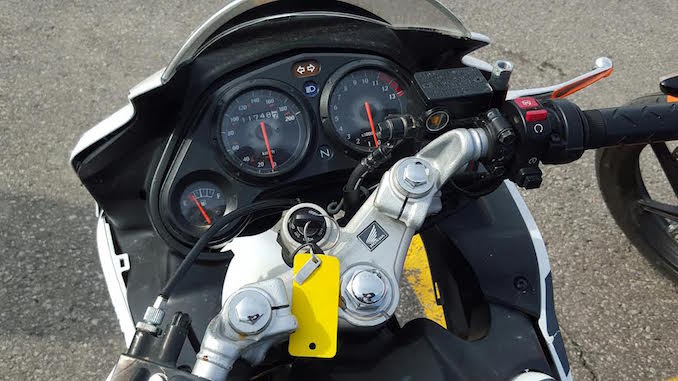 Day 2 on the road
On the second day of riding you are a lot more confident and you want to try ALL THE BIKES. With various types to choose from, dirt bike, racing bike, etc, you start to want to see the variations in each. On this day you will feel more comfortable maneuvering tight spaces and also gaining higher speeds.
At the end of the day, it comes time for the test. You have been riding for two full days now and have done all the requirements for the test, only now you are being marked.
The group got very nervous at this point, not everyone passes, and tests can make people lose focus.
Through 6 tests, the team at Learning Curves marks your abilities and mistakes. If you make too many, you have to come back another day and try again.
After the completion of the test, you receive your paperwork to pick up your M2 from a Service Ontario location with a Drive Test centre. Remember that this has to be done 60 days after acquiring your M1 but not more than 90 days after acquiring your M1.
I thought that the Learning Curves route was a great way to go for new drivers or those coming from other countries that may have different rules for bikes and for the roads. The team was fun to work with and I hope to do another course in 2 years for my full M licence.
For more info, visit the Drive Test website.
Check out the Learning Curves website for more info on their courses.