There is an excitement in the room when chef Gilles Vérot walks in to greet his guests. Of course I had heard his name brandished around the foodie-sphere, but it wasn't until I was in his company that I really understood the effect he had on those in the industry. Over the course of the evening, as I sampled his handiwork, I began to understand why.
The Four Seasons is a delightful place at the best of times, and Café Boulud is no exception. Greeted with a smile and a cracking gin cocktail, I took my seat for the evening, with bread and ricotta waiting for me. Yum.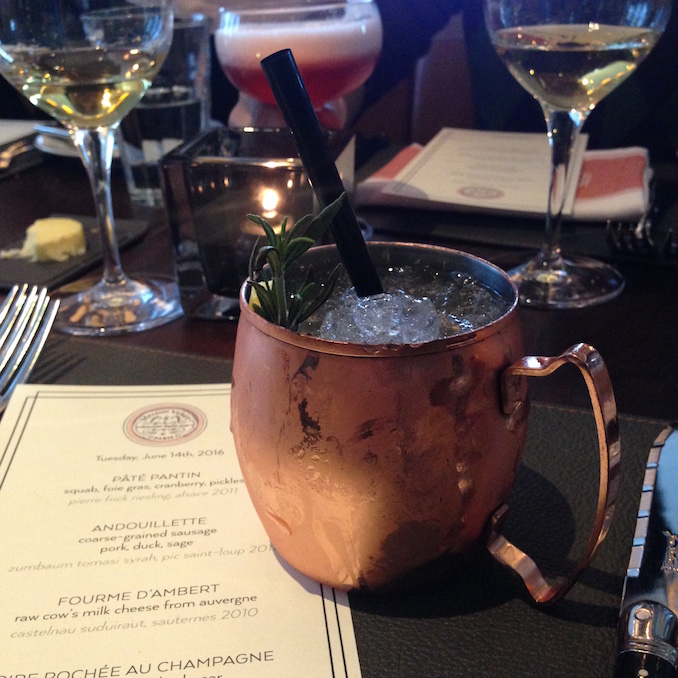 Foie Gras as an appetizer sounded terribly French, however when the first course arrived, I was delighted to find a Pâté en Croûte(Pâté pantin) that was far meatier, more like a terrine. The pastry was to die for and the accompanying vegetables perfectly complimented the flavour of the squab.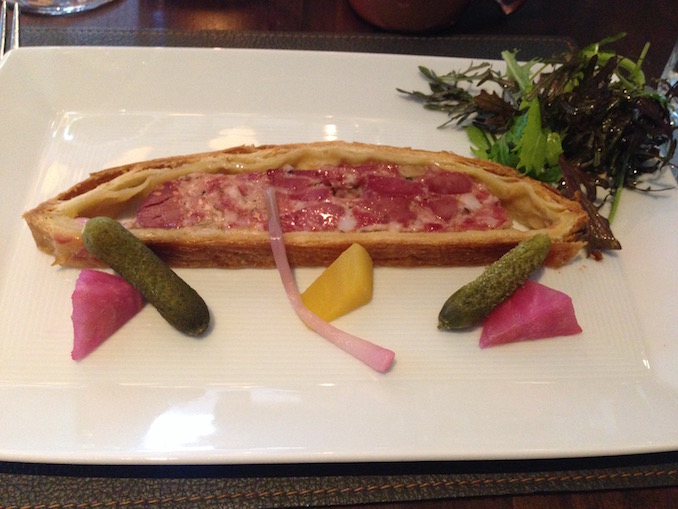 I will try anything (anyone remember the lambs brain at Parcae ?!) and I enjoyed the andouillette, a coarse grained sausage made of pork intestine and duck, however it was pretty big and got the better of me in the end. The 2011 Zumbaum Tornassi Syrah, however, I could have kept on drinking! Little did I know that I was about to meet my favourite wine of the evening, the delicious 2010 Castelnau Suduiraut which paired like a dream with the Fourme d'Ambert.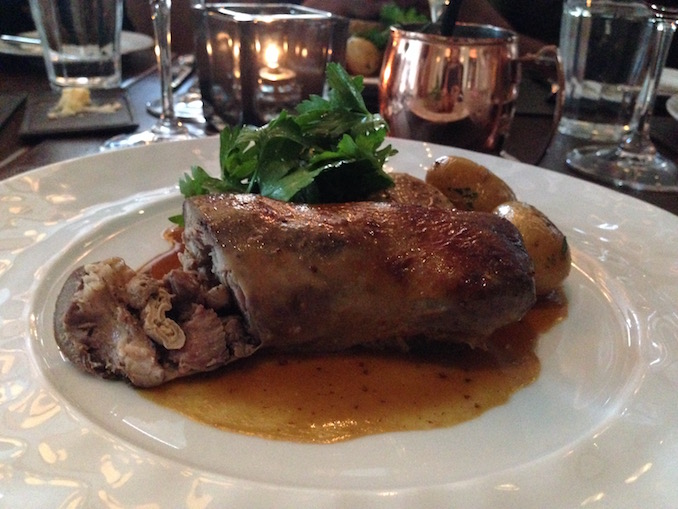 Dessert was an artfully prepared champagne poached pear, doused in chocolate and served on a bed of vanilla crumble and chocolate mousse. What pairs well with a champagne poached pear? Well, champagne if course! It's always a delight to have a cool glass of Perrier Jouet, especially when toasting a fantastic evening of food and Chef Gilles' last evening in Toronto, before he flittered off on his next gastronomic jaunt.
Gilles Vérot may have left the building, but his charcuterie influences remain. Check out Café Boulud for some of the best in town – on a Monday night, the attached D-Bar has a special charcuterie deal; choose from a selection of house-made charcuterie and cheeses, including a glass of wine, for only $35.
Visit their website for more info.