Toronto's restaurant scene continues to evolve and it's exciting! Our city draws the attention of locals, tourists as well as chefs alike. In recent years, we've celebrated openings by international Michelin-starred chefs (Daniel Boulud, Akira Back, Ernesto Iaccarino) along side the many local independents. We all can talk about the dishes and the buzz of these restaurants but their success, whether established or new, depends more than just us raving. What goes behind-the-scenes can also make or break a business.
While Toronto is a thriving culinary centre that has gained global recognition, statistics show on average, 60 percent of new restaurants fail within the first year. Eighty percent fail within three to five years.* At the same time, restaurants spend 30 per cent on food, and are struggling with higher labour costs to boot. So, how to help? Enter ChefHero, an online marketplace for chefs and suppliers, headquartered in Toronto with 65 employees and growing. It's digitizing the archaic food ordering process in an effort to save restauranteurs money, offering chef-owned restaurants and smaller chains price transparency on their food (practically unheard of!), and a local alternative to the national 'big guys' aka pricey food distributors.
ChefHero was founded by Saif Altimimi and Diego Dominguez Ferrera. Growing up around the produce business, Saif noticed a broken link in how vendors and restaurants were connecting. With the help of Diego, he envisioned a future where chefs could easily leverage technology to access everything they needed in one place. Since its launch in 2017, the Toronto-based company has grown by more than 118%. In April this year, ChefHero announced a $12.6M in funding from investment firms that will be used to fuel expansion in other cities across North America.
The service is quickly  gaining popularity in the industry with restaurants including Flock Rotisserie, StrangeLove, Paramount Fine Foods already on their client list. Along with hundreds of other restaurants, caterers, food trucks, coffee shops, bars and pubs, they are given the opportunity to take advantage of a more streamlined system. They can now order produce, meat, seafood, bread, dairy products as well as kitchen supplies and not have to worry about hours of negotiations and tracking orders.
We had a chance to find out more from Brody Slacer, Head of Vendor Success for ChefHero. Brody Slacer started learning about food while growing up around a family farm. While it's trend-worthy now, prioritizing local foods and the term 'farm-to-table' is in Slacer's DNA. Daily, he liaises with top chefs and food suppliers to source quality alternative proteins, spices, meat and seafood and spices.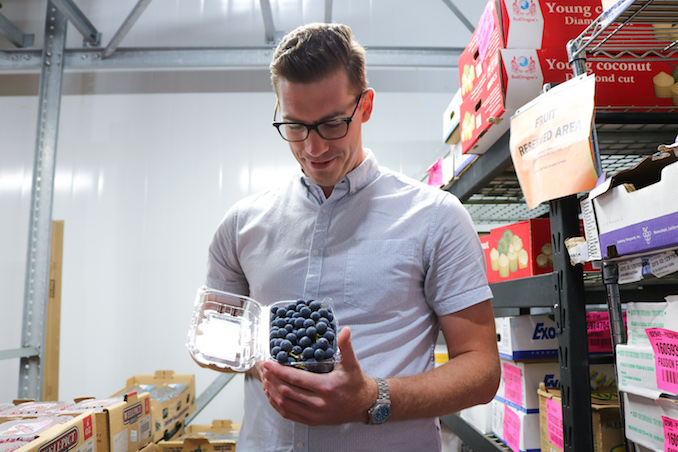 There are so many reasons for restauranteurs to use your service, what would you say are the top 3 reasons that you hear consistently from your clients?
Slacer: For too long, the restaurant supply industry has been broken and the supplier-restaurateur relationship has become very opaque. Our mission at ChefHero is to deliver the world's most trustworthy wholesale food network. We connect local suppliers and restaurants and enable them to make transactions in a very transparent environment. When we speak with clients about their experience with ChefHero, the same three things always come up. Firstly, we save them time. Currently, chefs and restaurateurs often have to call several sales reps between specific hours of the day to find out prices, compare them, order by a certain time and hope for the best. This process can take hours, and take up a lot of valuable time (and sleep) from the individuals who do the ordering. With ChefHero, individuals have the freedom to open up the app or webpage and have all of the product information, from multiple suppliers, readily available to them, anytime, any place. On average, our customers have claimed to save anywhere between 1-5 hours per week on ordering alone. ChefHero makes accounting activities easier. Our customers rave about having all of their invoices easily accessible in one digital place. Restaurateurs are able to review or pay past orders and invoices anytime so they have more visibility into what they owe, how much they've spent and so much more. Finally, ChefHero ensures that shorts are less stressful for restaurateurs. With 24/7 access to our customer service reps, restaurateurs can feel more supported during these stressful times. Currently, restaurateurs will not find out that they've been shorted until the truck arrives with their order. ChefHero is proactive in letting owners know that an item has been shorted the second we know. We also find and deliver any of the shorted items within the next day or two, depending on urgency. This way, chefs are able to focus on running their core business of running a restaurant, rather than chasing down suppliers and finding replacements for shorts.
How are you sourcing suppliers to join in? Do they need to be/and how are they vetted?
Slacer: One of the reasons we have been so successful in growing our user base of restaurants is because we do the vetting for them. When it comes to how we select which suppliers we partnerwith, we focus on two main things: quality and reliability. All of our current suppliers offer quality products that are traceable and check all the boxes on food safety requirements. We work with some of Toronto's most noted suppliers and that resonates with owners and chefs like Mandy Kan of Dessert Lady, Luis Valenzuela of Carmen, and many more. Restaurant owners also appreciate the fact that food is traceable and local – two qualities that increasingly matter to their customers and can make a difference to the restaurants bottom-line.
The platform helps to streamline the less appealing aspects of running a business as well. Can you tell us how ChefHero has helped overcome some of the hurdles?
Slacer: Running a restaurant can become very chaotic and stressful. All of the stress and chaos can make it easy for restaurateurs to push aside some of the less glamorous parts of the job. With ChefHero, restaurateurs are able to give several different members of their staff access to ordering. Maybe your head bartender wants to order supplies for FoH activities and your head chef takes care of the BoH supplies. They're both able to easily order under the same account and add things to a collective cart easily.
For many restaurateurs, working on accounting activities isn't the most exciting part of the day either. Through the ChefHero app, you're able to either give specific permissions and access to your accountant to go in and take a look at all of the invoices, or you're able to export these invoices and send them to your accountant or accounting platform. ChefHero has also invested a lot of time and money into their content strategy. We are continuously producing relevant and actionable content for restauranteurs to take advantage of. This is not an easy industry and the success rate is not as high as it could be. So, we're doing everything in our power to ensure that restaurateurs have all of the knowledge and tools at their disposal to help them succeed. On the supply side of things, we are able to expose our suppliers to hundreds of local restaurants willing to purchase their products. This greatly reduces their need to invest in a sales and marketing team, and cuts down on the many man hours they would otherwise invest in to knock on doors. ChefHero ensures that suppliers receive one consolidated payment on behalf of all of these customers as well. The payment process is much more streamlined for both parties.
Obviously there's more purchasing power when you work with chains or larger restaurants, how does the smaller cafe or food truck benefit from using your service?
Slacer: ChefHero acts as a buying group on behalf of all of our customers. As we bring on more buyers onto the ChefHero platform, we're able to bring suppliers more customers, but also allow smaller establishments to receive the same prices as a larger chain. Many of our customers fit within the category of smaller eateries, coffee shops, etc. When we met with one of our customers, Jon Newby, Head Chef at Refinery Public House (a small-scale restaurant), he estimated that the switch from a major broadliner to ChefHero has saved them about $600 per week.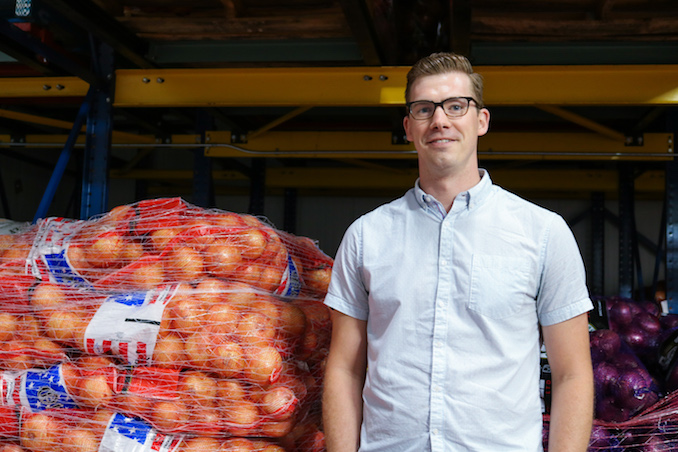 What's the best feedback you've heard from chefs who are using your platform?
Slacer: Running a restaurant is hard work that eats into every aspect of your life. Working with ChefHero has enabled our restaurant users to gain back time associated with sourcing and add back hours onto to their day to focus on their core business — and spending more precious time with loved ones.
What about specialty and unusual ingredients? Are able to source those as well?
Slacer: We work with a variety of suppliers who offer various unique items. On the seafood front, our partner has one of the best oyster selections in all of North America. Our beef supplier designed his own grading system to ensure that all of his customers were only getting the best prime cuts of beef available in the market. On the produce side, our partners are always at the forefront of innovation, carrying unique items including: black garlic, pink lemons, white radicchio, finger limes and so much more!
You also had recently made the news with investors, can you tell us about that and how that's helped?
Slacer: ChefHero has been growing rapidly. Earlier this year, we raised our Series A from one of North America's leading venture capital groups, Golden Ventures, that recognize the unique space we are pioneering. The investment allows us to reinvest into the technology of our business and hire the best talent in sourcing, development, and customer service as well as focus on expansion across North America.
For more information, please visit their website: www.chefhero.com
*figures quoted in this story have been provided by ChefHero.