Fidel Gastro's Matt Basile sent us this great recipe for Spicy Bok Choy and Miki Noodle Soup from his book "BRUNCH LIFE" that he created with Kyla Zanardi.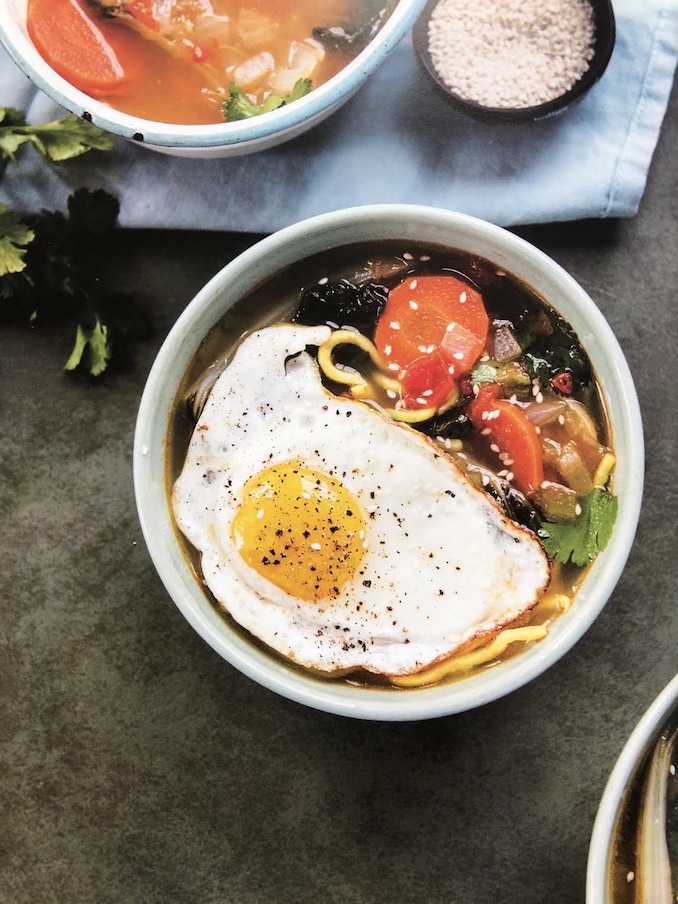 Spicy Bok Choy And Miki Noodle Soup Recipe
Ingredients
-3 tablespoons (45 mL) canola oil, divided
-¾ cup (175 mL) finely diced celery
-¾ cup (175 mL) finely diced onion
-2 cloves garlic, minced
-1 teaspoon (5 mL) grated fresh ginger
-2 teaspoons (10 mL) salt
-½ teaspoon (2 mL) Thai seasoning (I use Club House brand)
-1 Thai red chili pepper, sliced
-1 cup (250 mL) thinly sliced carrots
-4 Roma tomatoes, diced
-Juice of 2 limes
-10 cups (2.5 L) water, divided
-8 baby bok choy
-1 cup (250 mL) cilantro leaves, plus more for garnish
-4 large eggs
-14 ounces (400 g) precooked miki, udo, or chow mein noodles
-2 teaspoons (10 mL) sesame seeds
Directions
1. Heat 2 tablespoons (30 mL) canola oil in a large pot over medium-high heat. Add the celery, onion, garlic and ginger and sauté for 2 to 3 minutes, stirring constantly. Season the mixture with salt and Thai seasoning and sauté for another 2 minutes. Add the chili pepper, carrots, tomatoes, and lime juice. Continue to cook, stirring continuously, for 2 to 3 minutes, until the tomatoes begin to break down. Add 5 cups (1.25 L) water and bring to a boil. Turn the heat down and simmer for 20 minutes, or until reduced by a quarter. Add the bok choy and the remaining 5 cups (1.25 L) water. Bring everything back up to a simmer and cook for another 10 minutes. Turn the heat off and stir in the cilantro.
2. In a medium frying pan, heat the remaining 1 tablespoon (15 mL) canola oil over medium-high heat. Crack the eggs into the oil and turn the heat down to medium. Cook the eggs sunny side up for about 5 minutes.
3. To serve, divide the miki noodles evenly among 4 bowls. Ladle the hot soup over the top. Top each serving with a sunny-side-up egg and garnish with sesame seeds and cilantro leaves.
*Recipe courtesy of Penguin-Random House (Book: BRUNCH LIFE by Matt Basile & Kyla Zanardi