The President of the Toronto Raptors Masai Ujiri recently held an event at KOST restaurant on the rooftop of the BISHA Hotel in Toronto to showcase some of the work done by his organization Giants of Africa, an organization that uses basketball as an avenue to increase the chance of success for youth in Africa.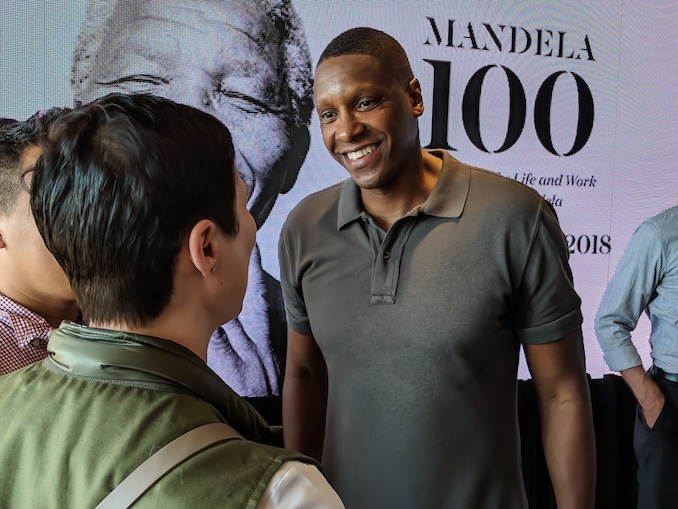 Describe your charity/non-profit in a few sentences.
Toronto Raptors President, Masai Ujiri found Giants of Africa in his home country of Nigeria, with aspirations to leverage basketball as a tool for young boys and girls to Dream Big, and maximize opportunities for their future in Africa. Since its' inception the not-for-profit organization has expanded its footprint and programming across the continent and beyond the game prioritizing skills training and personal development encompassing basketball, health and wellness, leadership and social impact.
What problem does it aim to solve?
Giants of Africa aims to create pathways for African youth through the game of basketball, the organization recently announced a game plan to develop multiple basketball courts in an effort to nurture the next generation of African leaders
When did you start/join it?
Masai Ujiri founded Giants of Africa in 2003.
What made you want to get involved?
Masai was inspired by his role model – Nelson Mandela. He felt the need to be an agent of change in his community and create opportunities for youth globally.
What was the situation like when you started?
African youth have long been soccer fans, but basketball is a relatively newer passion for kids in the country. Programs like Basketball without Borders, Seed and Giants of Africa have nurtured their passion for basketball across the continent.
When Women Win, We All Win from Giants of Africa on Vimeo.
How has it changed since?
More and more kids are playing basketball and learning both on and off the court.
What more needs to be done?
These kids need more opportunities to play – they lack infrastructure, equipment, and coaches – Giants of Africa strives to provide the tools to help them play and excel both on and off the court.
How can our readers help?
Support Giants of Africa in fundraising efforts, and follow our social accounts for activities happening year round.
Do you have any events coming up?
Giants of Africa and Toronto Raptors president Masai Ujiri announced Tuesday a celebration of the centenary of Nelson Mandela with a series of Toronto-based events on Dec. 4th and 5th. The tribute marks the fifth consecutive year that Giants of Africa, the not-for-profit founded by Ujiri, will pay homage to the late South African president and Nobel Peace Prize winner. . To learn more about the events, as well as purchase tickets, please go to: raptors.com/mandela100
Where can we follow you?
To learn more about the organization go to our website or follow Giants of Africa on Facebook , Instagram and on Twitter.