Name: Cody Barton
Genre: Acoustic/Pop-Rock
Founded: 2006
# of Albums: 2
Latest Release: Singles: "Today I Don't Know", "Sunsets Aren't Setbacks"
Latest Video
Bio
Cody Barton is a Toronto based Singer/Songwriter. Currently in the process of recording his second Solo EP, he is also performing live all over the great city of Toronto, as well as the GTA and surrounding areas. Cody's style of music is rooted in rock and roll, elevated with unique hooks and the energy of pop, combined with the classic skill and soul of an acoustic folk musician.
Cody combines all of the elements from every influence of his musical passions to give raw energy to meaningful stories through undeniably memorable melodies. Throughout his career, Cody has appeared on a multitude of stages around Ontario, along with having the opportunity to perform in the United States, as well as overseas. Cody also has experience holding multiple residencies at different GTA establishments.
Cody's multi-faceted musical expertise and extensive influences have allowed him to hone a unique sound and overall experience that is much larger than that of a typical solo artist. While he writes solo, he also rosters an arsenal of talented musical accompanists.
Latest Single: I'm finally dropping new stuff – "Mountains" is coming Winter 2018
Favourite Restaurant:
Honestly, I'll eat anywhere pretty much whenever, but I am ALWAYS craving Banjara.
Favourite band as a teenager:
Foo Fighters. No one came close to touching Dave and the boys for me. Weezer and Dashboard Confessional tried, though.
Favourite band now:
The Foo's have aged like fine wine. I think they will always hold things down. Coheed & Cambria and Heaven's Basement would be my other current front runners.
Guilty Pleasure Song:
Not too sure if I feel guilty about it, but "Sister Christian" by Night Ranger is a bop.
Live Show Ritual:
Nothing too special. I give my throat a good steam in the sink, and then I'm pretty much good to go.
Favourite local artist:
That's a tough one. Toronto is absolutely loaded with talent. If I had to pick, though.. Intervals and Mercy Flight are both killing it right now. Oh, and Scott Helman.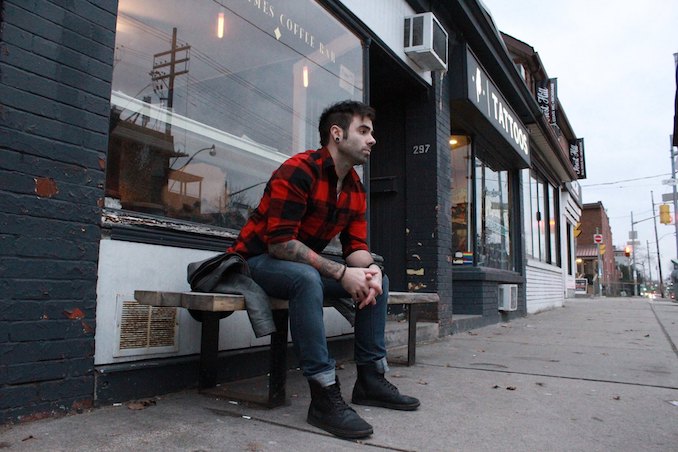 Sneaky Dees nachos, pasta from Terroni or a superfood salad from Fresh?
I'm going to have to say Terroni, but I'm skipping the pasta and hitting up their calamari and 'za.
Queen or College St?
I'm going to have to go with College. I live just off of it.
Trinity Bellwoods or Highpark, Riverdale or Kew Gardens?
Definitely Bellwoods. No contest.
EP or LP?
I feel like the LP is the long game for me, but the listening public are craving rapid releases, so I'll give them an EP.
Early bird or night owl?
Nether. I hate waking up and I love going to bed.
Road or studio?
Studio. I love playing live, but I also love my bed. I feel like I really get to do everything I need to do musically in the studio.
Swiss Chalet or Roti?
It's controversial, but I could honestly take or leave the Chalet sauce and quarter chicken, but give me those Chalet fries and I'm there every time.
Where can we follow you?
Instagram/Twitter: @thecodybarton Facebook/Soundcloud: Cody Barton
Any upcoming shows or releases?
I'm playing Scaddabush Y/G on August 5th.