There are many moments, and people, in history that are truly unforgettable. Pop culture, music, and politics give us those "remember when?…" thoughts. They can wash over us with warm and fuzzies feelings, but they can also leave us shaking our heads — Kardashians, anyone? While we are currently living through some remarkable, and bizarre times, we're sure each generation before us has had their fair share. This is why Rick Miller's extraordinary time-capsule show BOOM  has caught our attention.
BOOM originally played in Toronto in January and February 2015. After touring around North America, Miller returns with a strict one-week engagement at the CAA Theatre (formerly the Panasonic) August 14 to 19.
The multi-talented Miller takes the audience through 25 turbulent years of the Baby Boom generation (1945-1969) in this high energy solo performance. Giving voice to over 100 musicians, politicians and artists from Buddy Holly to the Beatles and other important and influential figures, Miller offers a blast through the past that's full of sights and sounds not just for Boomers, but for all generations.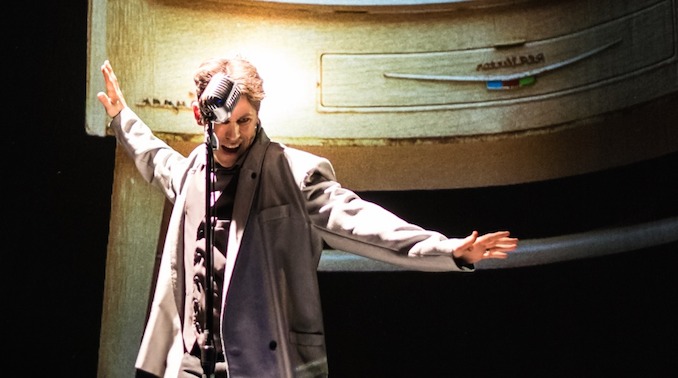 We had a chance to speak with Rick Miller to give us more insight…
Do your remember your first impersonation/impression and who was it?
RM: In elementary school, I remember being able to imitate Roger Doucet, the guy who sang the bilingual national anthem at the old Montreal Forum. That, and all the Looney Tunes characters!
Performing in 100 voices! Would it be appropriate to call them impersonations?
RM: Out of respect to impersonators, I never use that word to describe what I do. I have a keen ear and a strong voice, but I prefer to think that I capture the "feeling" of an imitation, as opposed to just impersonating someone. Usually, I do voices at the service of a larger concept, like in MacHomer (when I did 50 Simpsons characters doing Macbeth), or in BOOM (when I imitate singers and politicians, but always to give a "feeling" of the time). It's a great joy for me to be able to play 100 characters in 100 minutes, and I'm always happy to when audience members tell me they were blown away (pun intended!)
What's the one voice you're always asked to do for family and friends?
RM: It used to be Homer Simpson, given that I did MacHomer for 17 years. These days, oddly enough, it's Morgan Freeman – one of my favourite voices, and one that's funny no matter what I say.
What was the inspiration for you to create this historical capsule of a show?
RM: It started with my father who, like me, is an archivist, endlessly cataloguing and documenting his family's history. He was starting to document his own story growing up in Vienna during and after the Second World War, and I found the excerpts he was emailing me fascinating. I began to dig into the history, politics and culture of the baby boom period, and hooked into the concept of a solo documentary time capsule.
This is a fast-paced and highly entertaining show and we're left breathless at the end. How do prepare each night?
RM: A couple of hours before each show, I do an extensive vocal warmup, I listen to voice clips from the people I'm imitating, and I stretch to make sure my body keeps up with my throat. Then, I focus on adding something new to each performance, to keep my brain actively working; it could be as simple as throwing in a word suggested by my stage manager, or making the timing of one bit work better. After a show, and the post-show talkback, I try to shut and go to sleep as soon as possible!
Baby Boomers would recognize many of these iconic moments and voices, what would you want the younger audience members to know?
RM: I'm not a boomer, although I was born out of another mini baby boom that followed the moon landing of Apollo 11. That happened in July 1969, and I was born in March of 1970. You do the math. So in a way, the story of boomers is the story of my parents. And why should we care about our parents' stories? Or our grandparents' stories? Because I think we can learn about ourselves today if we just look back and see the cycles and patterns of history. BOOM is full of circles and spiralling elements in order to reinforce just that: history repeats itself, and we become more like our parents than we wish to think.
If you could go back in time what moment would you wish you could experience again?
RM: Summer of Love – 1967! Why not? Sounds like it was one helluva good time. And the rock music that was exploding that year was incredible.
History is always in the making…what's happening now that you're sticking in your back pocket to save for later?
RM: It's hard not to feel that we're living in extraordinary times, with leaders unlike anything we've seen before. But the world has seen Trumps and Fords before, and they will again. What does feel exciting to me is that technology is now accelerating at an exponential pace, and the next 15 years could see the kind of disruptive change futurists and sci-fi novelists have been imagining for years. But no matter how much of our lives become dictated by screens, I don't think we'll lose the desire to gather together to see stories told a darkened room.
You're working on a new show as well? Can you give us a hint and when can we expect that?
RM: We're premiering BOOM X, the GenX follow-up to BOOM, next January at Theatre Calgary, and then touring it across Canada for the next year. There's also a third play in the trilogy, BOOM2K, covering 1995-2020, that will premiere in a few years. Those are just my solo shows. My partners at Kidoons and I have another trilogy of family shows that we're touring everywhere: Twenty Thousand Leagues Under The Sea (premiered in Toronto in 2015), Jungle Book (premiered in Sarasota, FL, in 2018) and Frankenstein (premiering in 2020). For more info, please visit kidoons.com
BOOM is written, directed and performed by Rick Miller. On stage at the CAA Theatre, 651 Yonge Street from August 14 to 19, 2018. Tickets $35 to $89. Students with valid ID $25. Tickets and more info at www.mirvish.com.