I had always thought our city was filled with places to have Afternoon Tea. You know, pinkies up in the air and little finger sandwiches with ladies who are dressed in pretty dresses. Then, recently it hit me, actually it was Mother's Day when I realized that our city definitely has room for more offerings. I happily discovered that Butter Avenue Patisserie in the city has recently introduced their version of Afternoon Tea.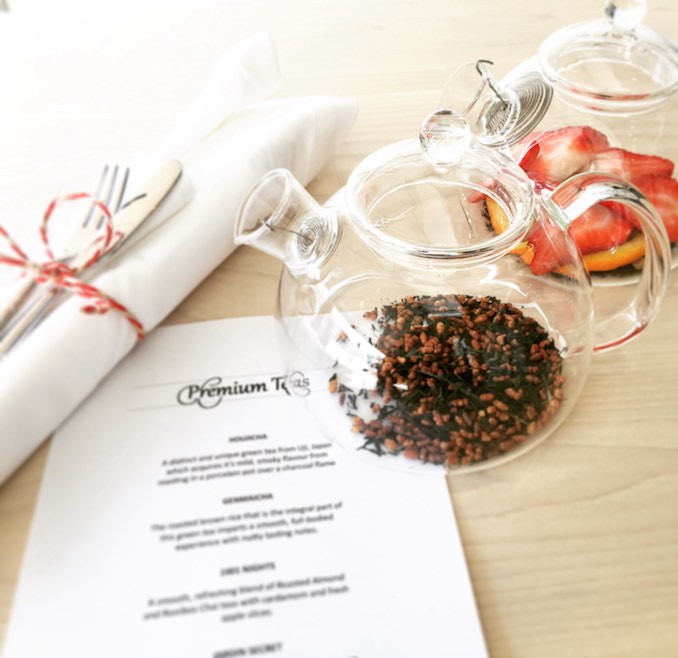 But let's start first with the whole concept of Afternoon Tea. I know some places call it High Tea but is there a difference? I had consulted Butter Avenue's staff while treating myself to an early Mother's Day with my youngest kid in tow. He's a little foodie and well, just say the word "sweets" and you'll see the biggest smile on his face. We did a little research and discovered that Afternoon Tea is a British tradition that is served in between lunch and dinner when the latter was often served later at night. It was never intended to replace a meal. It was very fashionable in the early 19th century and a custom that continued for the wealthy.
Then lifestyles changed as the industrialization of Britain occurred. More people had to work and tea time was pushed until after work hours aka High Tea and the food offerings became more than tea and sweets. Savoury items were meant to give workers more of a meal rather than an afternoon delight and served with stronger tea for a late afternoon energy drink.
Today, it seems that we can get a blend of both and many places accommodate the timing preferences of diners. Hotels and cafés who offer the service seem to want to give the best experience possible. It's not meant to be rushed and it is something special.
I was curious when I saw Butter Avenue post something about introducing Afternoon Tea. I'm already familiar with their macarons but had learned that they recently hired French pastry chef, Lucas Craig, to join Head Chef Tina Su. Typical Butter Avenue fashion, they prefer their goods to speak for themselves only because they have no inflated egos here. The chefs are passionate about their creations. Their treats are the stars.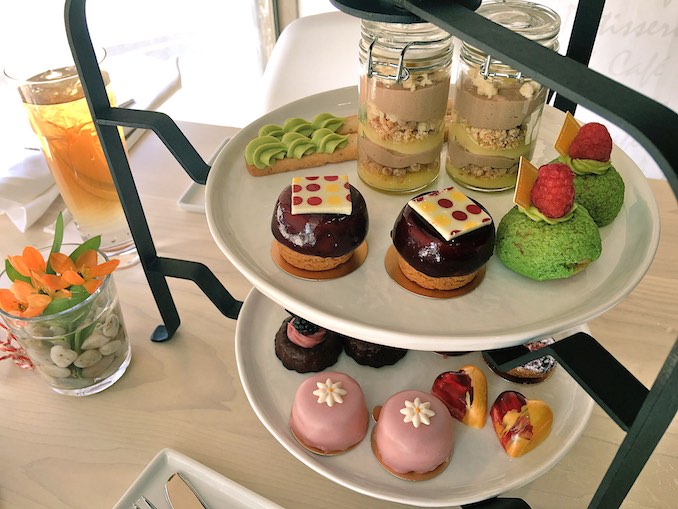 So, why did they decide to offer Afternoon Tea and what are they doing differently? They told me that they wanted to offer a more contemporary tea service to elevate the food and tea experience. While they've always sourced ingredients from local producers and suppliers and do not use preservatives, they are now also working with a premium tea supplier in Japan. They've made several trips to Japan and recently secured one trusted source for their tea for drink and to use in some of the sweets.
The tiered sweets trays are designed locally within the style and feel of Butter Avenue's personality – Japanese minimalist, quality and with Scandinavian design.
But onto the food…
First, we were offered a selection of premium teas. There are five on the list but if you prefer to choose from their popular daily tea menu, that is fine too. If you like to try something a little smoky in flavour then you will definitely want to try the Houjicha, an interesting green tea from Uji, Japan that acquired it's mild flavour from roasting in a porcelain pot over a charcoal flame.
While I adore sweets, I usually also prefer something savoury and it was nice to start off at this Afternoon Tea with a warm house-made quiche. The day I went, there were two options. I had the mushroom quiche with a light and buttery pastry with the perfect crunch and the filling had a nice balance of flavours.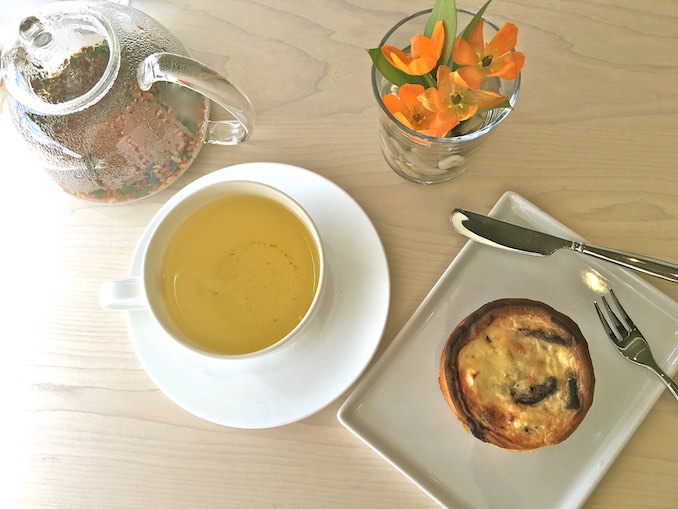 The sweets came prepared on two tiers of plating and serve two. Incredibly pretty in delicate pinks and creams that reflects the Spring season. Here there were 10 different types of treats ranging from their upscale version of petit fours and the mini cheesecakes. Real stand outs include their canele made with 66% dark chocolate and strawberry ganache, the Verrine is a heavenly lime cream with milk chocolate chantilly and milk crumble.  The cassis honey cake made with honey mouse, cassis gelee, Breton short crust I could happily be smothered in. Each item is so very interesting with outstanding flavours.
We couldn't finish everything and honestly, I was relieved!  More importantly I also had dessert taken care of for that night too!
Afternoon Tea at Butter Avenue is now available by reservation at their uptown location at Yonge /Lawrence.
Visit their website for more info.