Fake Magic was formed from a long-held connection between Greg Markham and Bryan Paccagnella – friends since Grade 2. Growing up in the suburbs of Richmond Hill, they played a lot of garage and basement rock together. After a period of parting ways, they eventually reformed as Fake Magic, adding Greg's ex-bandmate and talented lead guitarist Cory Williams to the mix for their latest album. They try not to label what they do. "Call it dork rock, indie rock, alt-rock… call it Steven. Call it a cab. Take it down to Weird Street. It's a good time.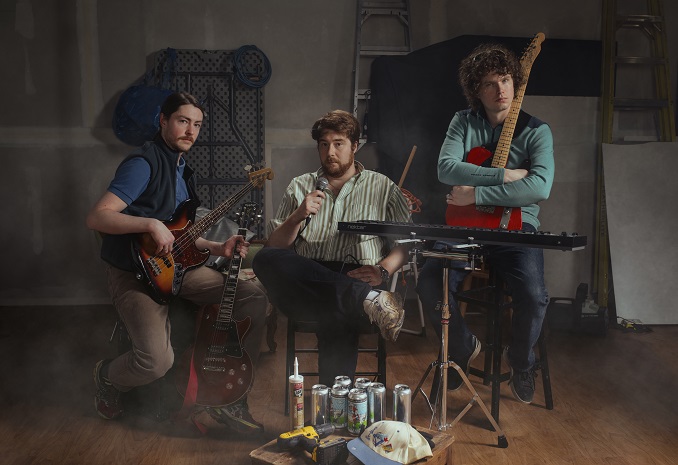 Name:
Fake Magic
Genre:
Rock
Founded:
2019
Last Single:
Sit Down
Last Video:
Favourite musicians growing up:
The Tragically Hip, Radiohead, Queens of the Stone Age, Tool
Favourite musician now:
All the ones we used to love, plus Kendrick Lamar, Funkadelic, and 100 more we won't get into.
Guilty pleasure song:
Tears for Fears – Head Over Heels, Hall and Oates – I Can't Go For That
Favourite local musicians:
Hawksley Workman, Andy Shauf, Keegan Powell
EP or LP?
LP – we're big fans of concept albums
Early bird or night owl?
Depends on the band member. Bryan's an early bird. Greg's a night owl.
Road or studio?
Studio – the road is fun, but we're old and our tummies can't take it.
Any shows or albums coming up?
Sad Dad – our latest album is out now – check it out!
Where can we follow you?
Listen to the new album Sad Dad here. Also available across most music platforms – Apple Music, Bandcamp, SoundCloud, etc.
Follow us on Instagram and Twitter, and watch the video for Begging to Be Lonely here.
***
Rapid Fire Toronto Qs
Favourite local restaurant:
Cafe Polonez on Roncesvalles – nothing fancy, just straight-up delicious perogies.
Favourite street in Toronto:
I guess it's Ossington – the restaurant/music scene there is something special, if not getting a tad too popular.
Favourite park in Toronto:
Taylor Creek Park – it's a great way to forget in your in the city
Favourite music venue in Toronto:
The Horseshoe Tavern – can't beat those checkerboard floors
Favourite music store in Toronto:
Cosmos Records