On the occasion of National Indigenous Peoples Day, and in collaboration with Mazola, Ojibwe creator Stephanie Vainer has shared her favourite recipe for Bannock, an important staple in North American Indigenous nations. Made with flour, salt, Fleischmann's baking powder and Mazola Corn Oil, thanks to its high smoke point and neutral taste, Bannock is a form of bread that is rooted in Indigenous history. Originally serving as a staple in the diets of early settlers and fur traders, Bannock serves as a representation of the determination and cultural fortitude of Indigenous peoples and is frequently served at festivals and family gatherings.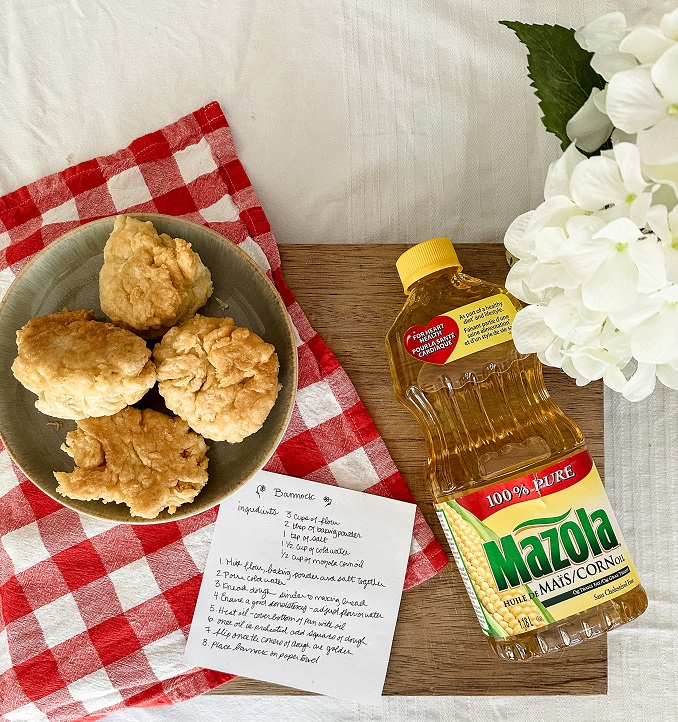 Bannock
Ingredients:
1/2 cup of Mazola Corn Oil
3 cups of flour
2 tablespoons of Fleischmann's baking powder
1 teaspoon of salt
1 1/2 cups of cold water
Directions
1. Mix flour, salt, and baking powder together.
2. Pour in cold water.
3. Knead dough in a similar fashion as to how you would to make bread.
4. Make sure the dough is an ideal consistency: not too sticky, wet or dry. You may need to adjust the amount of flour or water you add to the recipe.
5. Once you're done, cut the dough into small pieces the size of your hand.
6. Heat the pan with enough Mazola Corn Oil to cover the entire bottom of the pan.
7. The trick to knowing when the pan is hot enough is by putting a small piece of dough into the oil. Once it's golden brown you can take it out and add your pieces of dough to the oil.
8. Flip once the corners of the bannock are golden.
9. They are done when the sides are golden brown. Be careful when removing the bannock from the hot oil, and place it onto a paper towel.
10. Enjoy!