Cape Malay Spiced Pickerel recipe Courtesy of Lauren and Dan Gütter, the mother and son chef team behind Jack and Lil's. They were asked to create a South African themed seafood recipe to pair with Nederburg, The Winemasters Sauvignon Blanc.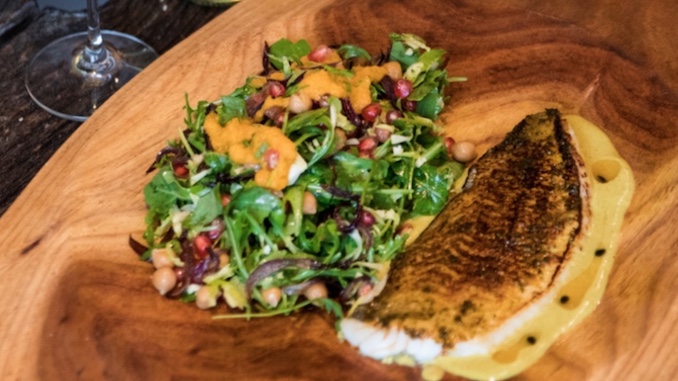 Lauren and Dan used the famous South African flavour profile that is associated with dishes like fried samosas and stewed curries to create a lighter sauce that pairs well with fish (Dan featured Lake Erie Pickerel for his dish) and the Nederburg Sauvignon Blanc.
ROOIBOS RUB
Ingredients
2 Tbsp. Rooibos Tea
3 Tbsp. Brown Sugar
1⁄4 Tbsp. Ground Ginger
1⁄4 Tbsp. Ground Coriander
1⁄4 Tbsp. Dry Mustard Powder
1⁄4 Tbsp. Black Pepper
1⁄2 Tbsp. Sea Salt
Preparation
Combine all ingredients thoroughly. Rub into fish and let stand at least 15 minutes.
THE FISH
Lake Erie Pickerel
(or another favourite fish)
Preparation
Pan sear the fish on medium high heat with canola oil for 3 minutes per side or until fully
cooked. Fish can be cooked with the skin on or off.
CAPE MALAY SAUCE
Ingredients
2 1⁄2 Tbsp. Finely Chopped Shallots
2 Tbsp. Vegetable or Canola Oil
1 Tbsp. Garam Masala or Cartwrights Curry Powder
1⁄2 Tbsp. Turmeric
2 Tbsp. Grated Fresh Ginger
1 1⁄2 Tbsp. Roasted Garlic
3 Tbsp. Original Chutney
2 Tbsp. Lemon Juice
400 ml Coconut Milk
1 Tbsp. Kosher Salt
Preparation
1. Lightly sauté shallots in oil until translucent.
2. Add curry powder and turmeric. Mix well and continue to sauté for 1 minute.
3. Add ginger, garlic, chutney, and lemon juice, then whisk in coconut milk. Simmer for 6-7 minutes stirring occasionally.
4. Transfer to blender and blend on high until smooth.