Toronto's waterfront will be the home to the public art installation contest Ice Breakers again this year as the annual event returns with 5 now international works of public art. The official dates will be from January 19 until February 25 and will be presented by the Waterfront BIA, produced by Winter Stations and sponsored by PortsToronto. This year's theme is constellation and winning designs came from teams in China, Portugal, Calgary, Winnipeg and Vancouver.
"After the huge success of last year's Ice Breakers event, we decided to open the exhibit up as an international competition for 2018. We were looking for installations that would bring colour, warmth and activity to the Waterfront – attracting visitors from across the City to experience this spectacular wintertime streetscape," says Carol Jolly, Executive Director, The Waterfront BIA.
This year attracted over 100 international submissions jury members had a tough job in choosing the Ice Breakers winning designs. Members of that jury included Heather A. Meltzer, Principal, Bow Bridge Communications LLC, Udo Schliemann, Principal Creative Director, Entro Communications, Ilana Shamoon, Cultural Programming and Public Art Commissions Manager, Waterfront Toronto, Jeremy Smith, Chief Development Officer, Harbourfront Centre and Deborah Wilson, Vice President Communications and Public Affairs, PortsToronto, also joined by WBIA and Winter Stations organizers.
Here are the final designs that they chose.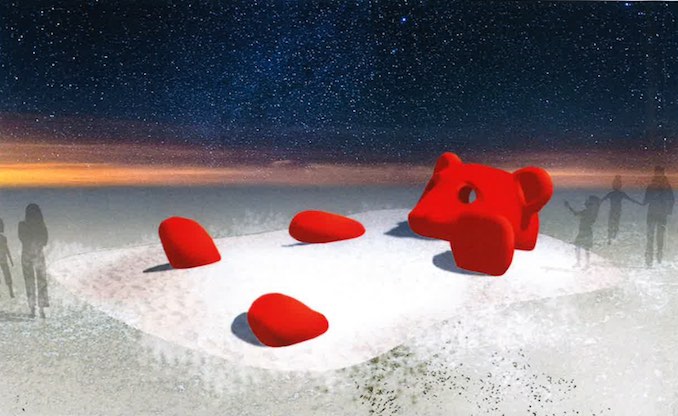 'Through the Eyes of the Bear' by Tanya Goertzen of People Places (Calgary, Canada)
Inspired by Ursa Major or the Great Bear constellation, this installation uses renewable, recyclable and compostable materials to ask visitors to consider how humans interact with nature, or to see the world 'through the eyes of a bear.'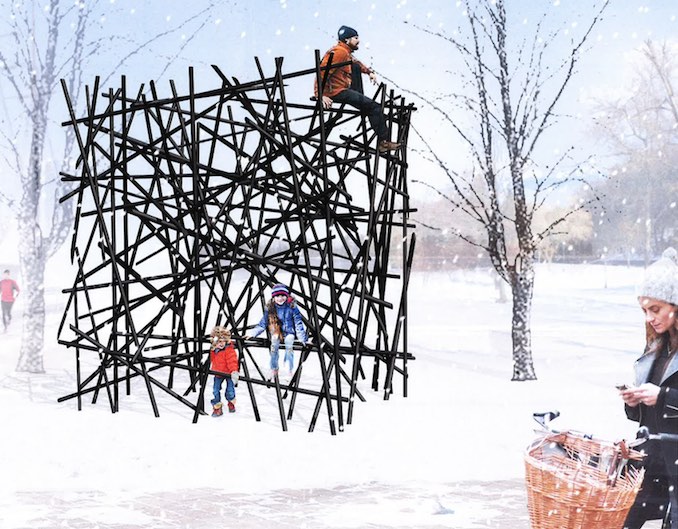 'Black Bamboo' by Bennet Marburger and Ji Zhang of 2408 Studio ( Hangzhou Shi, China)
Black Bamboo is an installation made from 90 painted bamboo poles freely arranged to form a framework in an abstract cubic shape. Like the constellations, the cube as a shape only comes into existence within our heads. Black Bamboo is accessible and invites visitors to walk or climb through it.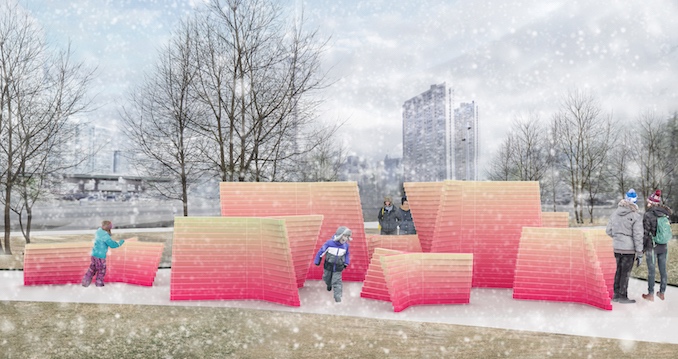 'Winter FanFare' by Thena Tak (Vancouver, Canada)
Winter FanFare is a series of rotating fan-sculptures that collectively form a circulation playscape for winter exploration. In the spirit of the competition's theme, 'constellations', Winter FanFare deploys individual fan-sculptures to create clusters of pockets where the public can meander through or run in and around.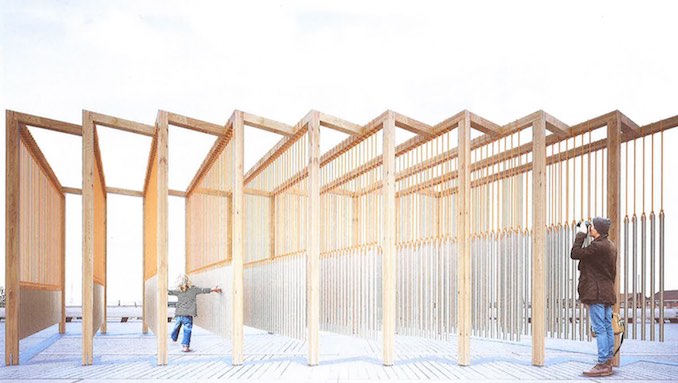 'Ensemble' by João Araújo Sousa and Joana Correia Silva, JJs Arquitectura (Porto, Portugal)
Ensemble merges architecture, music and astronomy to explore the dialogue between humans and the urban environment. The installation is inspired by wind chimes, which visitors can touch to create beautiful abstract compositions and ever-changing soundscapes.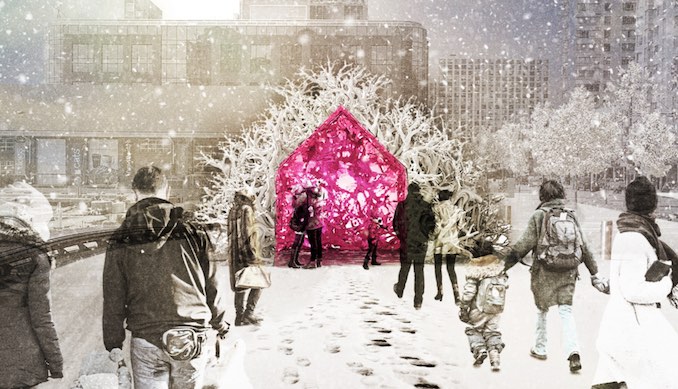 'Root Cabin' by Liz Wreford and Peter Sampson, Public City Architecture (Winnipeg, Canada)
Like a constellation, Root Cabin is a mystery waiting to be discovered. Coloured cuts of wood can be seen through gaps in an alluring pile of weathered roots. When further explored by a visitor, the colours reveal a void that can be inhabited, and an iconic, nostalgic form of Canadian dwelling emerges.