Mazola and The Best of This Life shared with us this delicious Bunny Coconut Carrot Cake recipe for the perfect grand finale to your Easter festivities, to make this year's celebration unforgettable with your loved ones. This Coconut Carrot Cake recipe is an adorable and delicious variation of typical Easter desserts that will definitely put a smile on everyone's face, especially the Easter Bunny! Made with shredded coconut, carrot, cinnamon, ginger and nutmeg, it is a wonderful way to incorporate some new spices into the mix that might not traditionally be used for Easter celebrations! Plus, it is the perfect centrepiece for any family gathering!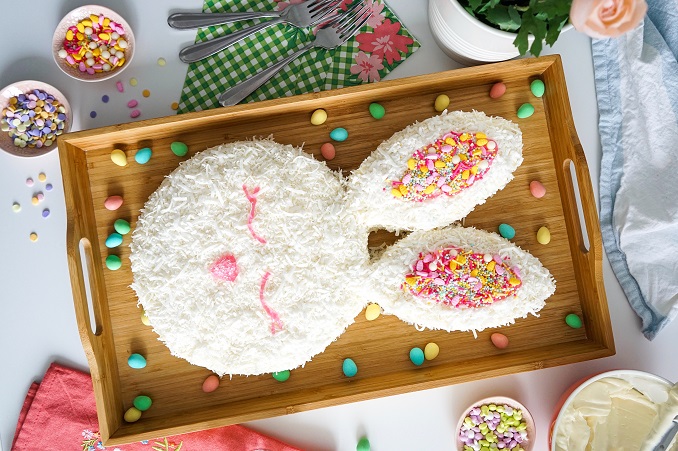 Bunny Coconut Carrot Cake
Ingredients:
1 cup unsweetened shredded coconut
2 1⁄2 cups all-purpose flour
2 tsp baking powder
1 tsp fine sea salt
1 tsp baking soda
1 tsp cinnamon
1⁄2 tsp nutmeg
1 tsp ginger
4 large eggs
1 cup white sugar
3⁄4 cup brown sugar
2 tsp vanilla extract
3⁄4 cup Mazola Vegetable Oil
3 1⁄2 cups grated carrot
1 cup buttermilk
Frosting:
2 (250g) bricks cream cheese
1 cup unsalted butter
1 Tbsp vanilla extract
Pinch of sea salt
2 1⁄3 cups powdered sugar
2-3 cups sweetened shredded coconut, pink gel icing, sprinkles
Directions:
1. Preheat oven to 350 °F. On a baking sheet, toast coconut for 3 minutes, cool.
2. Prepare cake pans with 1⁄2 tsp of oil and parchment paper. In a medium bowl, combine dry ingredients. In a
small bowl, add carrots and buttermilk.
3. In a large bowl, mix eggs, sugars, and vanilla. Use an electric mixer on high for 3-5 minutes until thickened. Lower mixer and pour in vegetable oil.
4. Slowly mix in dry ingredients and carrot mixture, alternating. Pour batter into pans, equally.
5. Bake for 40-42 minutes until center comes out clean. Let cool completely before frosting.
6. To make a bunny cake, use a bowl to outline the ears using each side of one of your cakes. You will be left with a piece in the center (which you can cut up as snack squares or use as a bunny bow tie). Frost all pieces of the cake, sprinkle with coconut, assemble and decorate.