Looking for something fun to do for Valentine's weekend? Well, tonight you can celebrate with your loved one a night early with a special night out to see Toronto's biggest classic 25 person soul band, The Big Sound.  The band will also be playing alongside one of Toronto's finest DJ's, DJ Wes Allen.
Bring those dancing shoes and your lover and get ready to get down with a night of soul and Motown hits. This night is a sure fire hit and will not disappoint.
We had a chance to chat with the founder of this amazing night Christopher Sandes who told us about the magic that is The Big Sound and all of the things that he loves about Toronto.
How long has the Big Sound been around? What inspired you to come up with the concept?
Big Sound has been around for 2-3 years and my inspiration was obviously the music itself first but, also the fact that although many DJ nights were representing Classic Soul ( Shindig & Motown Party, Hot Buttered Soul) I had never heard it being done the way it was recorded in a live setting. Plenty of nickel & dime bands or cheesy wedding outfits but nothing stellar.
No one I know got to see the Motown Revue live or the Stax Revue for that matter & I wanted that. I wanted to hear that, here and now, I wanted people to see that. I also wanted to play the hits but, also the deep cuts, not just the stuff everyone knows.
Tamla/Motown, Stax, Atlantic & to a lesser extent Hi-Records, Chess, Okeh, Phillies, Ric-Tic, Golden World Records etc. simply didn't and couldn't tour much and did what little they did in the 60's & early 70's. I can now understand why they didn't tour. The bands would have had to have been big enough to represent the sound and it's extremely cost prohibitive to have 20-30 people playing on one stage as well as finding venues big enough, with adequate sound systems, dealing with promotion, the logistics alone are kaleidoscopic…….politically it can blow up at any moment…… I mean people are hell & beyond being people, musicians raise hell on the reg. Luckily for us it has worked thus far and it is still something we are all doing out of love. Toronto has been very supportive and I can't believe we are going on year 3! Thanks Toronto!!!
Is Motown your personal favourite genre? Why not another genre?
Music is a hell of a thing. There is no one genre that I can call my favourite. Things come and go, certain things stay with you forever but, all art owes itself in a sense to occasion. I felt that Toronto was asking for Classic Soul, the occasion was there, and I have loved it since I was a kid. My dad emigrated from Ireland with a bunch of Stax records, he then continued to build on that with other great soul records and I was very lucky to inherit that. To find Otis Redding beside the Pogues made for a really good foundation. I still remember getting kicked out of school for wearing my Pogues shirt with the lipstick on the butt cheek and getting rolled by skinheads for my parka and Stax t-shirt. But, there is no denying the way Classic Soul makes you feel. There is no other music that is danceable, nostalgic, and sentimental and feel good all at the same time. Motown, Stax… that's what you put on when you wanna dance in the kitchen and drink some wine with your lady or man. I guess I wanted fill the occasion, Toronto has a long tradition of amazing parties Blow Up & Vaseline to name a few, I wanted to create something in that tradition with live music and invite a few hundred people to join me.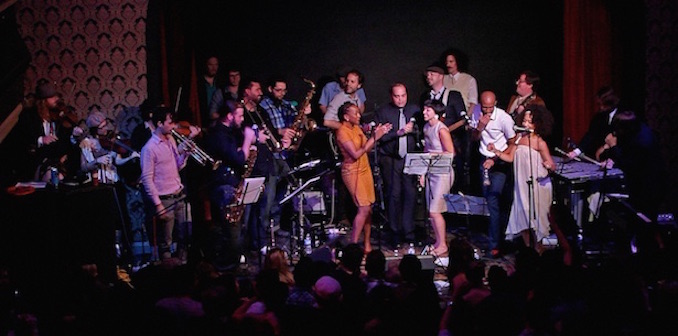 Is the backing band a fairly consistent group of people? How about the singers? How did you all meet?
The backing band has by and large been the same, some people rotate in and out but the rhythm section has been keeping it real for the duration….everyone knows what mercenaries Horn players are….they are the Boba Fetts of the music world, very shady…I kid…i kid…. I am very lucky to have some of Toronto's finest brass players in the band. What I wanted and what I hope I have achieved is to have brought together a lot of talented people who all have amazing solo projects, albums gets released people go on tour, new people rotate in, people are free to come and go, it's a home with solid foundation at this point. We all met through the scene. Toronto has one of the best music scenes anywhere in the world. We are a Big family and although never perfect we have plenty of character.
Does the Big Sound ever perform outside of Toronto?
No, we haven't. I can't imagine what would happen to the last shreds of my sanity if this were to get on the road. It was conceived as a Toronto party more so than a band. That said, no invitations are being turned down!
What age group does the crowd generally fall under?
It's pretty amazing to see people anywhere from 18 – 65 having a blast but, I would say the majority would be 25-35
What is the oddest request you have had from the audience during a show?
I was once asked by what I assume was a lost club kid if we had anything above 160 BPM's that we could play. Ravers…..what can I say.
What is your favourite song to perform? What songs usually get the best crowd reaction?
Come on! Too hard. My favourites are legion but one of my very very favourites is "What Becomes Of The Brokenhearted" by Jimmy Ruffin or "Tracks of My Tears" by Smokey Robinson. On both those tracks you have the full grandeur of Motown production. Strings,Horns,Backups…the whole deal, mini orchestras.
Artists sometimes sell cover songs on iTunes etc. Do you guys plan to record a cover album or sell any covers online?
No, as I said this is a Toronto party. We are all in other bands & have solo projects to focus on. It's a grind. I don't think we have anything to add to a musical legacy that is already perfect. But, that doesn't mean that individuals in BS aren't. Tanika Charles, Maylee Todd, Maya Killtron, Gary Beals, Wade O. Brown, Allie, Dr. Ew to name a few are making their own contributions to great music. It also doesn't mean we can't help each either, later this month the Big Sound horns are gonna put some mustard on a Tanika Charles song.
If you had to collaborate with one Toronto band, who would it be and why?
No one artist comes to mind, it would be cool to back up songwriters and interpret their music though. We had the good fortune, dream come true of working with the legendary Dolores La La Brooks through Dan Burke-which was one of the highlights of my entire life. Dolores did say she would love to do an album with us as her band. That iron is still in the fire and it's an ongoing collaboration with Dan-who is the hardest working man in showbiz as far as I am concerned. He and I are talking about backing up Ronnie Spector at the moment; does it get any better than that?
Top 3 artists that have inspired you in your life? Nina Simone, Marvin Gaye, Prince
Favourite place to eat in Toronto? I can only speak for myself, but, on the reg I would say Pho Hung & when fortunes exist, Bar Isabel.
Favourite thing about the city? Culture.
Favourite hang out in TO? Kensington Market
Random Rapid fire:
Sneaky Dees Nachos or Hey Meatball Spaghetti? Banh Mi Boys
Queen or College St? Dundas
Trinity Bellwoods or Highpark? I grew up near High Park so that's an easy one.
Early bird or night owls? Again I can only speak for myself; I am a Nightbird-Earlyowl. That is to say an insomniac who can neither sleep nor sleep-in. In short; doomed.
We look forward to hearing the songs at your show on next week at the Mod Club. What can fans of the Big Sound expect?
25-30 songs performed by 25-30 people, DJ Wes Allen playing some impeccable tunes to say the least but, I am really looking forward to hearing Tanika Charles sing " Don't Play That Song for Me" by Aretha. Another one of my favourite tunes.
What is one thing people don't know about each band member that they wouldn't expect?
Maylee Todd is apparently an Aerobics instructor in Space but, maybe everyone knew that! I don't dish.,,,,what's the old saying….I'll tell you all my secrets but, lie about my past?…I can say I didn't expect us all to get along!! Moreover though it would be how diverse our backgrounds all are. Something too long to put into words here.
What's next for The Big Sound?
Just playing, putting on our shows, to continue adding tunes to our repertoire, keeping it fresh. We now have around 150 songs that we play. We add new songs each show. It's getting to the point where certain songs we don't touch for up to a year!
The Big performs tonight at The Mod Club for a special Valentine's Edition.
Doors at 9:00pm / $15.00