2022 JUNO Nominees Alex Bird & Ewen Farncombe have taken centre stage on the Canadian Jazz scene. Creating timeless and heartfelt originals for a modern audience, this talented team has spent the past little while producing something that is completely unique. Three original albums in three years.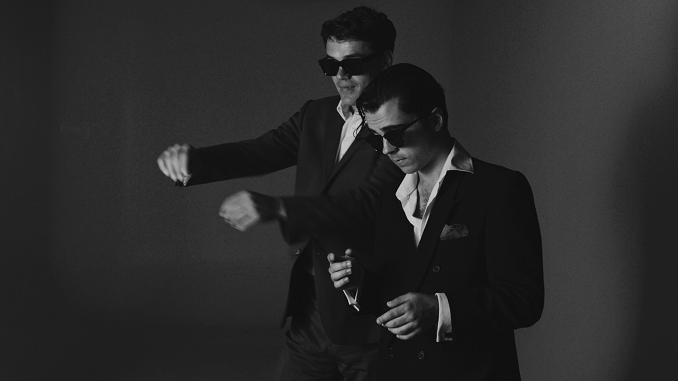 Genre:
Vocal Jazz
Founded:
We met in January of 2018, and in November of 2018 we created our band "The Jazz Mavericks". Haven't stopped since.
Last Single:
This past October, we wrote a Thanksgiving original entitled "The Sweetest Moments". We're lucky that it was dubbed "Canada's Thanksgiving Song", and was broadcast around the country with a national ad campaign.
Last Video:
Thanks to FACTOR we were able to shoot and release a little music video recently for "Where the Blackbird Sings", which can be found on our original and JUNO nominated album, "You Are the Light and the Way".
Favourite musician growing up:
Alex: I grew up going to jazz clubs starting at the age of two in downtown Toronto. I don't have one singular favourite. Some of mine though were, Oscar Peterson, Tony Bennett, Diana Krall, Wynton Marsalis, and Freddy Cole.
Ewen: Growing up, I loved a lot of different music. Louis Armstrong, Jimi Hendrix and Brad Mehldau were definitely big influences on me as a musician.
Favourite musician now:
Alex: Billie Eilish. She's my top current fave. One of the coolest things I love about her is that she cites three of her biggest influences as Peggy Lee, Frank Sinatra and Julie London. That's hip.
Ewen: Again hard to choose a favourite but I've been listening to a lot of Tigran Hamasyan.
Guilty pleasure song:
Alex: "Do the Bearcat" by David Wilcox
Ewen: I wouldn't call it a guilty pleasure but I love "Awoo" by Lim Kim.
Live show ritual:
Alex: I'll always make a pre-show playlist from my vinyl collection and spin various artists to get me in the groove. And then just before the first set I usually order an "Old Fashioned" to get me started.
Ewen: Don't have a ritual per se, but I like to try and stay as connected with the moment as I can and be present at the show before, during and after.
Favourite local musician:
Alex: Too many to choose from! We have a wealth of killer musicians in Toronto, from all genres. From a personal standpoint, I'm lucky to play with some of the very best in town.
Ewen: It's really hard to choose a favourite here!
EP or LP?
Alex: It depends on what kind of story you want to tell. I'll say LP though. I love giving an audience a full length listening experience. Also challenges us to write more music.
Ewen: LP
Early bird or night owl?
Alex: Night owl at heart but living early bird vibes a lot more these days.
Ewen: Night owl when I get to choose but often it's both alternating haha.
Road or studio?
Alex: Both have their own unique opportunities to experience. But, if I could just focus my time right now on writing and getting albums out, I'd love to do that more often.
Ewen: Studio 100%
Any shows or albums coming up?
We do a monthly show at Reid's Distillery. It's a fantastic independent gin distillery in Toronto. They have a "Gin and Jazz Series" that we've been lucky to have been a part of since its inception in 2019.
As for recording…Got a lot of really sweet projects in development right now. We'll be able to talk more about them soon. Make sure to follow us on social media to keep up to date. We appreciate the support!
Where can we follow you?
Website | Instagram: Alex Bird & Ewen Farncombe | Bandcamp | Twitter | Facebook
***
Rapid Fire Toronto Qs
Favourite local restaurant:
Alex: The Lakeview. For some reason, whenever something big happens, good or bad, I end up at this iconic diner to decompress.
Ewen: Square Boys
Favourite street in Toronto:
Alex: Ossington up from Queen is pretty groovy these days.
Ewen: Danforth
Favourite park in Toronto:
Alex: Sunnyside Park! My partner Lola and I often go in the Summer and have picnics by the waterfront, or watch the fireworks across the shoreline of Lake Ontario.
Ewen: Riverdale Park
Favourite music venue in Toronto:
Alex: Massey Hall. I used to work there and had the sweetest time getting to see all sorts of incredible music.
Ewen: Koerner Hall or the Jazz Bistro
Favourite music store in Toronto:
Alex: Sonic Boom. Where I buy a lot of my records! Very thrilled they also carry our music there.
Ewen: Long and McQuade!