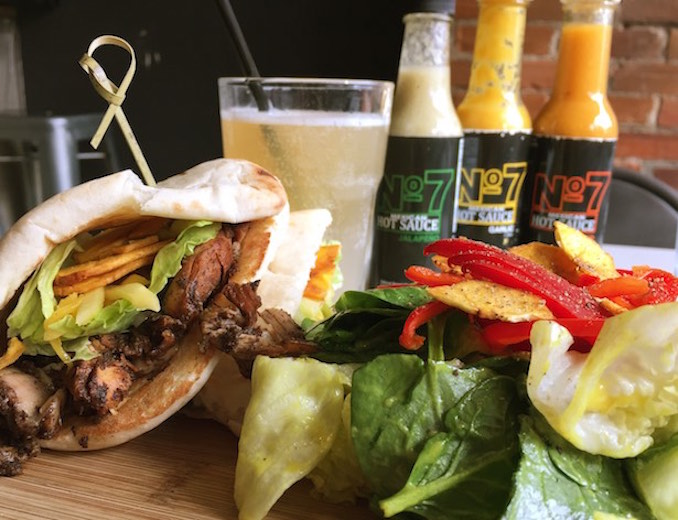 The other day I had ventured to the Queen St. West area. It was a sunny but cold day and I had remembered that Come and Get It! opened a new location about a year ago and I have been wanting to check it out.
Some of you may remember it on Spadina at Queen and how it started as a pop-up sandwich place feeding the masses of the nearby office worker bees and the foot-traffic from tourists and shoppers. It was popular but owner Jon Polubiec wanted to evolve the business. So, he embarked on a mission to serve food that, as he calls it, "same, same but different" and today, it's more than just a sandwich shop.
The new location at Queen just west of Bathurst gives an easy vibe of a neighbourhood hang out. I can easily tell you that it's a place where you would feel comfortable eating solo, with a friend or with your family. It's relaxed feel is welcoming the moment I had stepped through the door. For the record, I went solo on this visit.
They had no idea I was going…but within minutes of my mango jerk chicken naan wrap arriving, Jon had already spotted my instagram upload and turned around to me with his mobile device with a big warm smile and said "Niiiiiice pic!"  Then he came over and introduced himself.  He ended up sitting down and we had a chat — that's what I mean about easy neighbourhood feel.  It's familiar, relaxed and unhurried…even Jon seems familiar to me.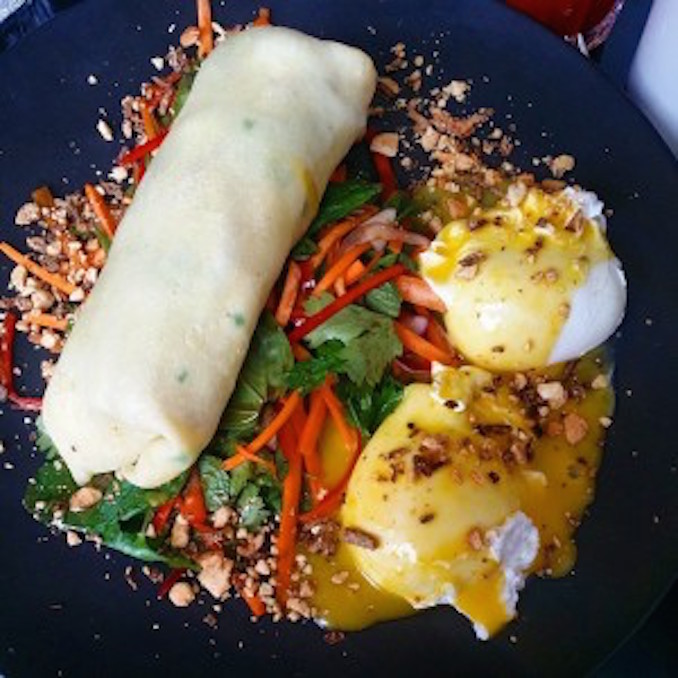 So, what's with this "same, same but different" thing? Jon explained that the restaurant's philosophy is built on dishes that you may be familiar with, but are approached in a slightly different way.  An example would be caesar salad – an internationally known dish and well, as Jon, mentioned so predictable and boring. Here, they have taken it up several notches by offering unique twists with different ingredients. There are also dishes, like a recent brunch special, where duck confit was served in a coconut crêpe with poached eggs. It was a real hit among diners.
The menu has an interesting twist as well.  First, you decide on your format – bun, wrap, poutine or salad (dinner menu offers more). Then, what type of flavour you'd like, for example Mango Jerk Chicken, Ol' el Paso, Hawaiian Pork Belly and others. Then,  you pick a side dish – choices are salad, fries or poutine…leave the dressing part to the chef as the restaurant's strength is flavour pairings. However, you can choose if you insist…but I would strongly suggest you leave it open for the chef to decide.
The lunch, dinner and brunch menus vary slightly. Weekend brunch offers the same flavours only presented in brunchy types of dishes. For example, my jerk chicken wrap morphs into a brunch menu dish as a frittata with house-made cheese tots!  There are daily specials and vegetarian options available as well.
Daily "snacky hour" happens daily from 5pm-7pm and offers a free bite or slider with a cocktail, craft beer or wine glass order.  Bites and sliders? Yes, Jon explained that this concept came from the desire to socialize and wind down at the end of the work day. The menu items are designed for socializing.  For dinner service, the menu is inviting for a build your own tasting menu and is perfect for sharing, or not.
"I wanted the restaurant and the food to be approachable. It's food that people understand. It's not pretentious but I want the food to be creative, " said Jon.
The cocktail list is equally as strong as the food selection. Jon mentioned that he had challenged the bartender to keep within the philosophy of  "same, same but different" by using complimentary flavour profiles and an interesting play on ingredients. I need to go back with a drinking buddy.
Local bands and DJs can also be found in-house from time to time and in the summer months the patio will open to seat up to 30 people.
Come and Get It! celebrates their one year anniversary next week (starting March 3) offering daily lunch sandwiches and other special surprises. Check their Facebook page for updates. Catering and delivery also available.
Come and Get It! is located at 676 Queen Street West.  No reservations.