"The love for all living creatures is the most noble attribute of man." – Charles Darwin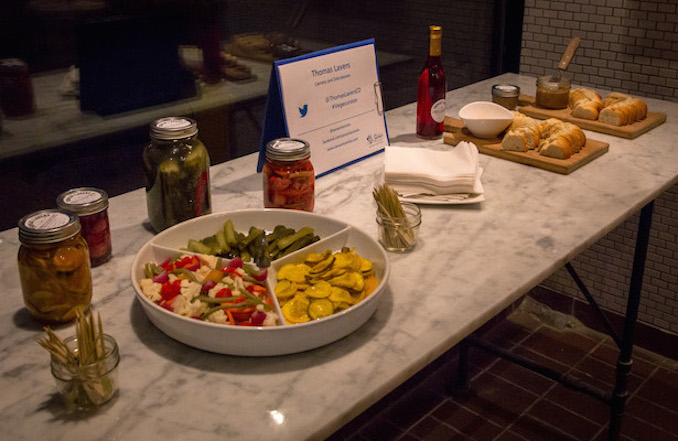 Two words: Savour Toronto. Neil and Suzanne are co-founders of this locally run business that hosts food tours and events around the GTA. They invited me to participate in their Vegecursion tour, which is centered around Toronto's evolving vegan and vegetarian cuisine. To say I was excited was an understatement. The tour was scheduled to start at 6:30 p.m., and the meeting spot was at Thomas Lavers Cannery & Delicatessen on Baldwin Street in Kensington Market.
Upon entering, I received a loot bag that ironically had a Bare English & Co. chap stick inside, along with other vegan goodies. "Just so you all know, we will not be having salad tonight," said Suzanne. After a brief introduction by Suzanne and Neil, we were offered to dig into what looked like cocktail hour. Owner of the shop, Bryan Lavers, described his food as a mix of elegant and comfort, "We make and sell vegan products, but they are only vegan by nature." Vegan sausages, cabbage rolls and naturally fermented goods were on display, and a table was set up in front of the window that had samples of homemade pickled vegetables, walnut and mushroom pate, chili oil and fresh bread. On top of the main counter were samples of relishes, mustards and jams that had been made in-house, and right beside those were vegan Bahn Mi and Reuben sandwiches. As more bread broke, more conversation surfaced with my fellow tour-goers, and before we knew it, it was time to head to our next destination.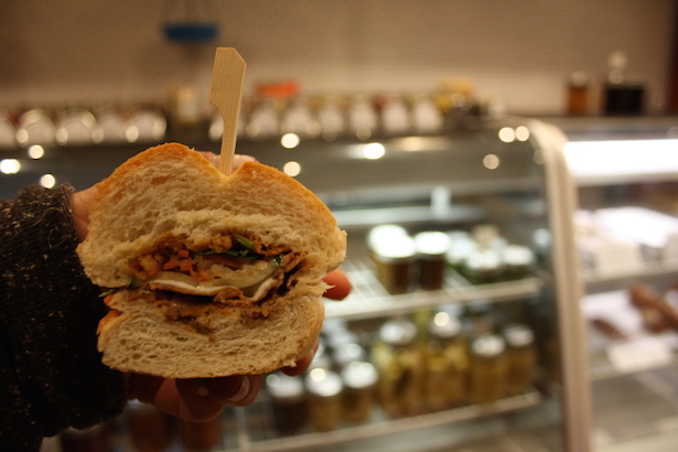 Samadhi Tea House, which is also located on Baldwin Street, was a few doors down and our next stop on the evening's itinerary. Upon entering, an immediate calmness overwhelmed the air as we were asked to remove our shoes before walking down a short staircase that led to a tranquil area. Thick-carpeted floors held ground to the walls that were covered with loose-leaf teas, natural sweeteners and oils. We were introduced to the owner, Paula Maria Marin, who is a raw vegan herself. "We believe in anything that the Earth provides us with." We were served kettles of chaga tea, something that Paula activates and drinks on a regular basis. Chaga, a mushroom that is grown on birch trees in various parts of Canada and Europe, is known for its healing properties. "You don't find chaga, it finds you through health," she said. Accompanied with our tea were date and beet balls that had been rolled in fresh shredded coconut. After a few more minutes of relaxation, we put on our shoes and hustled through the freezing cold towards the historical Baldwin Street Village.
After making a pit stop at Toronto's Vegetarian Association to hear about some of Toronto's veg-festivals, volunteering information and more, we headed downstairs to Vegetarian Haven, one of the oldest vegan restaurants in Toronto. This Asian-infused bistro follows a Zen Buddhist philosophy, which means that they eliminate the usage of onion and garlic in their dishes in order to "lighten the body's energy". The restaurant was crowded with hungry Torontorians as we were directed towards a long table equipped with cozy seats near the kitchen. Out first course was plump pan-seared dumplings with fresh ginger sauce, and following that were steamy plates of grilled saiten "steaks" (a chewy protein-rich food made from wheat gluten) with black pepper sauce, rice and grilled veggies. The Sweets From The Earth and homemade cakes on display caught my eye on the way out, but I held off for the sake of our next spot.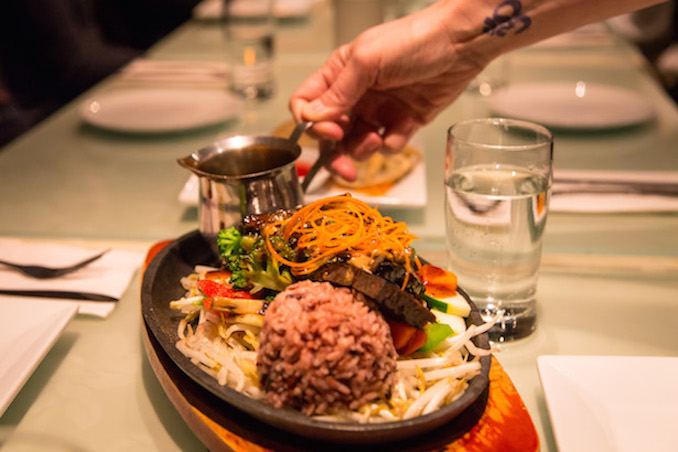 Jumping on the subway, we headed towards Queen Street West and landed at the most anticipated location – Grasslands. What was once called Fressen, this re-vamped restaurant is a popular and upcoming vegan spot in the GTA. The wood features and dimmed lighting complimented the Northern Mediterranean inspired dishes, and the food was delicious. We started with crispy cornmeal and herbed oyster mushrooms, kale salad, and a mix of vegan dips. Because it was our last spot on the tour, an alcoholic beverage of some sort was only appropriate. "Good evening my vegan touring people," said the bartender. Eyes widened as plates of mustard crusted tempeh and crusted "chicken" landed on the table. Our mains were served with maple yam mash, assorted seasonal vegetables and roasted fingerling potatoes drizzled with a red wine reduction. Whilst shoveling down our food, Neil and Suzanne told us some veg-facts, including other awesome go-to vegan and vegetarian places in Toronto.
The food-comas started to set in as the night grew darker, and before I could comprehend, the pairs of my acquaintances started to slowly head out. Vegecursion brought together a group of strangers in a celebration for the love of food, good conversation, and health. I recommend all and any to participate in a food tour, specifically with Savour Toronto. Thank you Suzanne and Neil!