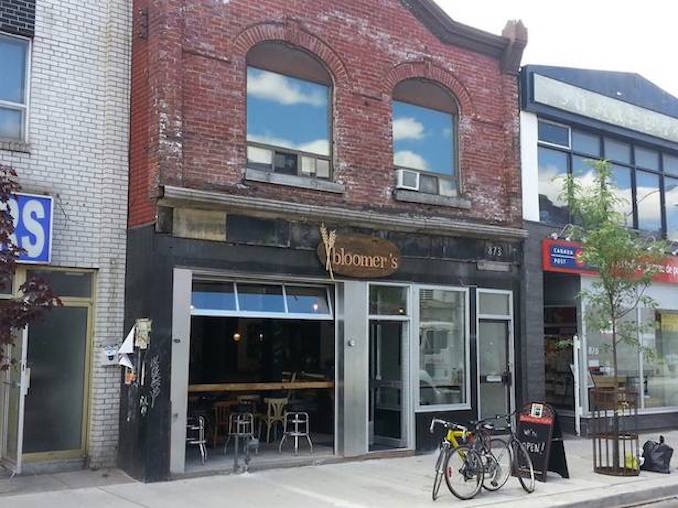 Earlier this month I was introduced to Bloomer's, a new vegan café. "I'm covering lunch break," the vendor said, "I'm the Dad." Eventually we got to chatting about his daughter Kelly, and her new bakery. He tossed me a free cookie, and the rest is history. Dads…what great people.
Located on Bloor Street West, the front door of Bloomer's was propped wide-open, welcoming the sun, the breeze, and the clientele. Who knew rush hour at a bakery would be a thing at 5p.m. on a Tuesday? Especially one that just opened in July.
I walked in and introduced myself to the man behind the counter, Alex Dodd, who is part owner of the new dig (and Kelly's significant other). Royal blue walls with small picture frames of old family photos and knickknacks play the backdrop to this diner-esque room. Dark wooden booths with orange cushions align the perimeter and two-person tables scatter the floor. "We want people to be able to come and stay and feel comfortable. It's decorated in a way that we feel at home," he said.
After talks about opening a café for over two years, Alex recollects the time when the business deal was settled, and all became real, "We were drinking at the back of Ronnie's Local 069 at 1:30 a.m., where many great plans are made and fewer are followed through."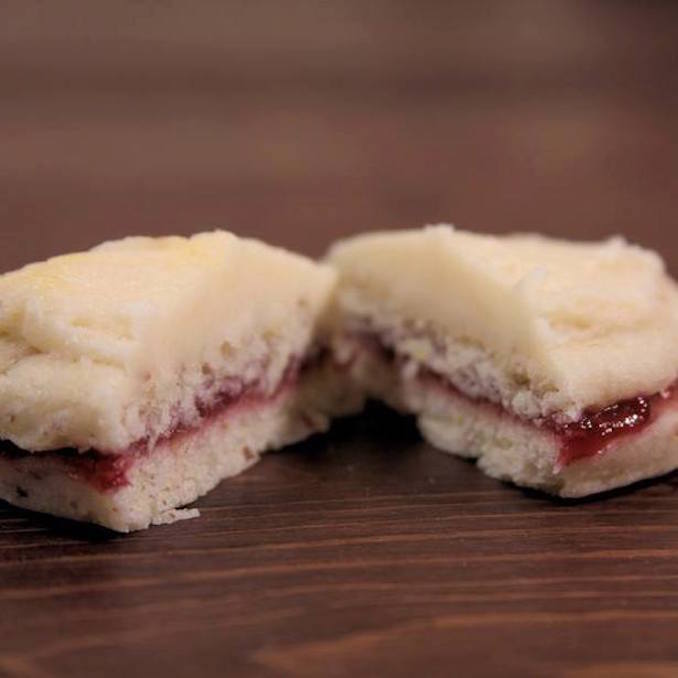 The name "Bloomer's" is actually Kelly's mother's surname. In fact, most of the menu items are derived from old family recipes that have been tweaked vegan, including one of their most popular- the dream cookie. Raspberry jam stuffed between two empire cookies and doused in vanilla icing—take a minute to let that sink in. This cookie originated at Einfeld's Bakery in Victoria Beach, Manitoba, where Kelly's family has a cottage. "This nice little old lady has been baking there for years, and she makes these things called dream cookies. In Winnipeg it's just a known type of cookie, and it's a new thing for everybody here," said Alex.
Offering gluten and gluten-free items, I munched on butter tarts and donut holes that were covered in toasted coconut, and washed it down with a roasted almond tea latte that was to die for. They also have bagels. Yes, bagels. "The business is a representation of our beliefs, and we've both been vegan for a decade, or close to, so we couldn't image opening a place that isn't parallel to that," said Alex. Before Bloomer's, Kelly sold her sweets by special order as well as farmers markets around the GTA. A product of combined visions; Kelly's baking and Alex's restaurant perspective has landed them something that is "bigger than a bakery".
A menu expansion, liquor license, and a patio set for next year are currently in the works.
Visit their Instagram for some more delicious pics.