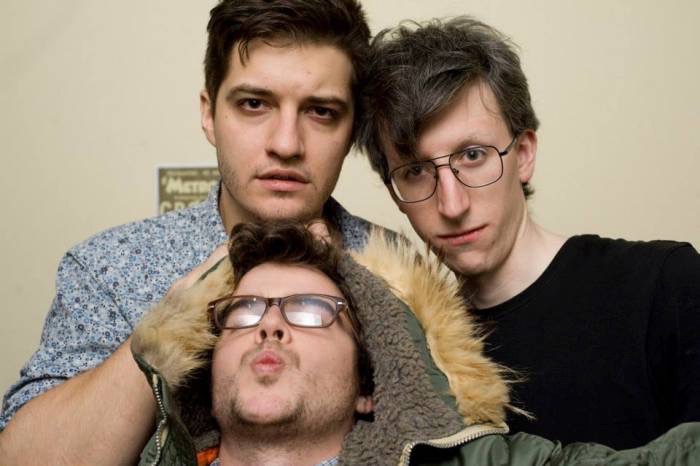 Five-piece Toronto outfit Union Duke is a sweet blend of rock, country, folk and bluegrass mixed into one batch of sonic goodness. The band's array of instruments includes just the right balance of twang and heart to make their live show one to remember. I recently got to see the band perform at The Dakota and I must say I was impressed. I really dug it. The vocal harmonies and toe-tapping tunes really drew me in.
I chatted with the band about their recent album "Cash & Carry" which was recorded in a log cabin in the woods of Ontario.  We also got to chat about all the things they love about Toronto.
What kind of response are you getting from your recent album "Cash & Carry?" Has it reached your expectations?
Generally the response has been great. We've been selling a ton of albums at our shows and online and we've had some radio play on CBC and Sirius XM. I think it's definitely a step up from our last album, both in terms of quality and the response we've been getting from fans.
Who does the songwriting? Do you split the duties when it comes to arranging and writing individual parts for live shows?
We have all contributed songs to the UD repertoire. Ethan and Matt do the bulk of the writing, followed by Jim, and then Rob and Will have both written a song for the band. Generally we try to come to practice with the song complete and then we all collectively work on arranging parts and tweaking sections until we feel it's ready to play. We do a ton of writing and we're pretty selective when it comes choosing what songs make the cut.
Favourite song to play at the moment?
It's difficult to choose, but generally the songs that get the best audience response and our newest songs tend to be our favourites.
Do you incorporate any covers in your current live set?
We have a few covers, ranging from 90s pop, to traditional bluegrass, to folk and blues. We have pretty eclectic taste and our sound covers a few different genres so we try to mix it up as much as we can with the covers.
Any rules in the tour van? Those drives can get long.
We have very strict protocol when it comes to calling shotgun. We like to do themed playlists, where we all alternate songs around a common topic. We also periodically check each others "Levels", which is a vague rating system based off the SIMS games to make sure none of us are suffering in silent misery. We all get along quite well though.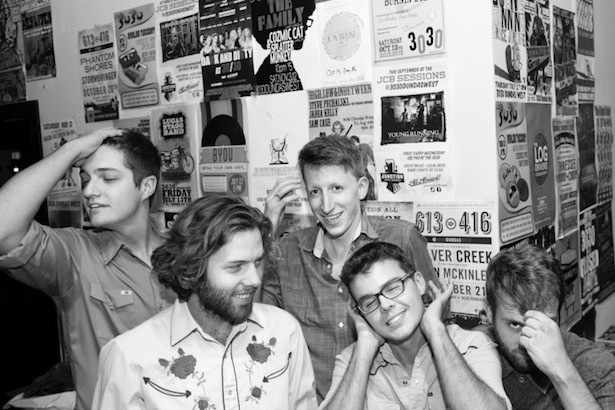 Do you find it's easier to write a happy or sad song?
I think writing sad songs tends to be easier. Every good story needs some kind of conflict, and I think it's a lot easier to create conflict in a sad story. Also, I think people tend to have a stronger cathartic response to sad songs. They tend to strike a deeper, more personal chord.
If you had to collaborate with one Toronto band, who would it be and why?
There are a ton of great bands in Toronto right now, so it's hard to choose just one. I think Sun K has a great sound, and they're nice dudes as well. Also Young Running are good friends of ours, so it would be fun to do a bit of collaboration with them. Then there are the heavyweights like Blue Rodeo. I think it would be awesome to sit down with those guys and see their songwriting process.
You have a summer jam you've been listening to?
There are too many to list, but one song we've had on repeat recently is Lincoln Continental by Felice Brothers.
Top 3 artists that have inspired you in your life?
I think everyone in the band has different influences and it's hard to pick just three. Rob is big on the old time bluegrass, Ethan tends to be more pop influenced, Jim grew up on a lot of classic rock and celtic music, Will is into classic rock and jug band stuff, and Matt is into jam bands. Obviously this is just scratching the surface, our tastes are varied, but I think this covers what specific flavours we each bring to the band.
Favourite place to eat in Toronto?
That's another difficult question. There are so many great places! We all love burritos. Tacos El Asador is great, Kings Palace for Indian food, the Ossington strip has a ton of great restaurants as well. Also, the Saving Gigi breakfast biscuit sandwich is amazing.
Favourite thing about the city?
Toronto has a great music scene, awesome bars and restaurants, and beautiful parks. What's not to like?
Favourite hang out in T.O?
Christie Pitts for bocce ball, The Communist's Daughter for drinks, The Dakota or The Cameron House for music.
Random rapid fire
Sneaky Dees nachos, Hey Meatball spaghetti or a superfood salad from Fresh? Sneaky Dees!
Queen or College St? College for food, Queen for music.
Trinity Bellwoods or Highpark? Trinity at night, High Park during the day.
Early bird or night owl? Night owl.
Road or studio? Both!
What do you think of physical vs digital album sales? Do you have a preference? Any thoughts for the future?
Although we make less money on physical sales with printing costs, I always think it's nicer when people walk away with a physical copy. We'd like to print some vinyl in the future!
What is one thing about each member that people don't know about you that they wouldn't expect?
Matt spends days writing his stage banter and takes it very personally when his jokes bomb. Ethan hates motorcycles, he just pretends to like them to be "cool". Will is actually 3'8″ with really long arms. He's on stilts. Rob's guitar solos are all played by a robot standing offstage. Jim actually isn't bored.
What's next for Union Duke?
More shows and records!