Local non-profit organization The Canadian Courage Project not only supports youth experiencing homelessness but also their animal companions. We got to speak with Erika Porco, Director of Shelter Relations, to find out more about them.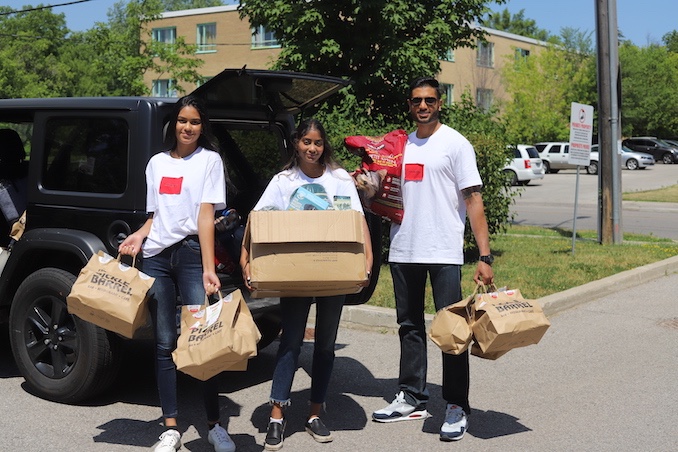 Describe your charity/non-profit in a few sentences.
The Canadian Courage Project (CCP) is a non-profit organization that supports youth experiencing homelessness and their animal companions in the Greater Toronto Area through shelter support resources and educational programming aimed at improving mental health and wellness.
What problem does it aim to solve?
The Canadian Courage Project aims to support youth transitioning out of the shelter system and into independent housing, as they are often left with minimal support, especially when accompanied by an animal companion. The Canadian Courage Project understands the mental health benefits that pets have on our well-being and aims to support youth with animal companions through wellness resources, workshop programming and essential supplies.
When did you start/join it?
The Canadian Courage Project was launched in May 2020 by sisters and co-founders, Anya and Shania Bhopa, and I joined as a volunteer in September 2021.
What made you want to get involved?
I was looking to get involved in a non-profit during the COVID-19 pandemic and had been following the work that the Canadian Courage Project was doing. They put out a call for volunteers on their social media and I felt that their mission and values aligned with my passion and interests. I felt like it would be a great opportunity to utilize my policy knowledge and gain program experience supporting CCP's initiatives.
What was the situation like when you started?
When I first joined CCP, I volunteered on the mental health education team which was newly developed out of a partnership with Jack.org. We were doing training, developing content, and creating presentation decks. From the start, CCP has created an intentional community for its volunteers that makes everyone feel welcomed and excited about being involved.
How has it changed since?
Since then, the mental health education team has conducted 70 virtual and in-person Mental Health and Art and Mindfulness workshops. The Canadian Courage project has grown to a team of 60+ passionate volunteers, led by our Founders and Directors. Our Directors lead teams of Coordinators and Specialists across the organization. Our teams include Shelter Relations, Communications, Education, Chapters, and Research.
What more needs to be done?
In Canada, 20% of people experiencing homelessness are youth between the ages of 13-24. We need to continue to work together to enhance community awareness and push for a youth-based strategy and services.
How can our readers help?
– Donate! Your donation will help us reach our goal of building a more equitable community where we promote empowerment and provide support for youth facing structural vulnerabilities.
– Connect with our team to see how you can get involved!
– Share our mission with community members, organizations and folks in your city.
Do you have any events coming up?
Yes! The Canadian Courage Project and Good Food Impact have partnered to launch a Community Pantry initiative. We are planning a launch event to feature our pantry, explain its importance, and mobilize the community. Follow us on social media to stay up-to-date on information related to our events.
Where can we follow you?
Follow The Canadian Courage Project on Instagram, Linkedin, and Facebook or visit our website to learn about other ways you can take direct action.
PAY IT FORWARD: What is an awesome local charity that you love?