For this week's recipe feature, the author of Lunchbox, Aviva Wittenberg, shared her tasty and unique recipe for Farro Nicoise. This salad can be made ahead and stored in the fridge for up to 2 days. Or get a jump on it by cooking the farro and storing it in the fridge for up to 1 week. Hard-boiled eggs can also be made in advance and stored in the fridge for up to 1 week.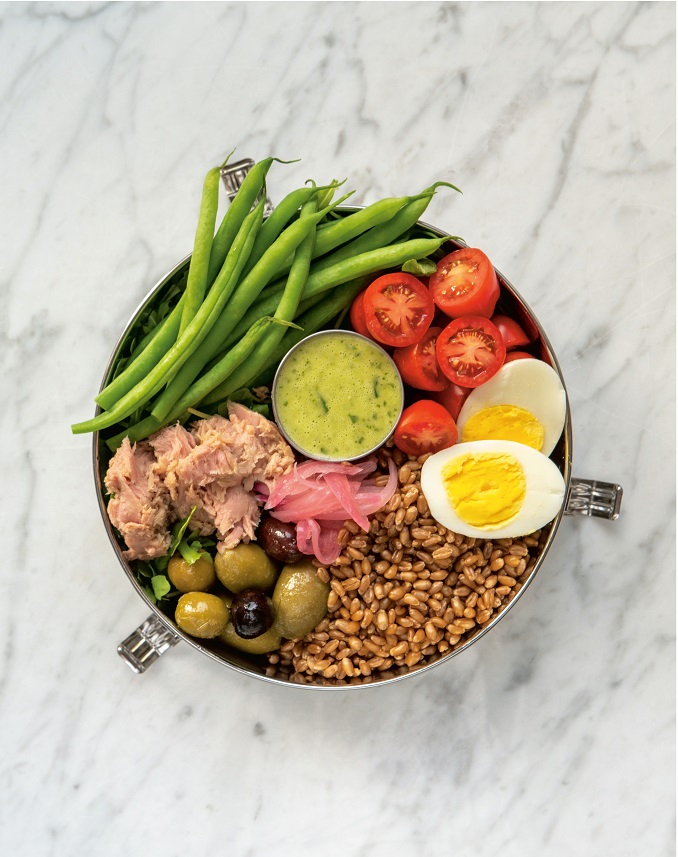 Farro Nicoise
Makes: 2
Serving active time: 5 mins
Totaltime: 15 mins + Cooking Farro
Ingredients:
– 1⁄4 cup olive oil
– 1 1⁄2 Tbsp red wine vinegar
– 1 tsp Dijon mustard
– 2 Tbsp packed chopped fresh tarragon, fine stems and leaves only
– 1 Tbsp sliced green onions, light parts only
– 1⁄8 tsp finely minced garlic
– Salt and pepper
– Small handful green beans, trimmed
– 1 can olive-oil-packed tuna, drained
– 3 cups leafy salad greens
– 2 cups cooked and cooled farro (see Note)
– 1⁄2 cup halved cherry tomatoes
– 2 hard-boiled eggs, halved Olives
– Quick Pickled Onions (optional)
Directions:
1 . Make the dressing: Place the dressing ingredients in a small blender or a tall jar suitable for use with an immersion blender. Blend for about 90 seconds, until combined into a lemon-yellow dressing with tiny flecks of green. Taste and season with salt and pepper as needed (see Note).
2 . Place the beans in a microwave-safe dish, cover, and microwave on high for 90 seconds to steam and soften them
a little. Break the tuna up into chunks using a fork.
3 . Make a bed of the salad greens in your lunch bowl and top with the farro, softened green beans, cherry tomatoes, tuna, hard-boiled eggs, olives, and pickled onions. Pack the dressing in a separate container and toss it with the rest of the salad at lunchtime.
Note: Some red wine vinegars can be very acidic; if the dressing catches you at the back of your throat, add 1⁄2 to 1 teaspoon granulated sugar and blend again to mollify the acidic flavor. If you can't get your hands on farro, feel free to substitute with quinoa or, of course, some boiled baby potatoes.
Packing tip: Add an Apricot Vanilla Muffin (page 195) for a sweet treat to wrap up your meal.
***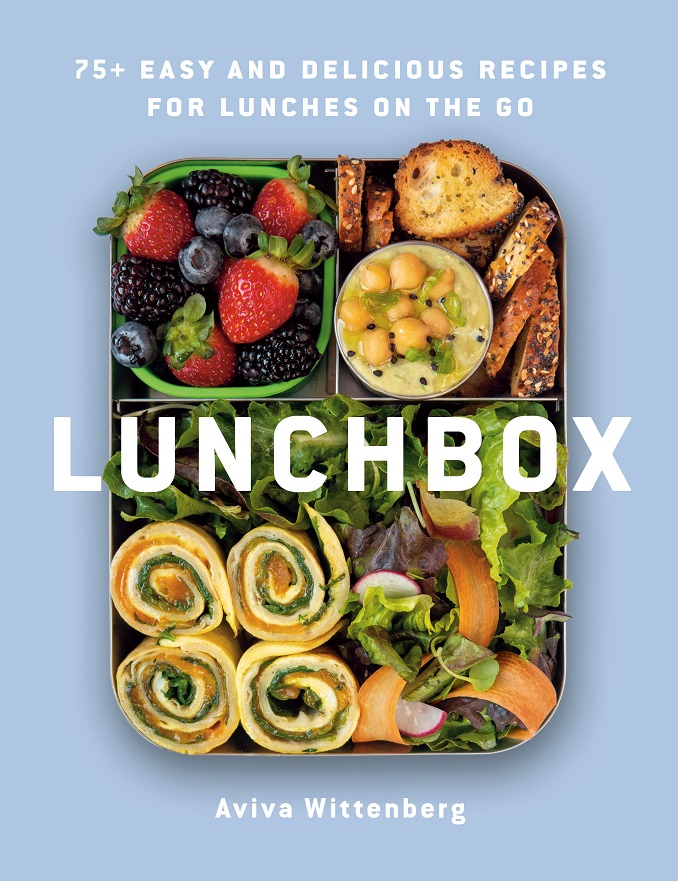 Featuring 75+ fail-safe recipes, Lunchbox provides healthy yet straightforward recipes for soups, sandwiches, salads, bowls, hand pies, and more that will get readers out of their lunch rut for good. The book also includes lunch-packing strategies and multi-week meal plans to help you efficiently plan your menu and your time, streamlining meal prep to avoid that stressful morning crunch.
All recipes are completely nut-free (to comply with school allergy restrictions) and Lunchbox offers plenty of vegan and vegetarian options, hot and cold weather seasonal suggestions, and freezer-friendly choices, too.