When Fernando decided to open up a restaurant he wanted to be something that Toronto hasn't experienced. Authentic and tasty Venezuelan food just like home but healthier. He grew up working along side his mother who owned one of Venezuela's most popular eateries. So, it's no surprise that he's passionate about food and has the desire to bring more of the taste of his home country to Canada. But where in Toronto did he decide to open? He's settling his new restaurant MAIZ Latin Food in the Yonge & Lawrence area of the city that is known more for family favourite burgers and pizza joints than the under the radar heavenly foodie establishments that have been popping up.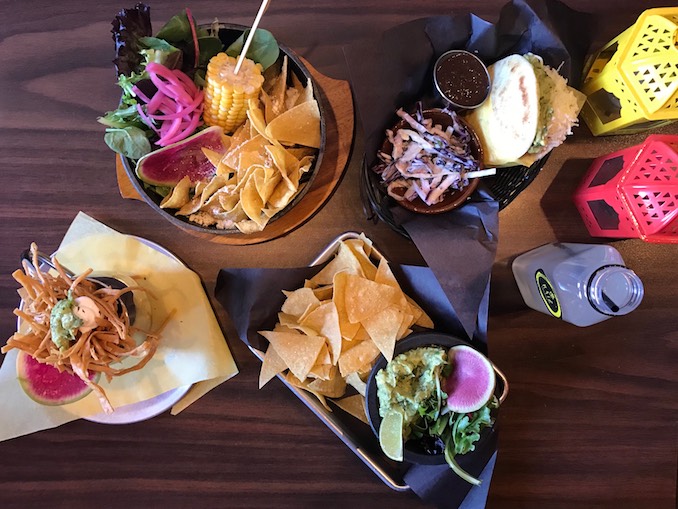 About four months ago, Fernando quietly took over the former Italian sandwich shop and opened up  a casual restaurant that seats just over 20 in house. The footprint of the restaurant is the same but he's refreshed the space to make it his own. Fernando mentioned that he owned a restaurant in Barcelona, Spain and worked in other establishments in Europe before moving to Canada. He continued to work in the food industry here to help understand the customers before making the leap to owning his own. His wife Iris, runs the front of the house and manages their hopping catering  business for private and corporate parties.
Walk-ins are often expecting a full on Tex-Mex menu. Yes, there are some Mexican, Peruvian and even Asian influenced dishes, but their arepas and bowls are the house specialties. There's a "Special Menu" that is worth ordering from. Thankfully, people coming in have been open to trying something they may not have tried before. Iris and waiter, Alexis, are more than happy to explain the food to new customers. Fernando tells us that it's the right time to introduce more Venezuelan cuisine to the city especially since Canada is seeing more immigration happening as a result of his home country's unrest. In fact, he tells us that in last year alone, the US had seen over 80 new Venezuelan restaurants open. Toronto is ready.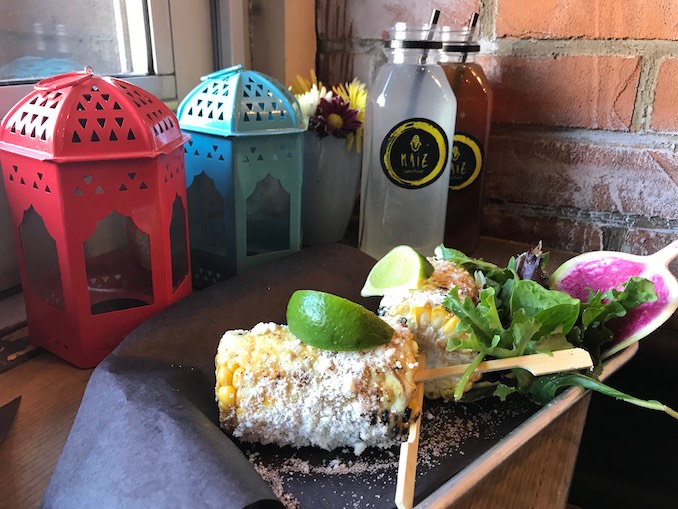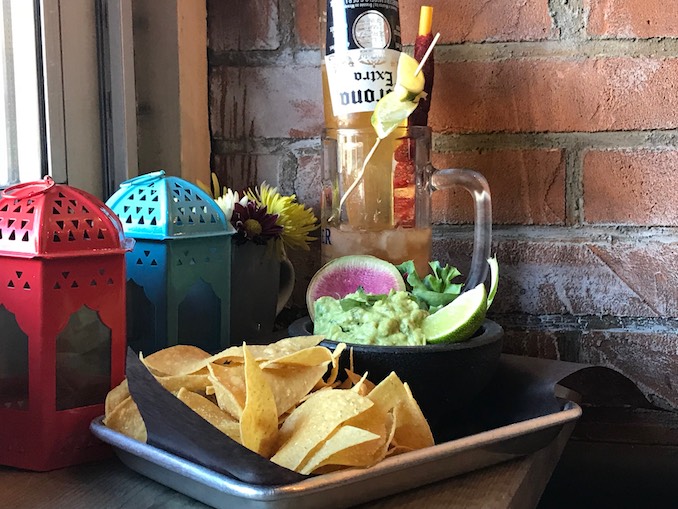 Arepas, as explained to us, are like sandwiches with the "bread" made of cornmeal and fillings are added from simple queso fresco, beef, chicken, pork, or veg. "They are eaten often in the morning or as a snack served warm back home," he tells us. Here, they make them fresh every day in house. Like a Chinese "bao" it's best consumed right away fresh and warm.
But here's what is different. Recipes are his and his family's but Fernando also offers dishes that are also organic, fresh, hormone- free, non-antibiotic halal meat, gluten free as well as a few vegan options. He wanted to offer healthier options while keeping things tasty. Chips and guacamole are highly addictive to start and he also has a delicious trio of house made salsas (Guasacaca, Arbol, and La Negra). Save room for the freshly made churros too!
Everything dish is made fresh from scratch here and where he can, he supports other local businesses. Fernando explained that the avocados he uses are from the nearby organic fruits & vegetable store just steps from MAIZ. He explained that they've helped him source non-gmo produce that's important to him.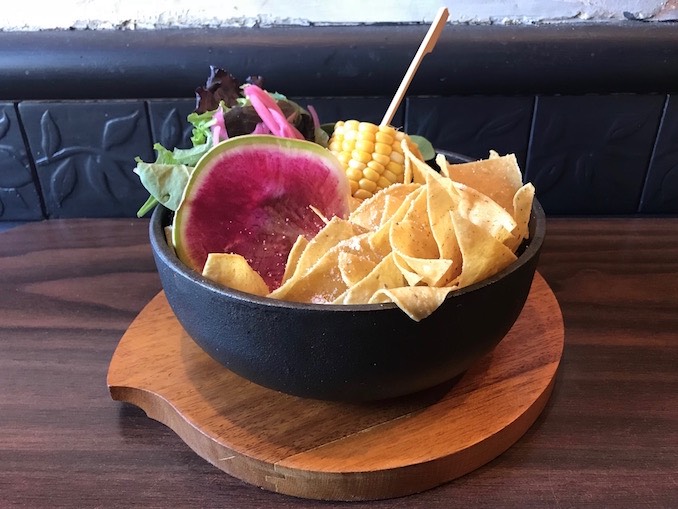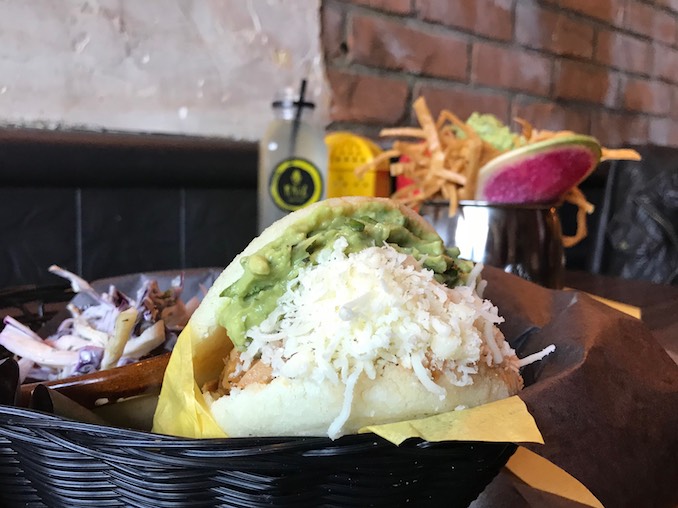 The cocktail menu is a recent addition of sunshine and warmth. Sip on a house Margarita, Jalisco Mule or a Papeloncito and you'll feel like you're definitely on vacation. Feel a little more daring? Try the Michelada, a Corona beer, lime juice, chipotle chilli with Tajin concoction that will wake you up for sure!  Many great options that we have to work our way through and of course an impressive selection of tequila. For a non-alcoholic drink, try the house made Limonada or Papelon — so good! They also offer popular imported Jarritos pops the kiddies will want to try.
Fernando is passionate not only about the food but also giving back to community and to his country. Profits from T-shirts sold in his restaurant go towards sending food home to Venezuela where his mother distributes to the children in impoverished areas. His restaurant also hosts special events like the upcoming Holiday Pop-Up Market that will help local artisans and businesses by giving them space to sell to the public (follow them on Instagram for details). And of course, there are special times of the year where there will be  a chance for customers to experience more latin arts and culture. Recently, they hosted a Day of The Dead celebration that was very popular. On nights like that, he'll keep the restaurant running as long as people are enjoying the food and having fun.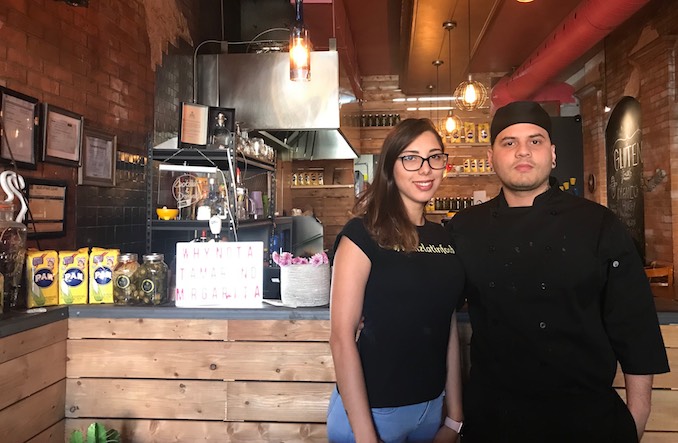 MAIZ Latin Food is located at 3220 Yonge Street in the Yonge & Lawrence area, Toronto.Open every day from 12 noon.
Visit their website -> maizlatinfood.ca