The inaugural Toronto Festival of Arabic Music & Arts featured much female talent including actresses from Sadesa Studios, visual artist Rana Hatmal, and Indigenous artist Laura Grizzlypaws. Here's a review of two festival performances by gifted women – oud playing Waed Bouhassoun and singer Faia Younan.
Waed Bouhassoun Performs For 1st Time In Toronto!
At a turn of the century Roncesvalles theatre the air was rich with 13th century Persian poetry by Rumi, sung by Syrian oud player Waed Bouhassoun. It wasn't hard for Bouhassoun to charm her audience, as they were keen to sing along to familiar Arabic songs from far away lands. She created an evocative atmosphere with her classical repertoire of traditional songs and poems by great mystics including Ibn Arabi and Rabia Basri. Bouhassoun's solo performance was truly captivating and magical.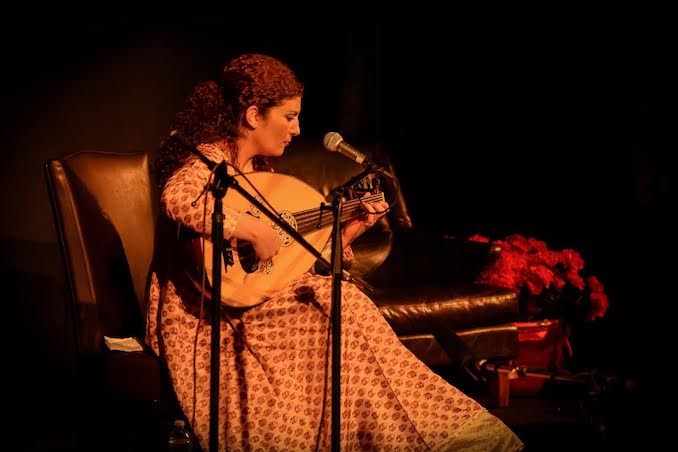 Waed Bouhassoun mentioned in a chat after her performance that in almost every southern Syrian home you will find an oud. Her father played this musical instrument and taught her to play when she was seven years old. She said it's normal for all children – girls and boys – to learn to play the oud at home. You might be surprised to find out that oud playing outside the home is dominated by men.
Bouhassoun currently lives in Paris, France, and is finishing her Ph.D. in ethnomusicology. She was thrilled to be invited to Toronto by the Canadian Arabic Orchestra, as she was eager to connect with Toronto's Arabic community and see how people live in our city. Bouhassoun's solo concert at the Revue Cinema took place on Wed, Nov 1, and was a charity benefit for ACCT Kitchen, an initiative created by The Arab Community Centre of Toronto and Roncesvalles United Church.
Faia Younan Dazzles Toronto Fans!   
This fresh new Syrian-born talent performed with members of the Canadian Arabic Orchestra and dazzled her Isabel Bader Theatre audience. It's easy to be impressed by singer Faia Younan because she wows you on so many levels. She has a unique voice and knows what songs work for her, including the popular hits of singer Fairouz. Twenty-five year old Younan performed some of her own material as well as popular Arabic songs. Did you know that she crowdfunded her first single "Ohebbou Yadayka?" And she's just released her first album.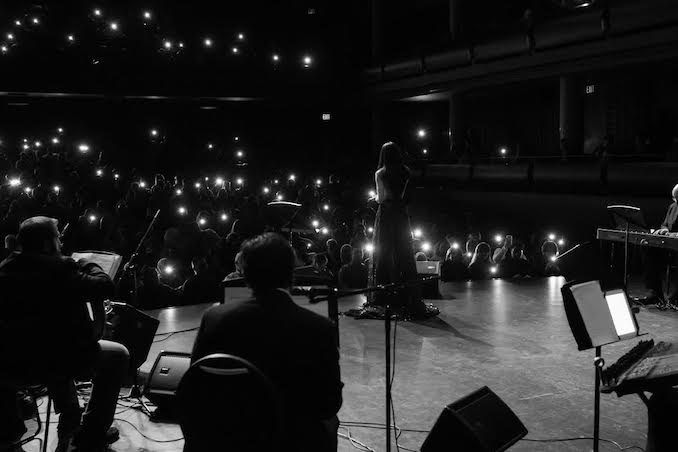 On stage Faia Younan shines like a diamond; smiling and waving at everyone, bantering with fans and honouring special song requests. Having a look around during the performance, you could see rapture on people's faces  – Younan's a total crowd-pleaser. The audience was singing along, clapping, cheering and holding up their smartphones in glowing unity. So much fun! 
Younan left Aleppo, Syria, when she was 11 years old for a new life in Sweden. She studied at the University of Glasgow. And in 2015, she decided to follow her passion to become a professional singer and moved to Beirut to pursue a career in Arabic music. Younan's Festival of Arabic Music And Arts concert, including guest musicians from the Canadian Arabic Orchestra, took place on Fri, Nov 10, in partnership with the Festival Du Monde Arabe, at the Isabel Bader Theatre in Toronto. 
***
Festival of Arabic Music & Arts 2017 is the first year of an annual celebration of Arabic music and arts in the GTA. The event is organized by the Canadian Arabic Orchestra. Over two weeks, more than 100 local and international performers entertain at music and theatre venues across Toronto, Mississauga and Brampton. Festival date: Oct 28 to Nov 12, 2017.
Canadian Arabic Orchestra is a not-for-profit organization open to musicians interested in the fusion between Western and Eastern music. The Canadian Arabic Conservatory of Music is currently accepting new talent who play the following instruments: oud, qanun, tabla, Arabic and Western violin, and piano. To learn more about CAO, please visit: http://canadianarabicorchestra.ca/
Revue Cinema is a cinema and film festival/entertainment venue built in 1911. It is designated a heritage site in Toronto, and is one of the oldest standing movie theatres. Located at 400 Roncesvalles Avenue. Please visit the website for upcoming events: http://revuecinema.net/
Isabel Bader Theatre is a contemporary 500-seat entertainment venue for screenings, lectures, concerts and performances. Located at 93 Charles Street West in downtown Toronto. For more information please visit: http://www.vicu.utoronto.ca/hospitality/eventandspace/isabelbader.htm
ACCT New Canadians Kitchen: https://www.facebook.com/acctkitchen/