Our world is beautiful. Filled with landscapes that have been admired and desired. But at what cost? Anthropocene, the latest environmental art exhibition at the Art Gallery of Ontario, left us with our eyes wide open and filled with questions. This moving and stunning exhibition by internationally acclaimed photographer Edward Burtynsky, and award-winning Toronto filmmakers Jennifer Baichwal and Nicholas de Pencier, reveals profoundly altered landscapes that have been drained, drilled, excavated and extracted for their resources and material worth.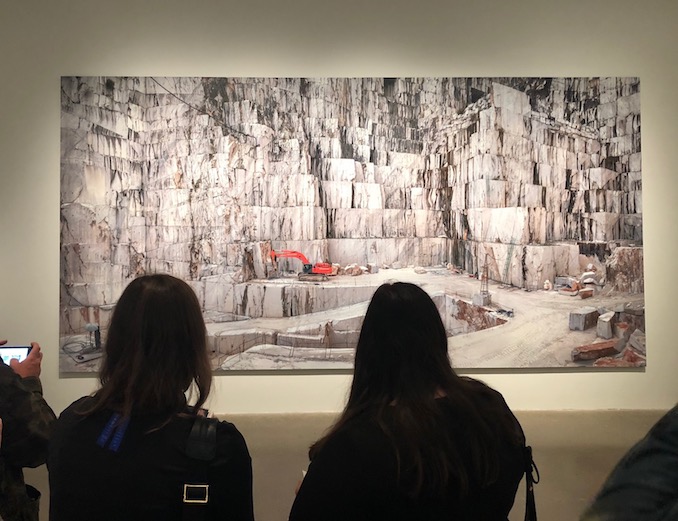 The exhibition features over 50 works revealing how humans are transforming the planet. Photography, film and augmented reality (AR) takes visitors to different points on earth including landfills in Nairobi, marble quarries in Italy, logging in British Columbia and more. 40 of the works are new and recent large scale photographs by Burtynsky. Also in the exhibition are seven short films by Baichwal and de Penciller —  several that are aerial views.  It's highly recommended to download the free app on your device before visiting to enhance to enjoy the AR experience. There are several tablets available in the exhibition to use as well, courtesy of Telus.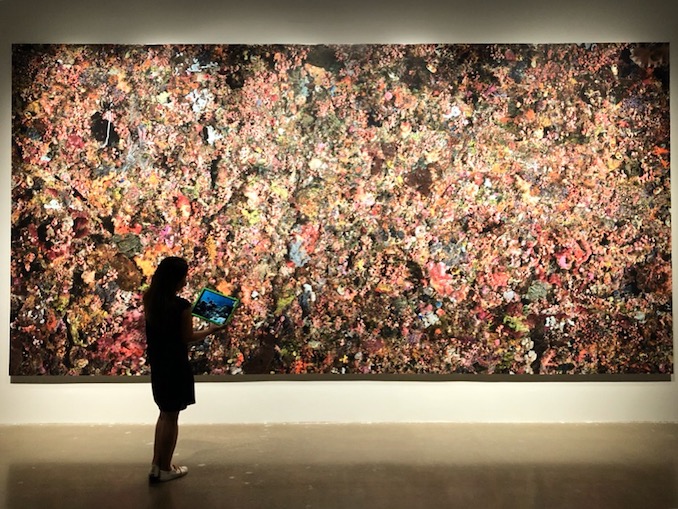 "Augmented Reality (AR) is part of what I have coined as Photography 3.0. – photography in the third dimension – and it's been a natural progression of my last few years of work," says Burtynsky.  "There are some things that a still, two-dimensional image cannot communicate, so similar to how Jennifer and Nick's films bring a deeper layer of understanding, so does the augmented reality. It extends the possibilities of the art, and for a project like Anthropocene, having an immersive experience really brings the story home."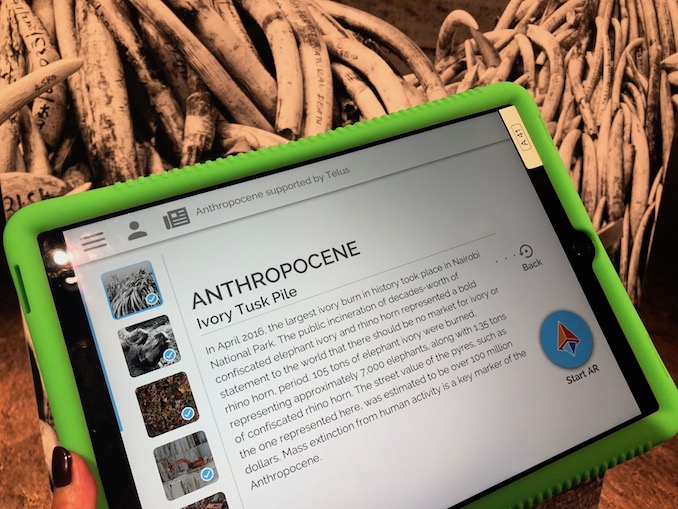 How were the AR installations made? "The AR installations in the Anthropocene exhibitions were created using a process called photogrammetry, or 'volumetric capture'," says Burtynsky. " In this process, thousands of high-resolution photographs of a single object or space – like the tusk pile that was captured at  ivory burn at Nairobi National Park in April 2016 – are taken and then stitched together in a digital environment to create life-sized (often true-to-scale), photorealistic, 3D images."
Additional programming include:
Special screenings of Manufactured Landscapes directed by Jennifer Baichwal. Is a featured documentary that follows Edward Burtynsky as he travels through China photographing the evidence and effects of the country's massive industrial revolution. Select dates, Jackman Hall, AGO.
Special screenings of Watermark directed by Jennifer Baichwal and Nick de Pencier, and Edward Burtynsky. This documentary shows water as a terraforming element, as well as the magnitude of our need and use. Select dates, Jackman Hall, AGO.
Special screenings of  Anthropocene: The Human Epoch directed by Jennifer Baichwal, Nicholas de Pencier, and Edward Burtynsky. This documentary is an exploration of the complex and indelible human signature on the Earth. This is the third in a trilogy of films including Manufactured Landscapes and Watermark. Select dates, Jackman Hall, AGO. (See trailer above)
The Walrus editor and author Harley Rustad, discusses his book, Big Lonely Doug: the story of one of Canada's last great trees. The book tells the story of a 226-foot tall Douglas Fir tree in B.C.'s Gordon River Valley and the logger who saved it from a clearcut. Rustad will be interviewed by Sarain Fox, the host of Rise on Viceland, on Oct. 19 at 7 p.m. in Baillie Court.
In addition to the exhibition, Edward Burtynsky, Jennifer Baichwal and Nicholas de Pencier will take the stage in Baillie Court, AGO, on Wednesday Nov. 21 at 7 p.m. for a conversation about the making of Anthropocene. Ticketed event.
Also worth a listen is the recently launched is the Anthropocene Podcast. In conjunction with the Anthropocene exhibition,  Into the Anthropocene: Our Impact on Earth is a multi-episode podcast series hosted by storyteller and activist Sarain Fox. Featuring a diverse line up of scientists, writers, artists, poets, professors and activists, including Elizabeth Kolbert, Sheila Watt-Cloutier and Dr. Winnie Kiiru, each episode broadens the conversation sparked by the exhibition. The podcast will be available for download on iTunes and Google Play.
On Saturday, October 13, the AGO partners with The Bentway – the innovative public space under Toronto's Gardiner Expressway – for a panel about water issues and climate change. This discussion is inspired by The Bentway's art installation, Waterlicht, and Anthropocene. Tickets are free and will be available online in September.
Anthropocene is on now at the Art Gallery of Ontario. This timed-entry exhibition is here until January 6, 2019. For more information and a full list of events available at www.ago.ca