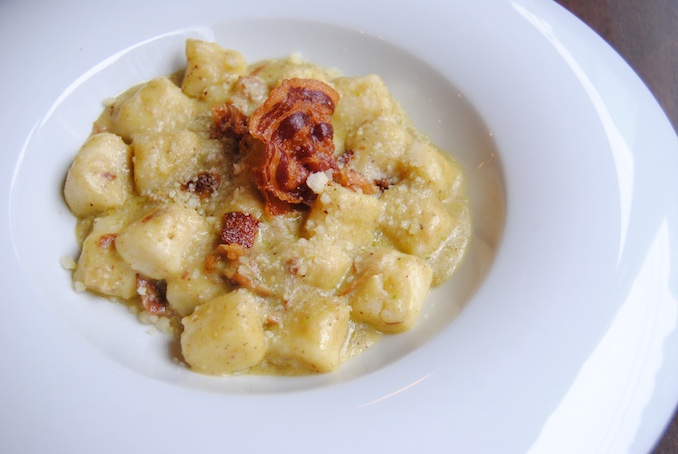 Chef Davide Iannaci at Ovest restaurant in Toronto sent us this great Gnocchi recipe con Pesto di Pistacchi (Gnocchi with a Pistachio Pesto and Pancetta).
Serves 8-10 people.
Ingredients
For the Gnocchi:
-1kg net weight of cooked baking potatoes (peeled, boiled and passed through a food mill or potato ricer)
-300 gr of all-purpose flour
-50 gr of grated Parmigiano Reggiano
-1 egg, beaten
-1 tbsp. salt
For the Pesto and Finished Dish:
-1 cup of shelled, blanched and peeled pistachios 1 cup of extra virgin olive oil
-1 cup of grated Parmigiano Reggiano
-2 shallots, minced
-4 cloves of garlic, minced
-1 cup of unsalted butter
-200 gr of pancetta, diced
-10 slices of rolled pancetta fried for garnish
Method – Gnocchi
Boil 1kg of peeled baking potatoes (russets) in unsalted water until fully cooked. Drain for 5 minutes. Pass the potatoes through a food mill or potato ricer. Allow the potatoes to cool until room temperature. Spread the potatoes out and create a well for the flour, eggs, cheese and salt. Mix by hand for 3-5 minutes until the entire mixture is well combined. Allow the dough to rest with a damp tea towel covering the gnocchi for 10- 15 minutes. Cut the mound of gnocchi dough into approximately 1⁄2 cup portions. This will allow for the inexperienced gnocchi roller to easily roll the gnocchi. Roll on an un- floured work surface until you have logs that are the diameter of no larger than a dime. Using a bench scrapper cut the logs of gnocchi dough into approximately 1 1/2 cm centimeter gnocchi. Heavily flour and transfer to a baking sheet.
Store for up to 24 hours on a floured baking sheet covered with plastic wrap.
To cook the gnocchi bring a large pot of salted water to a boil. Add the gnocchi slowly
with the help of a spatula making sure none of the gnocchi stick together. Leave in the boiling water for 30 seconds before gently stirring to help keep the gnocchi from sticking to each other at the bottom of the pot. Once all of the gnocchi float the top continue to cook for an additional 30 seconds. Strain and keep hot while you prepare the sauce.
Method – Sauce
For the sauce begin by combining the pistachios and olive oil in a blender. Blend until extremely smooth, close to the texture of natural peanut butter. Bring a large frying pan to medium heat and cook the small pieces of pancetta until lightly golden brown and crispy. Add the shallots and garlic and continue to cook on medium heat for 1-2 more minutes. Add the pistachio pesto and 2 cups of pasta water or hot water and bring to the boil over high heat. Add the gnocchi, grated Parmigiano Reggiano and salt to taste, continue to reduce the sauce until the gnocchi is completely coated with the pesto.
To Serve
Serve garnished with a slice of crispy pancetta and a sprinkle with grated Parmigiano Reggiano.