Chef Toben from Toronto catering company Toben Food by Design sent us this week's recipe for you to try at home. Check out this delicious Wild Mushroom Gnocchi with Lobster recipe.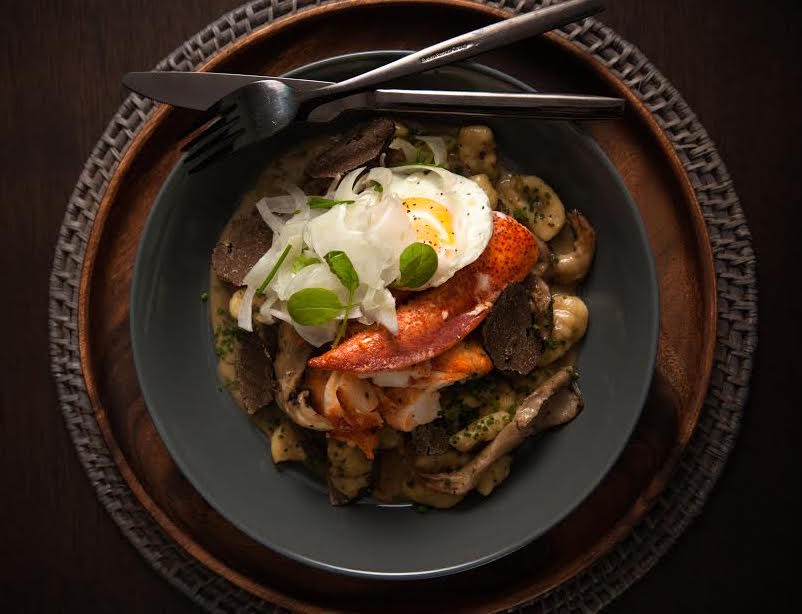 WILD MUSHROOM GNOCCHI ( MAKES 2-4 SERVINGS)
INGREDIENTS
-1 x 500 gm package high quality prepared gnocchi
-100 gm butter, softened + 1 cup butter, melted
-4 TBSP + 2 TBSP extra virgin olive oil ( for fennel slaw)
-1 TBSP lemon juice
-½ cup shallots
-3 TBSP garlic, minced
-2 cups cremini mushrooms , sliced
-4 cups oyster mushrooms, broken down by hand into smaller pieces
-1 ½ cups white wine
-2 cups chicken or vegetable stock
-1 cup 35 % cream
-½ TBSP kosher salt + more to taste
-¼ TBSP fresh cracked black pepper + more to taste
-1 cup grated hard Italian cheese such as pecorino Romano, parmigiano reggiano, or grana Padano
-1 x 320gms canned lobster meat, drained and picked of any bones
-1 TBSP chopped parsley
-2 TBSP chopped chives
-2 cups shaved fennel, soaked in ice water for 1 hour, drained
-2-4 large hen's eggs fried sunny side up
-10 gm shaved truffles *optional
METHOD
-In a large sauce pan on medium high heat, melt the 100-gm softened butter and 4 TBSP olive oil. Once the butter has melted, add the chopped shallots and cook for 1-2 minutes until softened and lightly browned.
-Add the cremini mushrooms and continue to stir while cooking for 2-4 minutes until mushrooms begin to soften and are lightly browned . Add the minced garlic and oyster mushrooms and continue to cook for another 1-2 minutes. Add the salt and pepper
-Deglaze with the white wine and bring entire mixture to a simmer. Continue to cook until white wine has reduced by half
-Add in the chicken stock and continue to simmer until entire mixture has reduced by half
-While the sauce is simmering, heat the melted butter in a medium sauce pan, add the chunked lobster meat and just warm through, basting the lobster with the melted butter, set aside
-Once the mushroom sauce is ready, add in the cream and simmer gently.
-Cook gnocchi according to package directions and fold into the mushroom and cream sauce. Add the grated cheese, chopped parsley and fold through. Remove from heat.
-In a small mixing bowl, combine the shaved fennel, chopped chives, 2 TBSP olive oil and 1 TBSP lemon juice and lightly toss set aside
-To plate: spoon gnocchi into bowls , top with fried Hen's egg, butter poached lobster pieces, fennel chive slaw and shaved truffles* optional
***
Check out Toben Food by Design's website for more info on the company.