Passover is coming up and we automatically start thinking about being together with friends and family. We also love the thought of a heartwarming and delicious Matzah Ball Soup…you know, like Bubie makes? It's comfort in a bowl and when we discovered this recipe by Chef Toben of Toben Food by Design, we thought it was pretty special to share!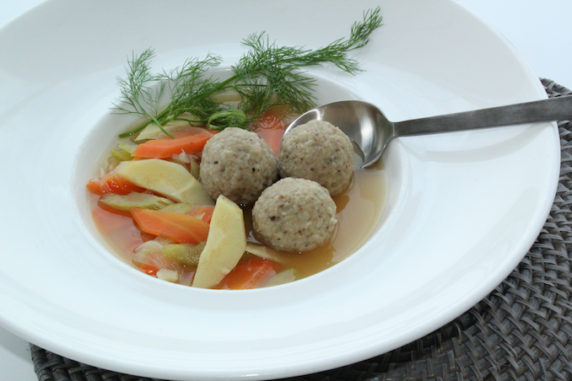 CHEF TOBEN'S MATZAH BALL SOUP 
Makes 6 servings
INGREDIENTS:
3 large eggs
3 TBSP of rendered chicken fat, (available at butcher shops or in the meat markets of large supermarkets) or vegetable oil
½ cup of water
1 ½ TSP of salt
¾ cup + 2 TBSP of matzah meal
10 cups of home made chicken stock (skimmed of fat) or store bought low sodium chicken broth
3 medium carrots, peeled and sliced into ¼ inch thick 'half moons'
2 medium parsnips, peeled and sliced into ¼ inch thick 'half moons'
3 ribs of fresh celery, cut in half lengthwise and cut into ¼ inch thick 'half moons'
1 white onion, peeled and cut into thin julienne
2 TBSP of chopped fresh dill, for garnish
DIRECTIONS:
In a medium bowl, whisk together eggs and chicken fat until combined. Whisk in the water and salt. Add matzah meal, and whisk until combined. Cover and refrigerate batter until firm, 2 to 4 hours.
Line a baking pan with parchment. Bring chicken stock to a boil in a large wide saucepan, and reduce heat to a simmer.
Slightly dampen your fingertips and form 2 heaping tablespoons of batter into a 1 1/2-inch ball, being careful not to compress the mixture too much. Place ball on the prepared pan. Repeat process with remaining batter.
Using a large spoon, slide the matzah balls into the simmering stock. Once all the balls have been added, cover and cook for 10 minutes.
Add carrots, celery, onion and parsnips, cover, and continue cooking for 20 to 25 minutes, until the vegetables are tender and the matzah balls are cooked through. (To test if the matzah balls are done, remove a ball from the water, and slice in half. The color should be light throughout. If the center is darker, cook 5 to 10 minutes longer)
To serve, fill the soup bowls evenly with soup and vegetables, one or two matzo balls, garnish with fresh dill, and serve immediately.