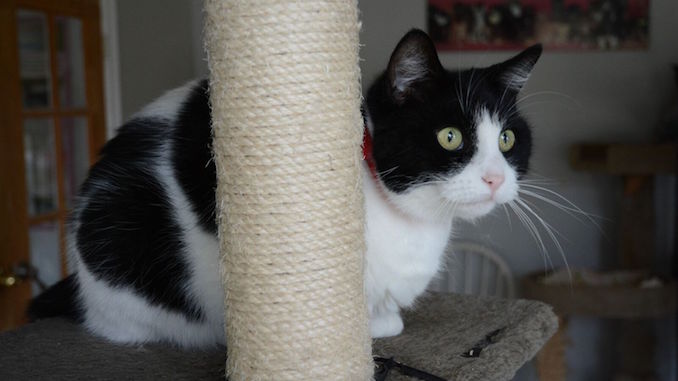 Name: Desiree – Born: November 2009
Special Needs: Tested + with Feline Leukemia Virus (FeLV)
Desiree the cat was rescued hours before she was scheduled to be executed by gas chamber, from a high kill shelter in Quebec. A beautiful short haired tuxedo with amazing amber / green eyes, wonderfully long white whiskers, who has a gentle loving soul and sweet laid back purrsonality. Desiree is an attention seeking, energetic, fun loving, playful gal who is usually the first to greet you with a couple quick meows as if to say "Welcome to my room and happy to have you pet me!", unless of course you have entered her room at nap time, in which she is usually all curled up like a ball which is her favourite position aside from on top your lap. Excellent with all her roommates, Desiree would make a wonderful companion and addition to any family. If you want to show Desiree the cat what it means to have a "furever" home and family, please fill out an adoption application.
***
About North Toronto Cat Rescue
This column features Toronto pets available for adoption.
Our current features come from North Toronto Cat Rescue which is a no kill, no cage shelter in Markham, Ontario, Canada. They have saved over 2000 cats over the years from both the harsh environments of life on the streets and from kill shelters in Ontario and Québec. They care for both kittens and adult cats. I always like to promote getting an adult cat as it is a lot easier to pick the cat with the right temperament for you.
The NTCR shelter is run by volunteers with no government assistance. They currently have around 200 plus awesome cats that would love a good home. Go and visit them soon!
For more info, Visit the NTCR Website.
***
Fundraiser
On another Note, NTCR is in trouble as they are losing their home in 2016 for development of the area. If you can offer any help in finding a new home for the almost 200 cats at the shelter, that would be amazing.