The entrance way to the new Figures in Yorkville has a lot to say. From the floor all the way, way up to the top it is plastered in comic book pages and graffiti writing. Look carefully and you'll see thoughts from the artist, Anthony Ricciardi. It took him six months to create the front entrance. It also doubles as a vintage and highly collectible toy store. Original Archie comic books, tin robots and various superhero action figures are displayed. Yes, they are for sale. The most expensive item perched way up on the top shelf is Darth Vadar. It's selling for $5000.  The "concierge" at the front desk tell me that a someone did walk in the other day and bought a robot as they were walking by. How much? They wouldn't reveal.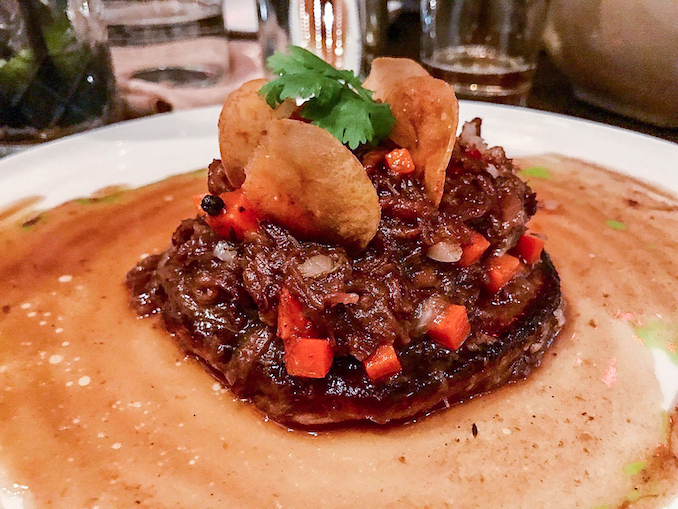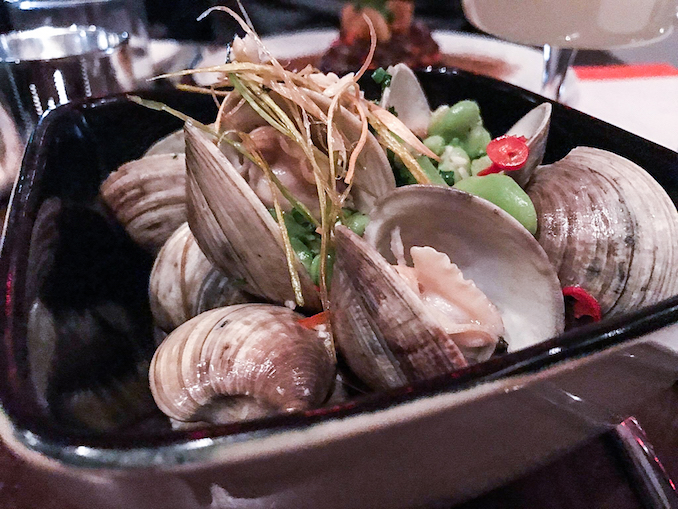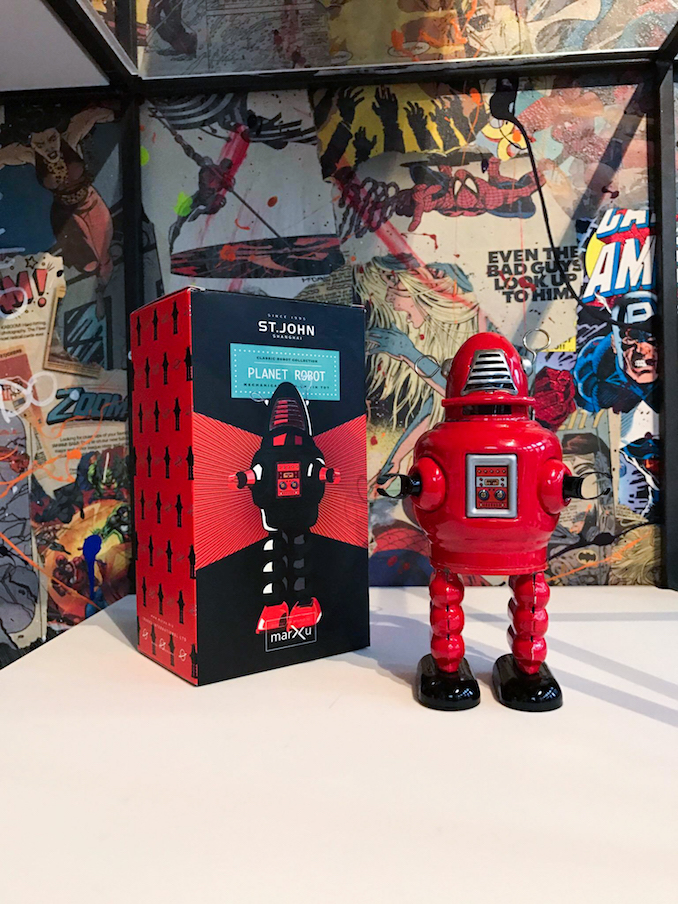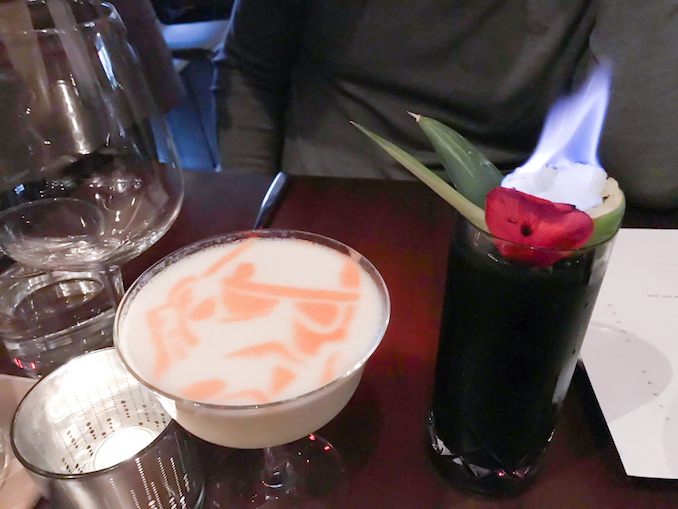 There's more to this place.  I know it's some sort of restaurant. Captain America's power button is noticed on the Mickey Mouse welcome desk. Push the button and the door cracks open in the wall to get to the other side. I felt like a kid entering in a candy store. My eyes dart all over the room as we're led to our table in the resto-lounge. It's a cosy spot, perfect for a date night.
Plush booth seatings are near the entrance way and you immediately notice the art installations. I'm thinking someone's childhood dreams came true.  To be honest, I originally thought it would resemble one of the "super kawaii" Japanese eateries but this isn't cutesy. It's upscale.  Prototype Design Lab, a Toronto based design firm helped pull the owners' ideas into the space by curating and working with independent artists to create this unique space. Pac-Man is lit (literally) on the ceiling and superheroes on the wall. Larger than life image of Barbie stands on her own. There's a silhouette of Wonder Woman at the restroom I would LOVE to have in my own home.
I get the sense the owners of Figures like to keep parts of this place a curiosity for visitors. I was told no pictures were allowed of the artwork in the dining area.  Even the menu is not available ahead of time online nor is anything else about the establishment.  Is it for kids? While it sounds like a fun house, it isn't geared towards kids…but will appeal to the kid in any adult.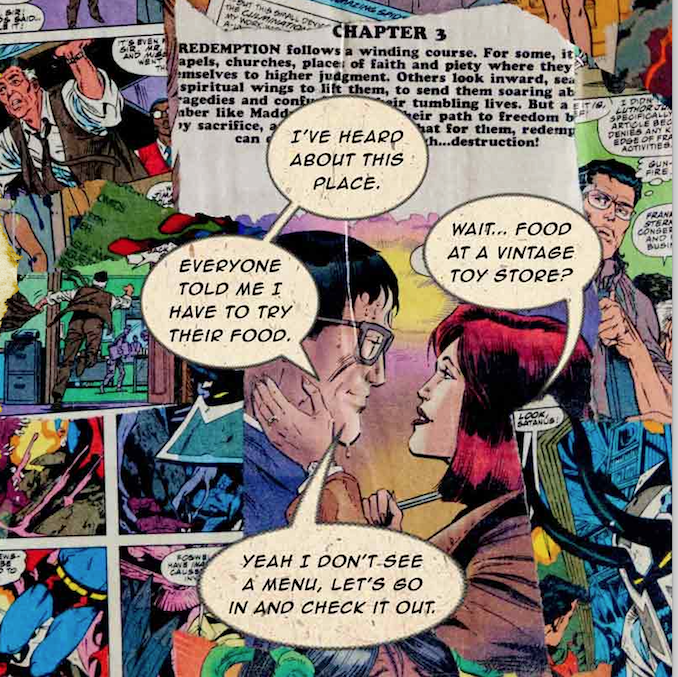 Owners Patrick Marzouk and Nader Marzouk had the idea of creating a vintage toy shop and restaurant/lounge. They are known in the nightlife, corporate and private event scene including the successful &Company Resto Bar, a 10,000 square foot property in Mississauga. They have several other ventures throughout the city but kept and eye for the right opportunity to come along to open this restaurant downtown. But why the comic book and superhero theme? According to the house manager, the owners felt like many people could relate and wanted to bring that sense of joy and childhood memories to Toronto but in a more refined setting.
Head straight into the cocktail list and do not pass go! Be warned, it's hard to decide but there are two cocktail lists — one filled with new and exciting concoctions and the other is with familiar favourites. Mixologist James Bailey explained that the menu was created based on some of the most iconic characters growing up. Maleficent is his interpretation of one of Disney's most iconic villains from the classic tale of Sleeping Beauty. Its sultry flame over a tall glass is as dark as the night and wickedly delicious. Bailey mentioned that active charcoal was included in this cocktail that has already won me over.  "A lot of the cocktails I've tried to keep some health benefits in mind and active charcoal is known for purifying your liver and brightening your teeth." Hey, balance right?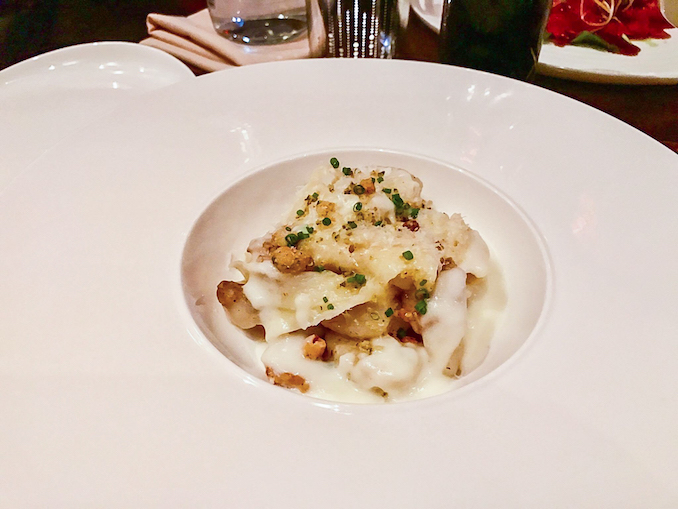 Another interesting choice cocktail named "Rarely on Target" pays homage to Star Wars Storm Troopers. "I always found it funny that the Storm Troopers rarely hit their target, so it's fun and also based on figures that I grew up with," said Bailey. Everyone around us seems to have ordered one of the character cocktails and they are all clearly instagram worthy. Bailey tells us that he's having fun creating  the drinks and currently in the works with another called "My Alter Ego", any guesses which character that references?
The menu, as mentioned, is not listed anywhere online and that is done with intention. This gives Chef Ron more freedom to play around with the menu according to what's in season and of course, to keep things fun for the curious. The menu is concise but we were told it will change weekly. The night we visited we enjoyed several dishes. A clear favourite was the oxtail that was braised in Red Stripe and served with plantain. Moist and flavourful. That with the Beet Chèvre and Truffle Salad would have made the perfect meal for one.  There was a Kobe beef entree on the menu and explained that it was sourced from a farm located in the higher altitudes in Japan and well-massaged. The house-made pasta dish will change almost daily.  Portions are decent and meant for sharing. For two people, they suggested 4 to 6 dishes from the menu. Save room for dessert. The house beignets are ridiculously good.
While it's not meant to be a secret supper club, you definitely need to make a reservation especially as people are starting to notice the Kapoww!! marking outside of the building and are curious. For the time being, if there's space inside for cocktails or dinner, and you're curious, they will accommodate if there's space. Figures has an easy vibe with live DJ on busy weeknights and weekends playing some retro tracks with a loungy-groove.
Figures is located at 137 Avenue Road, Toronto. Check out their website for more info.