Regenesis is a remarkable non-profit based in the heart of Toronto with the firm belief that empowering students is the driving force behind their initiatives. Regenesis is a vibrant community environmental organization dedicated to fostering social and environmental change through grassroots advocacy and impactful service initiatives. Their core areas of concentration encompass the critical domains of food justice, cycling infrastructure, the circular economy, climate justice, environmental education, community collaborations, eco training, and habitat restoration. We had the opportunity to speak to Lauren Castelino, the Co-Executive Director, to discover more.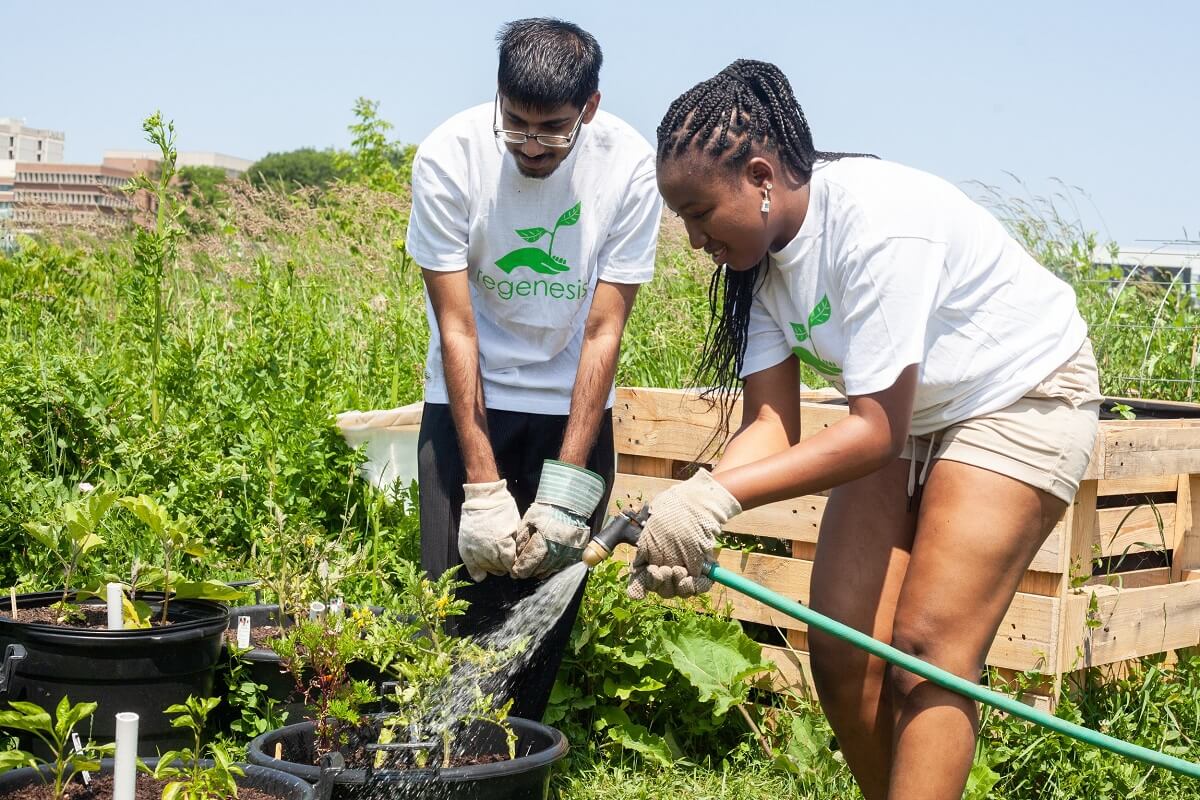 Describe your charity/non-profit/volunteer work in a few sentences.
Regenesis is a community environmental organization striving for social and environmental change through advocacy and service in local chapters. We have a presence at 7 Ontario universities and are expanding into BC and Quebec. Our focus areas include food justice, cycling, the circular economy, climate justice, environmental education, community collaborations, eco training and habitat restoration.
What problem does it aim to solve?
Regenesis aims to solve a multitude of environmental issues including climate change, biodiversity loss and air pollution coupled with social inequalities and inequities. We truly strive to bridge the gap between accessibility and sustainability through our free/low-cost solutions such as reuse centres, farmers' markets and bike centres.
When did you start/join it?
I joined Regenesis in April of last year but was involved prior as a volunteer, often photographing and participating in Regenesis' many events.
What made you want to get involved?
I was very inspired by my fellow Co-Executive Director, Michael Jodah, whose compassion and empathy in the environmental and affordable housing fields made a strong impression on me when we first met. I was in awe of how tirelessly Michael works to build solutions while giving students and marginalized folks the opportunity to really make a difference. I also found it so fascinating how the Regenesis team could take on a multiplicity of so many different initiatives and work on scaling their impact through a chapter-based model. In this way, there is never a dull moment since we can work on projects that are unique, community-centric and give the opportunity to learn something new each time.
What was the situation like when you started?
I was pretty intimidated when I landed my role given my youthfulness, and to be honest I still am. Co-leading an organization with 8 full-time staff, 40 part-time staff and over 200+ volunteers is no small undertaking especially when we are tackling a plethora of planetary and social crises.
How has it changed since?
I believe I've settled into the role well, and I'm proud of our achievements over the past year – we hosted 60+ events across 7 chapters, diverted 14000+ lbs of waste, and had 43000+ visitors frequent our Reuse Centres.
What more needs to be done?
As a student levy group, we rely on the support of university students to make our initiatives come to life. Get involved by joining your local chapter, or start a new one!
How can our readers help?
They can help by donating to Regenesis. We are always in need of funding and connections to donors. We also have many opportunities to join as a volunteer.
Do you have any events coming up?
We do run events year-round including tree planting events, workwear: swap, mend and borrow events, group bike rides, and an annual inter-chapter retreat. Check out Regenesis' event page to sign-up for these incredible events!
Where can we follow you?
You can find me on LinkedIn. You can also find Regenesis on LinkedIn, Instagram and Facebook, and visit our website for more information.