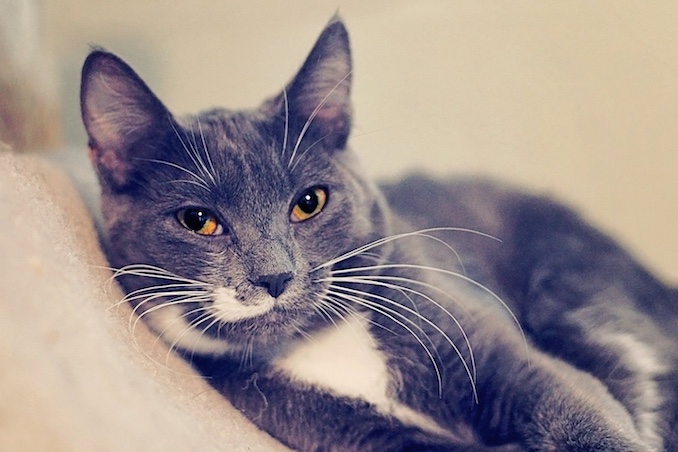 Jonsey – DOB: January 2015
Adopt Cats like Jonesy who was rescued as kitten from a life on the streets when she was found wandering in the back yards in the Markham area. When she first arrived at the shelter she was completely frightened and ran to hide when anyone entered her room. She has since been in foster care and has learned to trust people. She can be a little shy at first and can startle with fast movements, but quickly warms up to enjoy being petted, a good behind the ear scratch and eventually a belly rub. Jonsey is a fun loving, sweet natured, curious and energetic spirit who loves to play, chase strings and wrestle with her roommates. Excellent with other cats Jonsey, would need to be adopted as part of a pair or to join a family that already has a friendly cat she can befriend and bond with.
If you have the energy and are ready for all the fun and laughter Jonsey will bring to her new "furever" family, please fill out an adoption application and contact North Toronto Cat Rescue.
About North Toronto Cat Rescue
This column features Toronto pets available for adoption.
Our current features come from North Toronto Cat Rescue which is a no cage and no kill shelter in Markham. They have saved over 2000 cats over the years from both the harsh environments of life on the streets and from kill shelters. They care for both kittens and adult cats but I always promote getting adult cats as it is a lot easier to pick the cat with the right temperament for you.
The shelter is run by volunteers with no government assistance. They currently have around 200 awesome cats that would love a good home.