Alex Southey is an Indie Folk artist born in Ladner, BC, and raised in Toronto, ON. His experience spent ping-ponging back and forth between the two provinces for a mixture of schooling and travel have not only had a significant impact on his lyrics, which marry autobiographical details to geographical details, but also on what has become a downbeat, autumnal musical sound.
Indie folk artists are a dime a dozen and what sets Southey's lo-fi music apart is its heavy incorporation of strings and other accompanying orchestral instruments (most obviously on his debut EP Written in Vancouver, Nelson, Kelowna, and Toronto), in addition to an overall lack of musical boundaries, born out of experimentation in the folk genre.
In the next year or so, he will move to include more fleshed out, rockier material, reminiscent of Car Seat Headrest and Mitski, in addition to the Autumnal stuff.
He has been performing around Toronto's downtown core for the better part of a year, and is seeking not only to increase the amount of dates he plays, but also venues.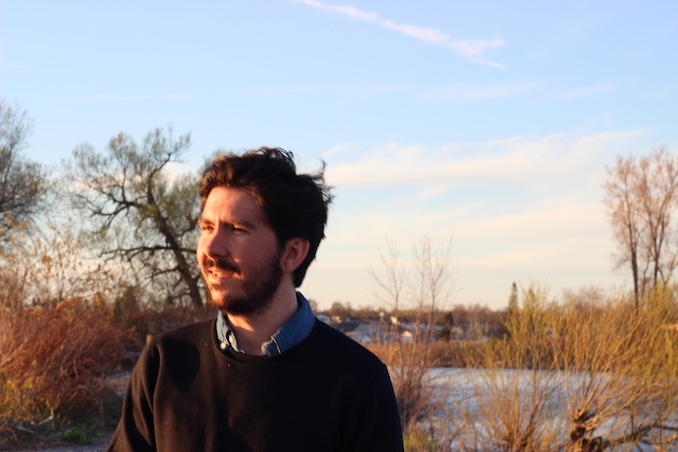 Name: Alex Southey
Genre: Indie Folk
Founded: 2017
# of Albums: 2 (EP)
Latest Release: EP – Canada's Northern Stories
Latest Single: "We Have Been Here for a Week" off  Written in Vancouver, Nelson, Kelowna, and Toronto.
Favourite Restaurant:
Doomie's at Queen St. West and Brock Ave is cool.
Favourite band as a teenager:
Radiohead. Does the acoustic music throughout a Gilmore Girls episode count?
Favourite band now:
Radiohead (obviously), and Laura Marling… Phoebe Bridgers.
Guilty Pleasure Song:
The intro theme to Frasier. Although to say I feel guilty about the pleasure I get from it would, simply put, be a gross lie. "Scrambled eggs all over my face / What is a boy to do?" Absolute nonsense.
Live Show Ritual:
Coffee at home and a beer at the venue before the show. Having coffee is my life's ritual. I think playing music is just a break from it.
Favourite local artist:
Feist is the greatest. Feist. Alvvays.
Sneaky Dees nachos, pasta from Terroni or a superfood salad from Fresh?
Sneaky Dees Nachos.
Queen or College St?
Queen St.
Trinity Bellwoods or Highpark, Riverdale or Kew Gardens?
Trinity Bellwoods' dog park.
EP or LP?
Really depends. I like the idea of artists releasing collections of tracks that make sense. If the collection is the length of an EP, great. If it's closer to an LP, that's also fine.
Early bird or night owl?
I am a night owl on an early bird's schedule, and I haven't been fully lucid for months.
Road or studio?
Playing live for sure, whether it's on a road or in an actual bonafide building.
Swiss Chalet or Roti?
Swiss Chalet?
Where can we follow you?
Follow me on Soundcloud at AlexSouthey, and on Twitter @AlexKSouthey. I'll be putting my music on Spotify and-or Bandcamp sometime November 2018.
Any Shows or Albums Coming Up?
Both! I'm playing a show as a supporting act at The Cavern Bar on Church, November 14th, in support of The Good Few, an indie rock band from NYC.
New EP just released – One with a pretty Canadian, Northern-style bend, and a cohesive concept. Canada's Northern Stories available on my SoundCloud.