Ammoye is a unique multi-dimensional vocalist raised in reggae. Originally from Clarendon, Jamaica, now residing in Toronto, Canada, this 6X Juno Award Nominee, has been consistently performing at high-profile events and festivals. With catchy melodies, she reveals her buttery vocal range and an insatiable character.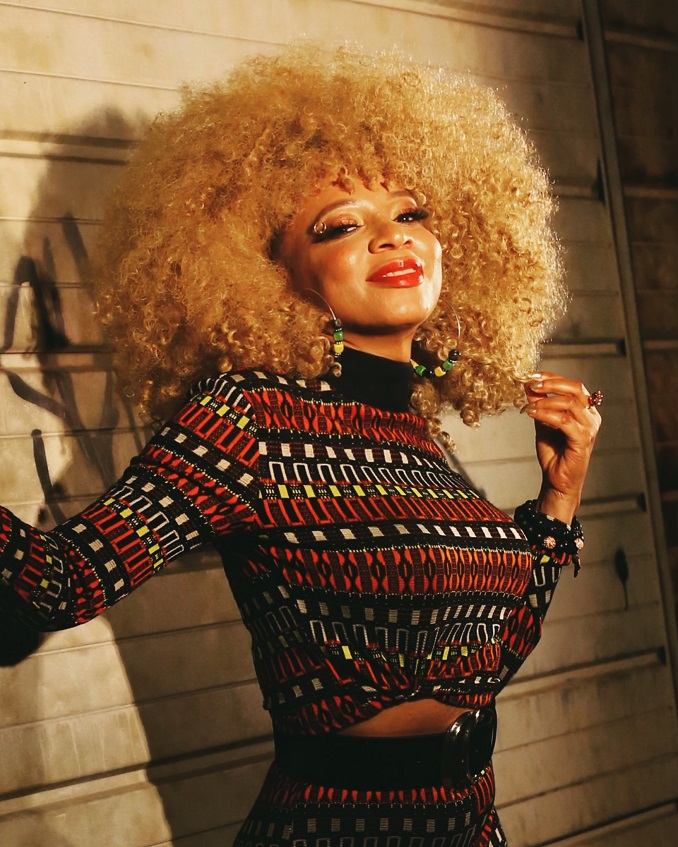 Name:
Ammoye
Genre:
Reggae/Fusion
Founded:
2007
# of Albums:
3 Albums and 3 EPs
Latest Album:
Water
Latest Single:
"Count On Me" (Remix)
Latest Video:
Favourite musician growing up:
Bob Marley and Sade
Favourite musician now:
Bob Marley, Sade, Chet Baker, Amy Winehouse, Chris Bottie, Sy Smith, Lauryn Hill, Ravyn Lenae and Lucky Daye to name a few
Guilty pleasure song:
Tamia – "Leave It Smokin'"
Live show ritual:
Prayer in a circle with my band before we go on stage and wearing my Ankh, placing it on my lips while I set the intention to invite my HigherSelf, my Soul and Spirit Guides and the energy of love, light, peace and joy to be apart of the performance, the space and present time where we are in and will be performing.
Favourite local musicians:
Michael Buble, Zaki Ibrahim, Treson, Tama, Tony Antony and Kirk Diamond…. A lot more but too many to name here.
EP or LP?:
LP
Early bird or night owl?
Night owl!
Road or studio?
Road
Any shows or albums coming up?
My next album, which will be called "The Shift". I'm actually in the process of getting ready to write for it, so look out for that dropping in late 2024 or early 2025! My next shows coming up are Mariposa Folk Festival – on July 7th, Bell Park – on July 8th, Northern Lights Festival – on July 9th, Mont Tremblant – on July 12th, Mosaic Festival Moncton – on September 22nd and Contact East (Newfoundland & Labrador) – September 21st – 24th. More dates to be announced.
Where can we follow you?
Instagram | Twitter | Facebook | Youtube | TikTok | Spotify | Linktree
***
Rapid Fire Toronto Qs
What is your favourite local restaurant in Toronto?
SottoSotto
What is your favourite street in Toronto and why?
My favourites would be Baldwin Street and Nassau Street in Kensington Market. I love those streets that connect into Kensington Market. That area is filled with the island street vibes and it reminds me of back home in Jamaica. I shop at a lot of the stores and markets in Kensington and I know a lot of the people there by name. It is just a close-knit family atmosphere. Music is always playing loud in the streets and It's one of my favourite areas and places in the city. All the streets in Kensington are filled with good energy and vibes!
What is your favourite park in Toronto and why?
My favourite park in the city is Toronto Music Garden and Trinity Bellwoods. I love the park of the Toronto Music Garden because in the summer I always find it to be vibrant, filled with the musicians playing their music and people with their families or partners or just by themselves checking out the performances. I find it to be high vibrational energy in that park and it's a place I spend a lot of quiet time meditating at because we also have the water there as well and the energy of the children and the doggies running around…gives me a lot of joy! Trinity Bellwoods is a great place to gather with friends and also to connect with the earth and fresh, open air and elements. Also a great place for observing and people-watching!
What is your favourite music venue in Toronto?
My favourite music venues are The Opera House, SuperMarket, Paradise Theatre, 3030, Lula Lounge, Revival and Phoenix to name a few.
What is your favourite music store in Toronto?
My favourite music store is Treasure Isle on Eglinton W. Shout out to Natty B!