The Drifts are an up-and-coming rock band from Toronto formed in 2019 by Alyssa Holmes, Sam Nyberg, Binod Singh Jr., and Tay Ewart. Together they have created a bold and exciting sound that is both deeply personal and relatable. Their name represents themes in their lives from around the time the band was formed, a slow movement from one place to another, the act of being carried and shifted by a force or current. They recently released their last single "Breaking Every Bone", and we spoke with them to find out more about their influences, style and upcoming projects.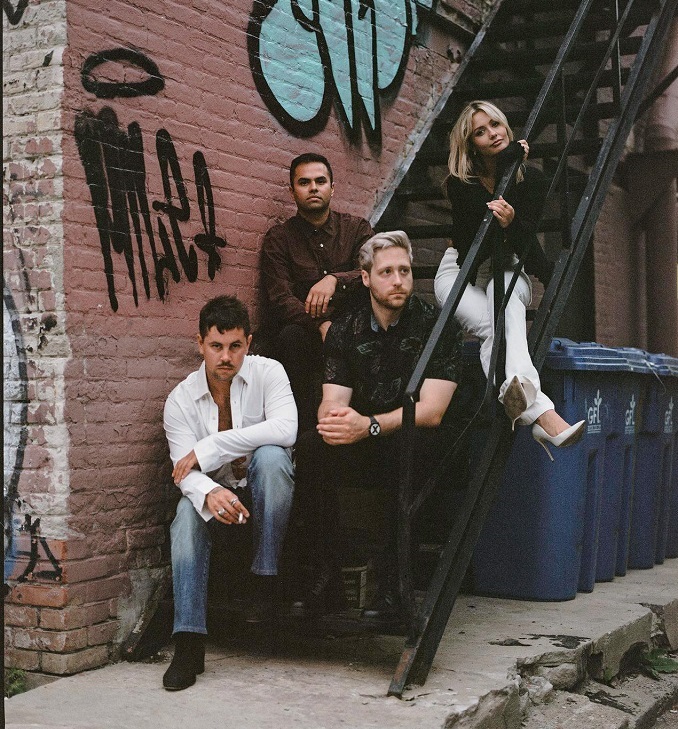 Name:
Alyssa Holmes, singer from The Drifts
Founded:
2019
Last Single:
"Breaking Every Bone"
Last Video:
Favourite musician growing up:
Led Zeppelin, The Rolling Stones, anything classic rock
Favourite musician now:
Arctic Monkeys, Hermanos Gutierrez, Dope Lemon, Alexandra Savior, Little Sims, Lana Del Rey
Guilty pleasure song:
Mcarthur Park – Donna Summer
Live show ritual: 
A gin soda and a vocal warm-up singing the Fergie All-Star game national anthem ( please look it up if you're not familiar.)
Favourite local musician:
Georgia Harmer
EP or LP?
EP. shorter but a lot of times sweeter.
Early bird or night owl?
Night owl for sure. So late I'm technically an early bird.
Road or studio?
Studio
Any shows or albums coming up?
EP coming up! New single from the EP "Out of Sight" coming in the next few months.
Where can we follow you?
***
Rapid Fire Toronto Qs:
Favourite local restaurant:
I am a big fan of Union, Milou, Cote de boeuf, Favourites, Sugo, the list is endless really.
Favourite street in Toronto:
Roncy will always hold a special place in my heart.
Favourite park in Toronto:
Riverdale Park for a sunset hang.
Favourite music venue in Toronto:
Got to be Massey Hall followed closely by Danforth.
Favourite music store in Toronto:
Rotate This or She Said Boom for your vinyl needs for sure.