When many think of a Caribbean spot, they often think of one that operates as a take-out joint. However, the city also offers dine-in options for those who want to enjoy Caribbean food in a dine-in-oriented atmosphere. Here are the best Caribbean restaurants in Toronto to dine-in.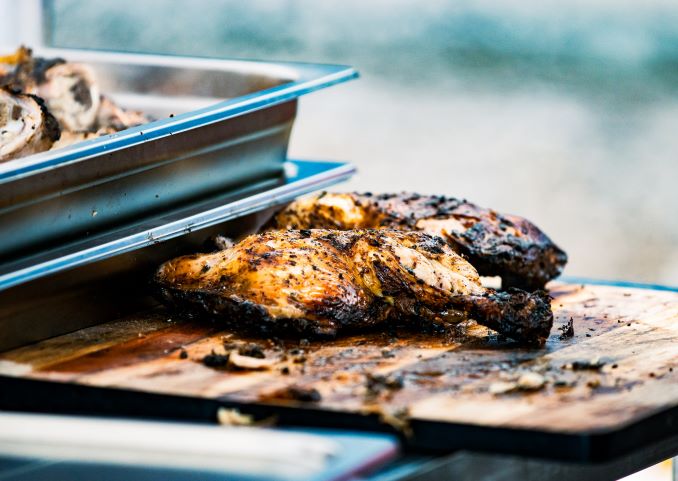 The Best Caribbean Restaurants in Toronto
Scotthill Caribbean Cuisine – 1943 Avenue Rd
The family-owned restaurant's name comes from a street located in Moneague, a town in the Parish of St. Ann, Jamaica. In this town, families and friends would share meals crafted with love. The sharing of meals was the inspiration for the creation of Scotthill. Here, guests can enjoy authentic and savoury-crafted traditional Caribbean dishes in a small upscale atmosphere.
Besides the variety of options, what many guests enjoy the most about Scotthill are their generous portion sizes.
Chubby's Jamaican Kitchen – 104 Portland St
To commemorate their 20+ years of friendship, Chubby's came to life as a passion project by co-founders Janet Zuccarini, Gusto 54 Founder and CEO, and Angela Lawrence, Gusto 54's Chief Culture Officer. The restaurant's name represents the good tummy feeling after enjoying a delicious home-cooked meal.
Served in small portions, many guests have recommended the jerk chicken, oxtail, and saltfish fritters. Another plus is that guests can bring the restaurant's flavours to their homes as they sell bottles of their hot sauces, jerk sauce, and spices.
SugarKane – 699 Danforth Ave
In 2013, this female-owned business started as a catering business called Spiked Punch after years of occasionally cooking good food for relatives and friends. The catering business was an instant success and became SugarKane, a dine-in restaurant and catering service. The restaurant serves Caribbean dishes mixed with Cajun influences.
Guests can find delicious, unique dishes such as jerk corn on the cob and jerk chicken tacos. They can also find classics like the creole jambalaya and the braised oxtail.
Patois – 794 Dundas St W
Patois restaurant is known as the place where Caribbean cuisine and Asian cuisine come together to become one. With both cultures merged into one, the restaurant serves its dishes family-style. So if you ever feel like going there, it is best to go there and enjoy the food accompanied by at least one other person.
Guests can find infusions of their jerk chicken chow mein, jerk pork belly yakisoba, and Chinese "pineapple" bun burgers.
The Diner's Corner – 678 Yonge St
Right in the heart of downtown Toronto is where you can find this restaurant filled with an array of authentic Jamaican dishes. You can find classic Jamaican dishes from fried plantains to ackee and saltfish.
While the guests enjoy the classic meals, they are encouraged to leave room for the bread pudding, pineapple upside-down cake, or sweet potato pudding.
Rhum Corner – 926 Dundas St W
Rhum Corner is a laid-back place that specializes in Haitian cuisine. In 2013, a married couple, the owners, always wanted to operate a Haitian restaurant with a refreshing atmosphere and put that idea to fruition. Celebrating its tenth anniversary in business this year, the restaurant sells Haitian dishes and cocktails at an affordable price.
The menu might be small, but guests are guaranteed a great selection of choices. Popular menu items include the saltish cod patty, macaroni au gratin, and the griot.
Albert's Real Jamaican – 542 St Clair Ave W
Albert's Real Jamaican has been a popular go-to Caribbean restaurant in the west end for nearly four decades. The inspiration for the restaurant's opening came from the owner's mother's talent, hard work, and passion for cooking creative dishes.
Along with the patties, curry goat, and jerk chicken, guests love the portion sizes of rice and peas with gravy.
Boukan – 774 Danforth Ave
This newly opened Haitian cuisine restaurant sells Haitian street food in a unique and fun way. The inside of the restaurant gives guests an "at home" vibe with the incorporation of Haiti's history and culture. During its short time in business, the restaurant has achieved quite a few accolades, like being featured in Black Restaurant Week
Besides the fritay, many guests have raved about how good the beignets are.
La Cubana – 92 Ossington Ave, 392 Roncesvalles Ave,
456 Oakwood Ave
La Cubana is a family-owned restaurant selling Cuban dishes made from scratch in-house and even their own brewed crafted beer.
Their sandwiches are a popular menu item, with many guests describing the bread as "heavenly."
While take-out joints are a go-to for many who crave Caribbean cuisine, these nine restaurants continue to do a fantastic job of satisfying those cravings.