Toronto start-up SPATULA Foods just launched Powered by SPATULA, a collaboration with Toronto's hottest restaurants to bring their signature dishes, flash-frozen, to home kitchens across the province. If you haven't heard of SPATULA, it's a time-saving, affordable and delicious way to have prepared meals on your table within minutes and with less packaging than other home meal prep kits I've tried. What also caught my attention was who they have partnered with — some of my favourite restaurants in the city including Hong Shing, Gia, and Casa Manila. We tried several of the dishes offered on the SPATULA site recently and pleased with the ease and convenience of switching up our weekly menu. We also don't have to worry about added preservatives that's often found in frozen meals. In our home, they've come in handy especially as we continue to have a hybrid work routine.
I also think they'll be great for university/college students who have access to a kitchen but not necessarily to fresh ingredients, or have the time or even the kitchen skills.
Recently we checked in with one of the partnering restaurants to learn more about their restaurant and their collaboration.
Mila Nabor-Cuachon, CEO and Executive Chef of Casa Manila, opened her first location at 879 York Mills Road in 2006 near the corner at Don Mills Road. It was convenient spot on my way to see my parents. "It was a convenient meeting place for families and friends," says Nabor-Cuachon. There's ample free parking with a space that can accommodate over 80 guests inside and 40 guests outside. It was my first foray into Filipino cuisine.
"The interior decor depicts the cultural and colonization influences of Filipino indigenous roots, Spanish, Chinese, American, Malay, Indonesia, Hawaii and Moslem, to name a few. It also represented are some of the regional areas found in the over 7100 islands of the Philippines," said Nabor-Cuachon.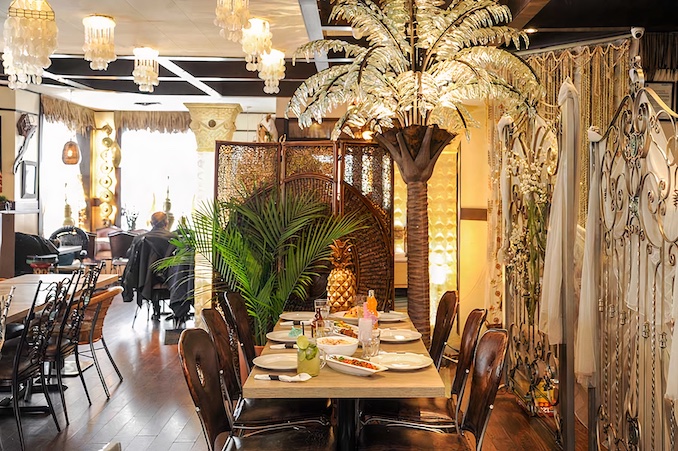 They opened a second location at 508 Danforth opened during the pandemic in July 2022 but Nabor-Cuachon tells us it was representative of modern Manila. Decor feels contemporary while still infusing eclectic island decor similar to their York Mills location. She tells us they love the Danforth neighbourhood for its quaint and charming atmosphere. "It's a wonderful melting pot of international cuisines."
Nabor-Cuachon immigrated to Canada in 1966 and tells us she's a proud Filipina Canadian. "Having been uprooted from the Philippines at age 6, I longed for the culture, food, and warmth of the climate and people for much of my life. I moved back to the Philippines when I was 19 and stayed for four years to reclaim my culture. Upon my return to Canada, I started an import/export furniture business called Palma Brava Inc. which manufactured Filipino wicker and rattan for the North American market."
Nabor-Cuachon travelled to and from the Philippines extensively from 1983 to 2000 and it was during that time that she felt a calling to share Filipino cuisine with people of all cultures, especially in a foodie capital like Toronto. "We recognized that Filipino food was under-represented in the city, despite the growing number of Filipinos immigrating to Canada."
She and her husband Rizalde knew owning a restaurant would be no easy feat, but Nabor-Cuachon tells us they were highly motivated by their pride of the Philippines. That gave them the confidence to make the leap of faith and open Casa Manila.
But cooking authentic Filipino food came with its own set of challenges. "Many of our traditional dishes take hours to cook, so we needed to find a method to expedite this process to serve our dishes a la carte," explains Nabor-Cuachon. "Another hurdle we faced was narrowing down an extensive cuisine that includes hundreds of dishes in a multitude of ways to something that will be loved by both Canadian and Filipino palates alike, without sacrificing the integrity of the dish. We worked hard and perfected our methodology to strike a balance and find solutions for these challenges."
Opening their second location in 2022 was the confirmation that their past efforts had indeed paid off. Even during the pandemic, when many local restaurants shuttered, she tells us their loyal customers supported them and in turn, they were able to survive and thrive.
"I am so proud that Casa Manila offers customers a place to learn about Filipino culture and enjoy our great Nation's delicious food," said Nabor-Cuachon.
Toronto's food scene has changed a lot since they opened their first location in 2006. "It bears a lot of similarities to New York City, where our multicultural makeup defines our food culture – it's what puts Toronto on the map as the foodie capital of Canada," said Nabor-Cuachon.
"Asian food has also been a growing trend that we're so excited about," said Nabor-Cuachon. "Having started in the 1970s with Chinese food, closely followed by Japanese, then Thai, and today, continuing to grow a love for all other Asian cuisines including Korean and Filipino. Culinary travel can happen without ever having to leave our city and that's really exciting!"
One of the most common comments she gets is, "You should open up in (insert any customer's city)". But with SPATULA's flash freezing technology, efficient delivery and accessibility, their three bestsellers can now reach even out of town customers throughout the province, this applies to both non Filipino and Filipino Canadians alike. She tells us good Filipino food takes time to prepare and with SPATULA, it's now possible to enjoy their authentic, restaurant quality dishes in 10 minutes with just a pan and a spatula in the comfort of a home kitchen.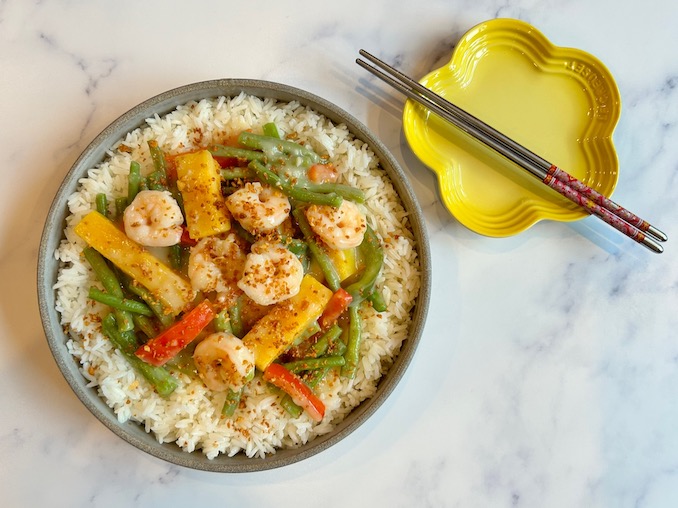 What dishes are being featured on SPATULA?
Nabor-Cuachon explained, "Chicken Adobo is the unofficial national dish of the Philippines. It is commonly made throughout the islands in different variations. Adobo is a technique developed to preserve meat dishes, especially in Latin countries. It's the process of combining vinegar with various spices indigenous to the country. For Filipinos it is the use of soy sauce, garlic, and bay leaves as the prevalent ingredients. At Casa Manila, we add our signature blend of herbs and spices.
Beef Calderetta is a Spanish Filipino dish, a true favourite because of its tropical tomato garlic taste infused with sweetness from pineapple juice. It is our version of Beef Stew.
The Coconut Ginger Shrimp with Butternut Squash and Asian Long Beans is well loved. Many traditional Filipino dishes are made with coconut milk, since the islands make coconuts plentiful, and the influence of the Chinese traders brought our love for ginger."
What does she wish people to know about Casa Manila?
"It has long been our mission to keep our rich Filipino history alive through the food we serve," said Nabor-Cuachon. "Casa Manila's authentic Filipino dishes are infused with our diverse regional and colonial influences that represent our founding stories. To increase our customers' authentic experience, we became Canada's first KAMAYAN restaurant in 2012, which represents Filipinos traditional "hand to mouth" dining experience. To this end, we have also restored several traditional plant-based recipes that represent pre-colonial plant and fish based diets of Filipinos."
In addition, she tells us their dedication to authentically representing the Filipino culture, they also take great pride and care in crafting dishes with clean and local ingredients, all underpinned by their cooking philosophy ,NATURE TO NURTURE "The idea is the less we tamper with Mother Nature's bounty, the better it will be for our bodies. This means less salt, no MSG, and no artificial flavours or preservatives in our food. We also prioritize sourcing local meats and vegetables for freshness, only importing local ingredients from the Philippines when necessary."
And any customer of Casa Manila knows they can expect an infectious Mabuhay Spirit as soon as they walk through our doors. They instantly transport diner to the Philippines and are excited to extend this same spirit to all Ontarians curious about Filipino cuisine through their collaboration with Powered by SPATULA.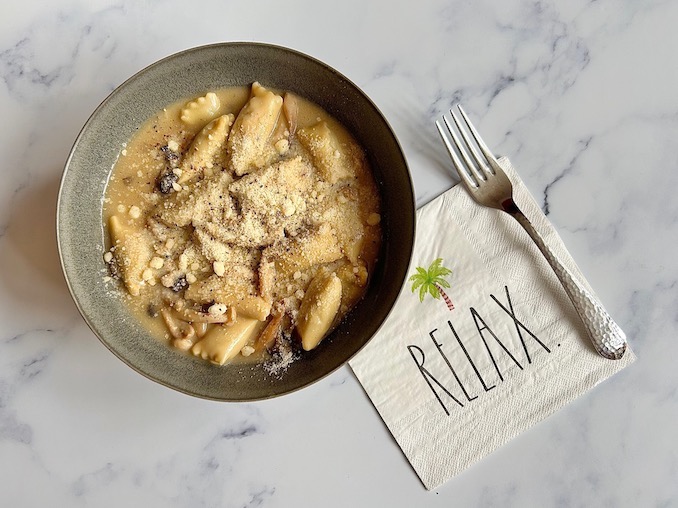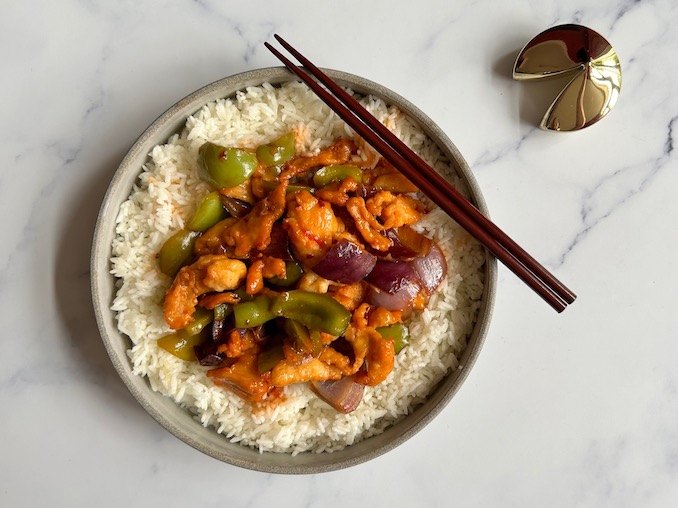 Aside from trying Casa Manila's popular dishes be sure to check out GIA's Porchini Agnolotti with Wild Mushrooms (SO GOOD) as well as Hong Shing's ever popular General Tso's Chicken. Other offerings include Gusto 101, Northern Heat, Crafty Ramen, Pierogi House, k.dumps and desserts by Daan Go. There are also a few chef collabs too — Chefs Wallace Wong, Eric Chong, Romain Avril, Lisa Kitahara, Ryan Hinkson, Portions are generally created for two people (unless otherwise stated) but I would suggest doubling up for bigger appetites.
You can learn more about SPATULA and how they started here.