Name: The Sadies
Genre: XxXtreme
Founded: 1994?
# of Albums: Approx. 12 that don't have someone else's names on the cover too.
Latest Release: Northern Passages in 2017 (Dine Alone Records)
Latest Video: Royal Theatre
Bio
The essence of The Sadies' story is in many summed up with the powerful image of the aurora borealis adorning the cover of their latest album, Northern Passages. Ever since the quartet comprised of singer/guitarists Dallas and Travis Good, bassist Sean Dean and drummer Mike Belitsky first arrived on the North American scene 20 years ago, their music has never been less than awe-inspiring, with no further embellishment necessary.
As the light swirled with each album The Sadies have made, the overall picture took on more defined colours. On top of that was the incredible list of collaborations—Neko Case, R&B legend Andre Williams, The Mekons' Jon Langford, Jon Spencer, Robyn Hitchcock, John Doe, Buffy Sainte-Marie, Gord Downie, Neil Young for fuck's sake!—each one pushing The Sadies' own sound into new, unmapped territory. Eventually, more time was taken in between albums as focus shifted to their original songwriting, and what was once the best live band in Canada became the best band in Canada, period.
Is it fair then to call Northern Passages their masterpiece? Yes, at least until the next album comes along. Recorded in the basement of Dallas and Travis' parents' home north of Toronto over the winter of 2015, the familiar surroundings and lack of distractions resulted in a consistent feel, despite the eclecticism at the heart of The Sadies' sound. The psych-folk flourishes on tracks such as "Riverview Fog" are no mere homage; this is the sound of our inscrutable world, and how we manage to survive in it.
The Sadies are a band that fans cling to like a closely guarded secret, with each new release fulfilling the promise to reach further, for all of our sakes, not just their own. With Northern Passages, the time has come to make room for more on this wild acid-folk-country-punk trip, and trust me, we'll be better off because of it.
Latest Single:
Pick a track from Northern Passages!
Favourite Restaurant:
Gale's Snack Bar
Favourite band as a teenager:
I forget. MC5/Stooges, probably. Definitely something boring.
Favourite band now:
S.H.I.T.
Guilty Pleasure Song:
Who Let The Dog's Out. Actually, I don't think I've heard it aside from the chorus but it's awesome. I like singing it to my cat, or dogs that I don't know.
Live Show Ritual:
Reefer.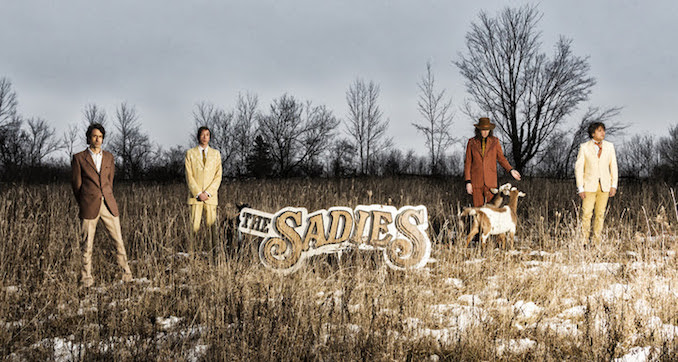 Favourite local artist:
S.H.I.T.
Sneaky Dees nachos, pasta from Terroni or a superfood salad from Fresh?
Terroni. Make sure you ask for balsamic! They love that.
Queen or College St?
Dupont. Ya, that's right. In your face.
Trinity Bellwoods or Highpark, Riverdale or Kew Gardens?
I don't like nature.
EP or LP?
AC/DC
Early bird or night owl?
Both adorable.
Road or studio?
Hopefully.
Swiss Chalet or Roti?
If You can't tell the difference, don't eat it.