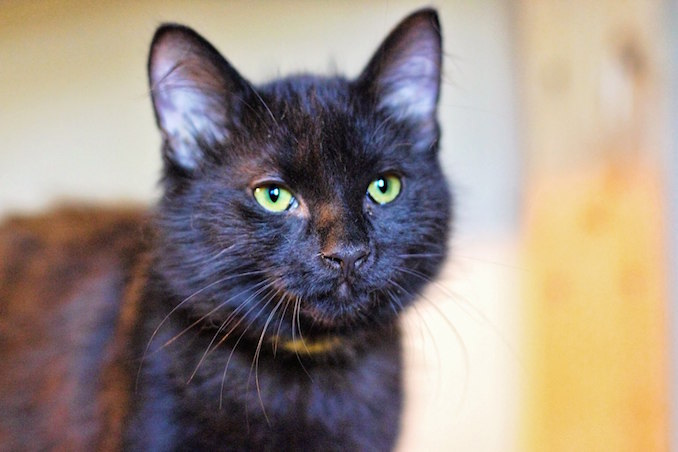 Meet Callisto – Born: April 2016
Callisto the Cat was rescued from a barn situation along with several other kittens. Placed in foster care immediately, he thrived and quickly adapted to living the good life. A handsome debonair medium haired black cutie with exuberant green eyes and a silly happy go lucky nature. Callisto is a highly affectionate, lively, playful chap who also has a mischievous side in that he has been known to steal hair ties, scrunches, pens, bottle caps, basically anything that he can use to satisfy his compulsion and love to play soccer with. When he is not playing soccer he is usually found on any lap available or snuggled up in a "cat pile" amongst his roommates. Callisto would make an amazing addition to any family and love to be adopted as part of a pair or to join a family that already has a friendly cat he can befriend and bond with. If you are ready to play soccer all the time and provide Callisto with a comfortable lap for sleep time, please fill out and adoption application and contact us.
***
About North Toronto Cat Rescue
This column features Toronto pets available for adoption.
Our current features come from North Toronto Cat Rescue which is a no kill, no cage shelter in Markham, Ontario, Canada. They have saved over 2000 cats over the years from both the harsh environments of life on the streets and from kill shelters in Ontario and Québec. They care for both kittens and adult cats. I always like to promote getting an adult cat as it is a lot easier to pick the cat with the right temperament for you.
The NTCR shelter is run by volunteers with no government assistance. They currently have around 200 plus awesome cats that would love a good home. Go and visit them soon!
For more info, Visit the NTCR Website.
***
Fundraiser
On another Note, NTCR is in trouble as they are losing their home in 2016 for development of the area. If you can offer any help in finding a new home for the almost 200 cats at the shelter, that would be amazing.